The U.S. and China are on a lose-lose course
Politics & Current Affairs
The U.S.-China relationship has survived obstacles and setbacks in the past. But today, amid high-level calls for both an economic and cultural decoupling, we have to consider what a rupture would look like — and its catastrophic consequences.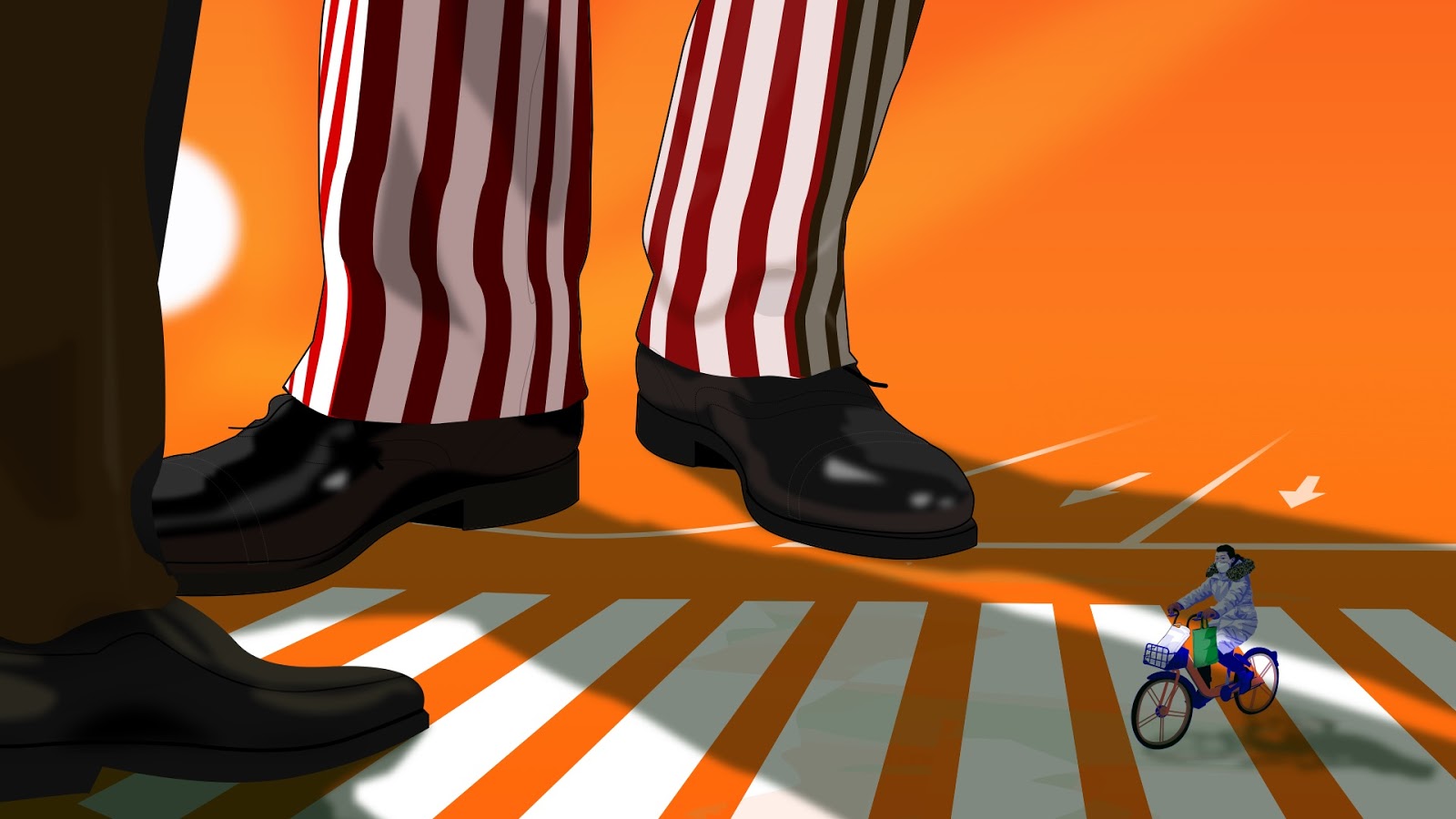 In mid-July, the White House floated the idea of denying visas to Chinese Communist Party members and their families — an estimated 270 million people in total. Those affected would not be just high-level officials: children of low-level workers and bureaucrats could also lose the chance to study in America, as well as young people from poorer backgrounds who joined the CCP for professional and education opportunities.
The proposal incited criticism on multiple levels, but it's only the latest indication — among many — of a mutual pulling back of relations between China and the U.S., brought on by the actions of both governments. Taken together, the actions represent a "soft" or cultural decoupling, one which runs parallel to a larger economic decoupling meant to separate supply chains and break financial ties. This soft decoupling brings a new and largely unexplored risk: the unraveling of people-to-people ties that have led to real collaboration between the two countries since diplomatic relations were normalized in 1979.
It's worth remembering the calculated, symbolic start to engagement: On April 5, 1971, at a tournament in Japan, American ping-pong player Glenn Cowan boarded the Chinese team's bus and greeted the rival players, an act of sportsmanship and a subtle diplomatic opening that led to a visit to China by the U.S. team, with American journalists in tow.
In a lecture in April, Robert Daly, a former American diplomat now with the Wilson Center, warned that "the emergence of separate knowledge and information systems condemn the U.S. and China to mutual alienation." Young people play different online games, and experience different internets and app ecosystems, thanks in part to both Chinese censorship and American export controls. The division extends to different ways of telling history, and diplomatic language referring to different facts and forms of authority, Daly said. Increased restrictions on the movement of journalists, graduate students, researchers, tourists, and NGO workers make it harder for each side to get to know the other — and more to the point, to give everyday Chinese citizens exposure to the American model.
From the American side, there are serious concerns about recent actions by the Chinese government: internment and oppression of the Muslim population in Xinjiang, expansive behavior in the South China Sea, revisions to Hong Kong's Basic Law, and theft of intellectual property. And American politicians have little to gain by easing up on China — particularly in an election year. "Unless China does something to take a step back from Xinjiang and to take a step back from Hong Kong, I don't think anybody here politically is going to be able to engage China in a meaningful way," says Andrew Mertha, director of the China Studies program at Johns Hopkins School of Advanced International Studies.
"We were raised to be globalists. We have this expectation that countries do not shut the door to each other, and countries should always try to work something out instead of just blaming each other."
"The FBI is opening a new China-related counterintelligence case about every 10 hours," said FBI Director Christopher Wray in a July 7 speech at the Hudson Institute — one of four speeches that administration officials gave in recent weeks, laying out a comprehensive approach to confronting China. While he said the stepped-up scrutiny is aimed at the Chinese government and Communist Party and "not about the Chinese people," he described a broad range of people and organizations that have been ensnared so far, from state-owned enterprises to graduate students.
Margaret Lewis, a law professor at Seton Hall who focuses on China and Taiwan, argues that an overly broad definition of China casts too wide a net for investigations. "There is a threat — they're not making up that the PRC party-state is connected to activities in the United States that are illegal. There are thieves and hackers that connect back to Beijing," she says. "But what's also happening is that people who are ethnically Chinese and/or have nationality connected to the PRC are being viewed as threats themselves and put under heightened scrutiny." She is concerned about a "risk management model" in which prosecutors act like actuaries, sorting people into categories based on their perceived riskiness, rather than seeing them as individuals.
In May, the Department of Homeland Security announced that journalists from mainland China would have to renew their visas every 90 days — regardless of whether the outlet they work for is also Chinese. The measures were a response to China's decision to expel several journalists working for American outlets. Over a video chat, I spoke with Chen Du (杜晨), a Chinese technology journalist for PingWest, who had been reporting from Silicon Valley for four years — but currently finds himself stuck in Beijing.
He's already had four visa interviews canceled — the most recent was scheduled for August at the consulate in Chengdu that, just hours after we spoke, was ordered closed by the Chinese government, in retaliation for the U.S. decision to close the Chinese consulate in Houston. Like any journalist working for a Chinese outlet, Du has to be mindful of not running afoul of regulators, but he has informed Chinese audiences about the alleged financial misdeeds of Jiǎ Yuètíng 贾跃亭 (the Chinese founder of electronic car company Faraday Future) and American concerns about TikTok, while also reporting on American technology companies.
Describing himself and his circle of Chinese journalists covering U.S.-China stories, he says, "We were raised to be globalists. We have this expectation that countries do not shut the door to each other, and countries should always try to work something out instead of just blaming each other…This part of the story is not up to my expectations of the U.S. — and of China."
Americans are finding doors to China closed, as well. At the beginning of 2018, a new Chinese law constricting the actions of foreign NGOs in China caused many groups to leave or scale back operations. Overall, the more restrictive environment in China means American journalists and researchers are less likely to reach out to their Chinese colleagues and contacts for fear of putting them at risk — but that also means losing their perspectives altogether.
From the American side, last month, President Donald Trump's executive order ending Hong Kong's special status in relation to China also called for the end of Fulbright exchanges with China, and earlier this year the Peace Corps ended its operations in China, a 26-year engagement that had fostered goodwill and a generation of Americans with close ties to China.
The U.S. and China seem to lack confidence that their everyday citizens can be the best ambassadors, or that their models can withstand outside influence.
As Peter Hessler, a Peace Corps China volunteer turned celebrated China correspondent, wrote in The New Yorker, "At its best, the Peace Corps was an expression of American confidence: if you sent motivated young people to remote places and left them alone, good things were likely to happen." Today, both countries seem to lack confidence that their everyday citizens can be the best ambassadors, or that their models can withstand outside influence.
Talk of person-to-person ties can seem sentimental, rooted in a feeling of loss for Americans with deep personal and professional connections to China. Ian Johnson reported from China for 20 years — until his visa was canceled in March as part of a tit-for-tat expulsion of journalists. In a recent New York Times editorial, he wrote, "Cumulatively these small wounds change how all of us experience the world, forming a collective trauma over the loss of an optimistic era dating back several decades, when the world seemed to be opening up, however imperfectly."
The losses aren't just personal. Historian Joseph Nye, in his 1990 essay defining soft power, calls it "when one country gets other countries to want what it wants." It's what makes a country admired, its goals seem legitimate — and what we risk losing right now. In his New Yorker article, Hessler recounted an unspoken lesson in American civics passed on simply by sharing his absentee ballot for the 1996 presidential election with his students in Sichuan. "You're going to need normative incentives as well as legal, political, and economic ones," Mertha adds, to effect the kind of changes Americans hope for in China.
The New York Times reported last year that among some Chinese people, "starry-eyed enthusiasm for America…has given way to sober admiration, if not outright disillusionment," in the face of the trade war and tightened visa restrictions. A more nationalist mood within China can be seen in the tweets of so-called "wolf warrior" diplomats and the crowds that gathered to cheer the closure of the Chengdu consulate.
Hoping for a note of optimism, in May, I called Michael Pettis, a finance professor at Peking University and prominent figure in the Beijing underground music scene, who assured me the musicians and young people he knows continue to idolize the same American musicians and consume our pop culture. As someone who has long lived in Beijing, he's seen that anti-American sentiment "flips back and forth really quickly." Even the former diplomat Daly opened what he admitted was a fairly dark talk by expressing faith in a "powerful tendency for societies and people to want to return to the normal."
On our side, the trajectory is less clear. In the 1990s, as the U.S. Congress imposed sanctions for the massacre in Tiananmen Square and the American public was horrified by human rights abuses, below the top level of politics, businesspeople, academics, and journalists found ways to cooperate.
Today, "it's different," says Lewis, who first lived in China in 1995. "At that point the PRC wasn't an economic rival to the U.S. and certainly not a military one." China wasn't cast as an existential threat, as it is now in for example, Secretary of State Mike Pompeo's July 23 speech at the Nixon Library, "Communist China and the Free World's Future." "If we bend the knee now, our children's children may be at the mercy of the Chinese Communist Party," Pompeo said. And Chinese President Xí Jìnpíng's 习近平 leadership style, more centralized and repressive than that of his immediate predecessors, makes it hard for anyone in the United States to argue for increased engagement.
As we were saying goodbye, Du, the Chinese tech journalist, shared a saying with me: shénxiān dǎjià, bǎixìng zāoyāng — 神仙打架,百姓遭殃.
As the gods fight, the regular people get hurt.