A short history of Microsoft in China
Business & Technology
With Microsoft emerging as the leading suitor to purchase TikTok from its Chinese parent company, here's a look back on the company's relationship with China, filled with highs and lows.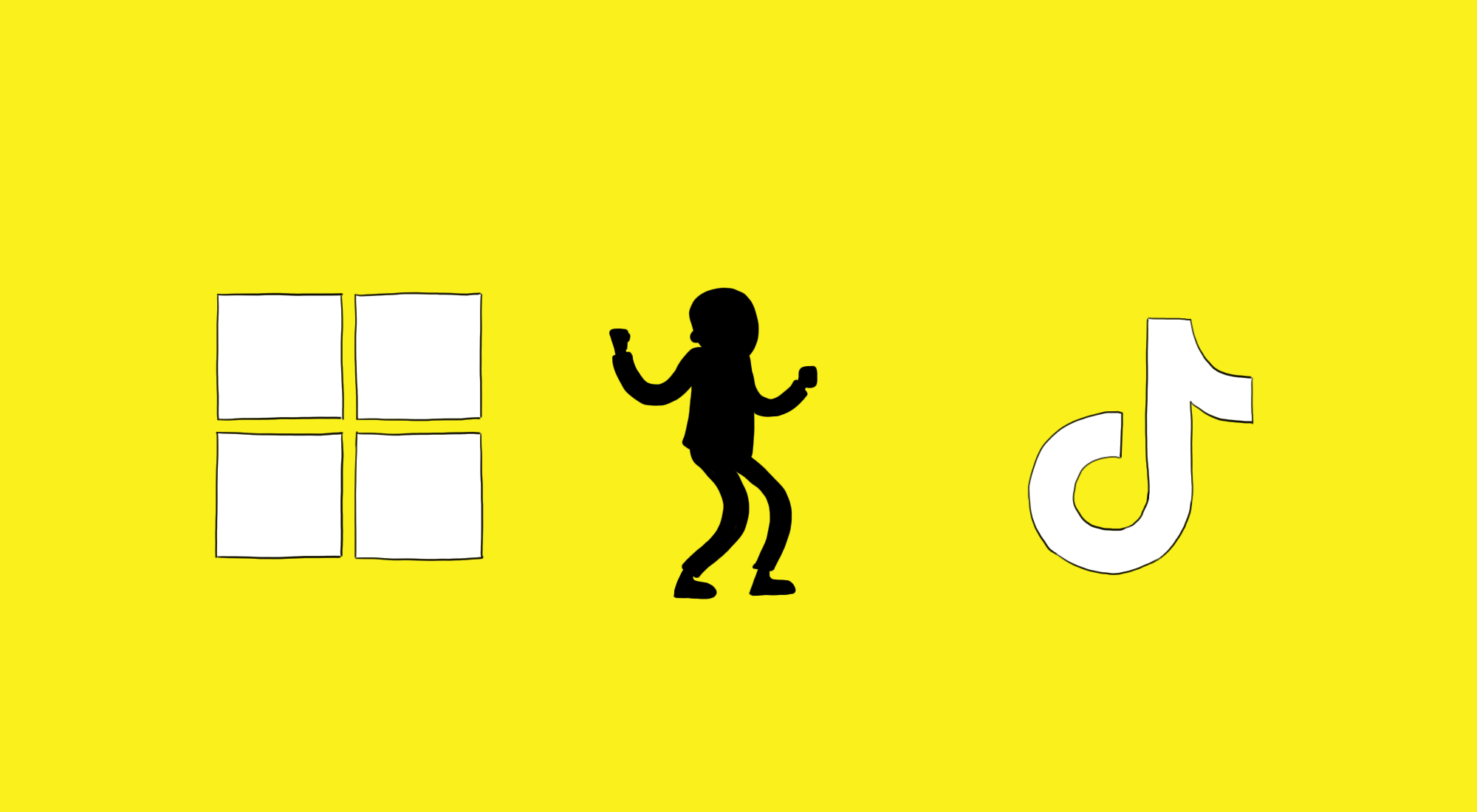 Late Friday evening, President Donald Trump signed a new executive order related to video-sharing app TikTok, imposing a 90-day deadline for its Beijing-based parent company ByteDance to divest its U.S. assets. The order stems from a retroactive Committee on Foreign Investment in the United States (CFIUS) review of ByteDance's 2018 acquisition of Musical.ly, a Shanghai-based U.S.-registered startup later merged with TikTok. Barring a sale, ByteDance "might take action that threatens to impair the national security of the United States," the August 14 executive order warns. The president's first executive order on TikTok — on August 6, after days of hinting at a ban — banned transactions between American entities and ByteDance. The move would have forced TikTok out of app stores if the company didn't sell its U.S. assets within 45 days.
Around this time, ByteDance offered to sell TikTok, and a frontrunner soon emerged: Microsoft. The company confirmed on August 2 that it was in talks with ByteDance. Some see a sale as a pragmatic way to allow the popular app to continue operations in the U.S. while allaying espionage concerns. "TikTok is harmless; China is not," says James Andrew Lewis, vice president of the technology policy program at the Center for Strategic International Studies, a D.C.-based think tank. A Microsoft-owned social media app would also create competition for Facebook — in recent days, Facebook-owned Instagram launched its TikTok clone, Reels.
Others have raised alarm that Microsoft — or another potential buyer, such as Twitter — will face technical challenges separating TikTok's code from that of its Chinese parent company. Reuters cites unnamed sources explaining that a full carve-out may take up to a year, because some of TikTok's source and server code is shared with other ByteDance properties and maintained in Beijing. This could run afoul of the most recent executive order, which requires a full separation. (Microsoft had no comment on the accuracy of the report; TikTok didn't respond to a request for comment.)
If the report is correct, that leaves a potential one-year window for theoretical data harvesting or inserting malware through software updates, but there is no evidence TikTok has engaged in either activity. Lewis says the company would be unlikely to do so now, since TikTok is reportedly considering suing the U.S. government over the forced sale, and a buyer would eventually find the backdoor or malicious code.
Chinese leaders and netizens have decried the forced sale — "An atrocity against internet freedom worldwide," according to Chinese state outlet Global Times — noting that there's no evidence of wrongdoing by ByteDance. TikTok never shared information with the Chinese government, hired Disney veteran Keven Mayer as its CEO, and stores data on servers in Virginia and Singapore, the company says.
Still, Microsoft — or any buyer — may find itself in geopolitical crosshairs if a sale goes through. Lewis says Microsoft may be protected in the short term because there's no good Chinese alternative to Microsoft's business software. But Chinese authorities could find ways to retaliate, such as stopping efforts to get Chinese users to pay for pirated versions of Windows, Lewis says.
White House adviser Peter Navarro criticized a potential sale and suggested Microsoft should have to divest its holdings in China. Unlike Facebook, Twitter, and Google, Microsoft-owned properties such as Xbox, Bing, Outlook, and LinkedIn have generally been allowed to operate in China, which Navarro told CNN is evidence of "suspicious stuff" going on between Microsoft and China. (Skype, also owned by Microsoft, was removed from Chinese app stores in 2017 but continues to work. And the search engine Bing was briefly blocked last year.)
But is it all that "suspicious"? Microsoft, after all, has a long history in China. Here are some of the ups and downs of the company's nearly three-decade engagement with the country.
November 1992: Microsoft officially enters the Chinese market, licensing its MS-DOS software to a group of Chinese PC makers. Fortune called the first decade a "disaster," as Microsoft tried to navigate censorship and privacy concerns and faced widespread piracy.
September 1995: On a vacation in China with his wife Melinda, Microsoft's then-chairman Bill Gates meets with Chinese president Jiāng Zémín 江泽民.
November 1998: Microsoft opens Microsoft Research Asia (MSRA) in Beijing, its first research lab in China and largest outside of the United States. As of 2019, researchers and fellows have published more than 15,000 papers, on topics ranging from natural-language processing to search technology. The lab also cultivates Chinese tech talent, including — briefly — ByteDance founder and CEO Zhāng Yīmíng 张一鸣. MSRA's first director, Kai-fu Lee (李开复 Lǐ Kāifù), went on to head Google's operations in China and write the 2018 book AI Superpowers.
March 1999: Microsoft announces plans to partner with electronics manufacturers on low-cost devices running a localized Windows operating system. At an event in Shenzhen, Microsoft chairman Bill Gates said, "Our goal is a very aggressive goal, and that is to expose millions and millions of people to computing and the internet." The plan, dubbed the Venus project, never took off.
May 1999: A suit against Yadu Science and Technology, alleging employees used pirated copies of Microsoft software, is dismissed by a Chinese court.
August 1999: Compaq China announces it's working with Chinese partners on Red Flag Linux, a domestically designed operating system encouraged as an alternative to Windows 2000. The following year, Microsoft CEO Steve Ballmer meets with Chinese premier Zhū Róngjī 朱镕基, announcing new investments in China, including a software joint venture.
February 2003: Microsoft agrees to allow the Chinese government to inspect Windows source code, and in some cases insert its own code — intended to assure the Chinese government the software does not include backdoors for American espionage.
December 2005: Microsoft deletes the MSN Spaces blog of Chinese journalist Michael Anti, based on a request from the Chinese government. The company later expresses regret over the decision.
February 2006: Congress jumps into the debate over American internet companies' collaboration with Chinese authorities in censoring websites and providing information about individual users. Microsoft lawyer Jack Krumholtz argues for continued engagement, while testifying, "Microsoft is keenly aware that China presents a special case. Various agencies of the Chinese government are engaged in a substantial effort to manage the kinds of information available to Chinese citizens through the mass media." He also notes that at the time all Chinese customers' personal information was stored on servers in the United States. (A new Chinese cybersecurity law, which went fully into effect at the end of 2018, required companies to store Chinese users' personal information on servers within China.)
April 2006: On the first night of President Hú Jǐntāo's 胡锦涛 first state visit to the United States, Bill Gates hosts a dinner for the Chinese leader at his lakeside mansion outside Seattle. President Hu notes the growing popularity of Boeing, Microsoft, and Starbucks in China at a moment when American officials were raising increasing concerns about the trade deficit with China.
December 2008: A court in Shenzhen hands down sentences for 11 ringleaders of what is called the "world's largest software counterfeiting syndicate," responsible for an estimated $2 billion in counterfeit software, including Microsoft products.
June 2009: The Chinese version of new search engine Bing launches, drawing criticism for censored search results. The next year, Google shuts down google.cn and begins redirecting visitors to google.hk.
May 2014: Microsoft's Chinese chatbot Xiaoice debuts, carrying on AI-enabled conversations with her young fans. She later expands into poetry and fashion design, and accumulates 660 million users worldwide by 2018. That same month, China bans the Windows 8 operating system from government computers. The order, written into a notice on energy-saving products, is thought to be retaliation for Microsoft ending support for Windows XP, which makes devices running that system more vulnerable to hacking and viruses.
July 2014: Four Microsoft offices in China are raided by the state antitrust regulator, the State Administration for Industry and Commerce, responding to complaints about compatibility issues with older versions of Windows software.
October 2014: With QQ ascendant, MSN Messenger ends its services in China, the last country the messenger service operated in.
March 2015: In a bid to get pirated copies of Windows out of circulation, Microsoft offers a free upgrade to Windows 10 for all users — even those using unauthorized versions.
September 2015: President Xí Jìnpíng 习近平 begins his first state visit to the United States in Seattle. He tours Microsoft's facilities and meets with executives from 28 tech companies before traveling to Washington, D.C., where he and President Barack Obama attempt to hammer out a new cybersecurity agreement.
May 2017: The WannaCry cyberattack, later attributed to North Korea, relies on a leaked NSA exploit of a Windows vulnerability. As companies around the globe get hit, Chinese officials reach out to Microsoft, wanting to know whether the U.S. government is stockpiling vulnerabilities rather than informing companies to patch them. "We said that was a question that they should discuss with the U.S. government, not us," writes Microsoft president Brad Smith in his 2019 book Tools and Weapons.
July 2017: Microsoft announces a partnership with Baidu to develop autonomous cars.
January 2020: Microsoft ends support for Windows 7, launched in 2009 but still widely used in China.
July 2020: Microsoft, along with several other tech companies, says it will temporarily stop responding to data requests from Hong Kong authorities as it considers the implications of the new national security law.
August 2020: On August 2, Microsoft confirms that it is in talks with Chinese company ByteDance to purchase TikTok's operations in the United States, Canada, Australia, and New Zealand.