The meaning of China's vaccine diplomacy
Foreign Affairs
Chinese vaccines against COVID-19 are providing low- and middle-income countries with solutions in a time of need. They have helped fill a void left by Europe and the U.S.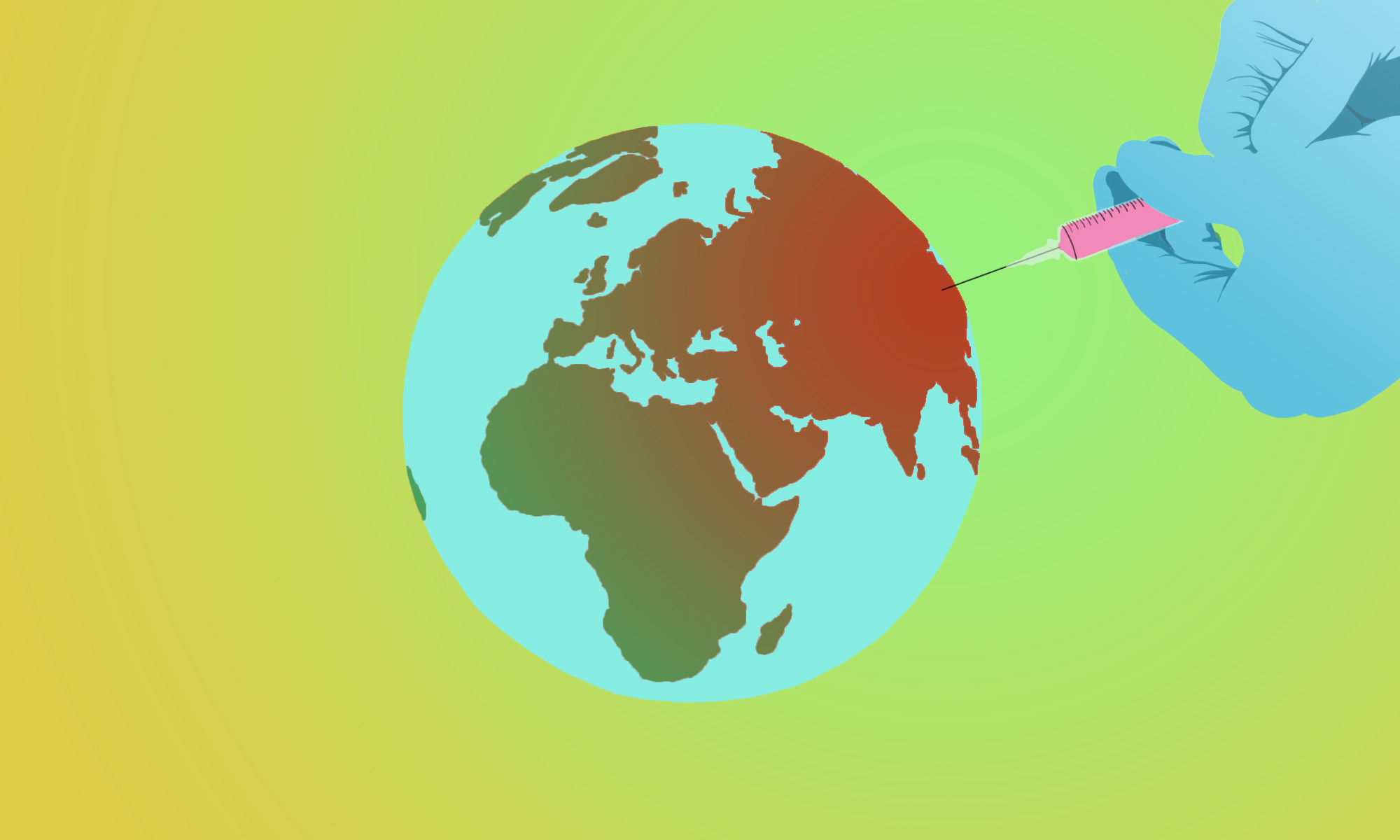 There's nothing particularly surprising about the emergence of "vaccine diplomacy" as a foreign policy buzzword in 2021. What is unusual about the current state of play is that Western countries are missing from the picture. With the U.S. and Europe scrambling to inoculate domestic populations, middle-income countries like China, Russia, and India have been left to help plug the colossal gaps in the global supply of COVID-19 vaccines.
The triumph of vaccine nationalism
We know that humanity's best chance of beating the virus and recovering the global economy is to roll out vaccines across the world at the same time. COVAX, a global initiative led by the World Health Organization (WHO), among others, was initially designed with this in mind — as a collective mechanism that would distribute vaccines equitably among 190 participating countries. 
Except it didn't work out that way. Instead, rich countries fell over themselves to sign purchase agreements for vaccines, locking in the future capacity of major vaccine makers and pushing everyone else to the back of the queue. 
As Ellen 't Hoen, a prominent international medical activist, tells me wistfully, "Some of us thought things could be different this time, but that isn't really happening." COVAX still has an important role to play, but it's been relegated to the role of a charitable mechanism, with national interests taking priority over international solidarity.
Of course, things aren't working out exactly as planned for rich countries at the moment. Production capacities are global, including within China, and the world is facing a vaccine shortage that may persist long into 2021.
On top of the EU's vaccine rollout failures, the have-nots will be harder hit still. At the moment, COVAX is frustratingly slow in its distribution of vaccines, and Andrea Taylor, who leads Duke Global Health Institute's COVID-19 workstream, reminds me that even if COVAX succeeds, it will only cover 20% to 30% of participating countries' populations. This figure is dramatically short of even the very lowest estimates required for herd immunity, which start at 70%. "COVAX is not our get-out-of-jail-free card on global equity. Even if it absolutely knocks it out of the park, we still have a massive gap in global vaccine access," she tells me.
Chinese vaccines are helping fill that gap. That's according to a headline from China's bellicose state-owned tabloid, Global Times, but it's also the reality of what's happening on the ground. Through donations and purchase agreements with countries across the world, Chinese vaccines are making their way into arms amid a global shortage. 
China's vaccine portfolio
Worth highlighting is that "Chinese vaccine" here refers to two different vaccines from companies Sinovac and Sinopharm. Both are inactivated vaccines, meaning that they use killed virus particles to elicit an immune response. China has a third candidate — a viral vector vaccine like the AstraZeneca and Russian vaccine — from CanSino, which will be one of the next vaccines to join inoculation efforts.
Experts I spoke to were not unanimous in their appraisal of the Chinese vaccines in general or of the confusingly wide range of efficacy results associated with Sinovac's vaccine, Coronavac, the lowest of which was 50.4% in Brazil. Most scientists said that neither vaccine maker had released enough data from their final phase III trials. Other experts, notably Achal Prabhala, the coordinator of the AccessIBSA project, have written favorably about Chinese and Russian vaccines.
Through donations and purchase agreements with countries across the world, Chinese vaccines are making their way into arms amid a global shortage. 
The Russian and Chinese decisions to administer their candidates long before sufficient trials had been conducted were frowned upon by the international scientific community. The lack of transparency around Russia's candidate also led to its routine dismissal, but the Gamaleya Institute has since published impressive phase III trial data in The Lancet, leading to more mainstream acceptance.
Whether or not Chinese vaccines will similarly confound Western skepticism remains to be seen, but the bottom line appears to be that given the extreme demand we are witnessing, Coronavac may be good enough, while Sinopharm, a state-owned giant that supplies the larger part of pharmaceutical products within China, has a better reputation among experts. 
One of Achal Prabhala's main messages is that whether or not trial data has been made public, the Chinese vaccines have received approval from regulatory bodies in countries where they are part of inoculation efforts. These countries have seen the relevant data and have made their decisions. "The reason these deals are happening is because the vaccines have utility and value to these countries," Prabhala says.
But China's vaccine portfolio may need to evolve in the future. For now, Sinovac and Sinopharm are adequate solutions, but there are question marks as to how they stack up against future and current coronavirus mutations. Rasmus Hansen is the CEO of Airfinity, a data analytics company that is closely following the global vaccine rollout. He tells me that China is "sitting on a vaccine portfolio that is not as effective. It's also slower to scale up and harder to adjust to new mutations." 
The Pfizer and Moderna vaccines use new mRNA technology that makes it theoretically easier to adjust to new variants, and some experts expect to see a Chinese mRNA candidate come to the fore. Hansen tells me that lower- to middle-income countries will need to get their hands on mRNA vaccines in the future. "Right now," Hansen says, "China is meeting its obligations well, but looking ahead, they might not have as strong a soft power tool as they wished." 
There are also signs that China, too, may be struggling with capacity constraints, partly due to the limitations of its inactivated vaccine technology. At home, Beijing hasn't had to rush its vaccination program. The virus is largely under control, and there appears to be little sense of urgency among the population to get vaccinated. This means that Chinese makers have been able to fulfill their obligations to international customers, but there is a question mark about whether this will continue to be the case.
Global public goods aren't free
For now, though, Beijing is doing well. It has named 13 countries as recipients for its first round of donations, and has plans to help a further 38. The quantities of vaccine donated are small — enough to cover only 0.1% of Pakistan's population, for example — but in the context of global demand and Western absence, these gestures are significant. 
Of course, the countries first in line — good friends like Zimbabwe, Belarus, and Cambodia — highlight the inherently political character of such donations, but such is the nature of aid. Countries tend to foreground the altruistic motivations of their foreign aid programs, but the truth is that aid serves foreign policy goals, even if these goals are as innocuous as burnishing a country's international image or helping ensure a stable security environment. 
In the current climate of geopolitical tensions between the West and China, China's "vaccine diplomacy" is viewed somewhat negatively. It's conceivable that China's diplomatic gain will come at the expense of Western influence, but it's hard to argue that donating vaccines to those in need is inherently a bad thing. Those that can engage in vaccine diplomacy — notably India, China, and Russia — are doing so, and there's nothing morally wrong or atypical about such operations.
It's conceivable that China's diplomatic gain will come at the expense of Western influence, but it's hard to argue that donating vaccines to those in need is inherently a bad thing.
But Beijing also has plenty of paying customers. Alongside Russia's Sputnik V vaccine, Chinese vaccines are finding their way into arms across the world in mostly middle-income countries that have been pushed to the back of the vaccine queue by nations with more purchasing power.
Chinese state media and Chinese officials tend to champion these purchase agreements, alongside donations, as evidence of China's beneficence — a communications strategy that can strike Western critics as somewhat disingenuous. 
Beijing has a general tendency to blur the line between gifts and sales to other countries. For example, China's Belt and Road Initiative (BRI) is largely driven by the commercial interests of Chinese companies seeking lucrative construction contracts, but to hear Chinese officials talk of the BRI, you might think it was the gift of Chinese President Xí Jìnpíng 习近平 to the world.
This is in part due to the state-orchestrated nature of China's global economic engagement, but also speaks to a characteristically Chinese approach to cooperation with developing countries. Whereas Western donors prefer to draw a line between charity and business, Beijing approaches developing countries as an equal partner, portraying both grants and also more commercially motivated economic activity as a "win-win" in the style of "development cooperation."
Last year in May, Xi pledged that Chinese vaccines would be provided as a "global public good." Commentators have rightly questioned what exactly he meant by that, given that "public good" implies for free and for everyone — something the Chinese vaccines clearly are not. 
Zhang Hong, an expert in China's foreign aid and a Ph.D. candidate at George Mason University, tells me that Beijing uses the term "public good" very "liberally," and that Beijing probably doesn't understand the term's proper meaning in an economic context. The Chinese word for "public good" includes the word "产品 chǎnpǐn," more commonly translated as "product," and this might be a more realistic definition of what the Chinese vaccines actually are — global public products. This better explains slightly contradictory official statements that the vaccine would be provided as a "public good" at a "fair and reasonable price."
But while the portrayal of clearly self-serving activities in such a saccharine light is grating to Western ears, it doesn't always sound that way to developing countries. In the case of "vaccine diplomacy," it often doesn't matter to recipients whether China is getting paid in the process, it simply matters that China is the one with vaccines on the ground.
It's not an ideological choice
Viewed from Brussels or Washington, the global rollout of Chinese vaccines is inevitably seen in a geopolitical context, but the forces moving doses overseas are not primarily political. "It's science, not politics," I'm told by Brazilian healthcare worker Ruan Macedo, who received his first dose of the Sinovac vaccine in January. This has been a recurring theme in conversations with regional experts and people in countries on the receiving end of Chinese doses. From Turkey, where the government is also inoculating citizens using the Sinovac vaccine, political economist Altay Atli tells me, "It's not an ideological choice. It's so simple: Turkey is getting the Chinese vaccine because it was the most available one." 
The UAE has vaccinated millions of people using Sinopharm's vaccine, placing it near the top of the world leaderboard in terms of administered vaccines per capita. Speaking about the UAE's decision to go with the Sinopharm vaccine, Middle East analyst Nasser Al Tamini says, "It's medical, not political. They were worried about their economy and the option available was Sinopharm." 
The story of the Chinese rollout is one of adequate solutions meeting extreme demand. Airfinity CEO Rasmus Hansen says of China, "In contrast to Western vaccine makers, when they say they'll supply a country, they've actually done it."
G42, the enigmatic "artificial intelligence and cloud computing company" that partnered with Sinpharm in the UAE to roll out the vaccine, tells me unequivocally, "Our approach was agnostic to politics, led by science."
Serbia, currently leading the European mainland's most successful vaccination campaign, uses the Sinopharm vaccine. Serbian President Aleksander Vucic is a full-fledged sinophile, but it's not as if Vucic shunned other vaccines in favor of Sinopharm, Belgrade analyst Stefan Vladisavljev tells me. "It's not so much that it's the Chinese vaccine as it's the only available vaccine."
Indonesia has also partnered with Sinovac to vaccinate its population, putting in orders for more than a hundred million doses of Coronavac. Sulfikar Amir, an assistant professor at Nanyang Technological University, claims that Indonesia tried to approach Western vaccine makers last year, but received a lukewarm response. "Most Indonesian people," Amir tells me, "are now desperate and are willing to take any vaccine possible. The problem lies in the supply — should Coronavac be the only one available, I think people will take it."
The story of the Chinese rollout is one of adequate solutions meeting extreme demand. China, and now Russia, are winning purchase agreements simply by being available. Airfinity CEO Rasmus Hansen tells me of China, "In contrast to Western vaccine makers, when they say they'll supply a country, they've actually done it."
Beijing gets a foot in the door
Ruan Macedo in Brazil is a health geek and would jump at the opportunity to test Pfizer's new mRNA vaccine, but others, too, might prefer Western technology if given the choice. Half of Brazillians surveyed in December said they wouldn't take a Chinese vaccine, but that number dropped to 39% a month later. São Paulo–based reporter Igor Gielow tells me that many Brazillians distrust Chinese products, but that as demand grows, "people won't ask for the origins of the vaccine in the end."
There's a familiar pattern of low-barrier entry and opportunism to a lot of China's global economic engagement. For example, when they went truly global in the 2000s, China's state-owned resource giants gained footholds where they could, often taking a chance on markets judged too risky by established Western players.
The Belt and Road Initiative is also about pushing Chinese companies up the global value chain, helping them go global by easing their way into whatever markets are available with finance from state banks. After familiarizing itself with European regulatory environments in "second-best" markets in Serbia and Montenegro, state-owned construction company China Road and Bridge Corporation is now beating European companies for contracts on EU soil.
Stefan Vladisavljev speculates that China might be up to something similar with its vaccine rollout in Serbia. "It's a showcase," he says. "China wants to be number one, and you don't do that in Africa, but by beating COVID in Europe. The EU doesn't want the Chinese vaccine right now, but maybe it will after Sinopharm is successful in Serbia."
Sinovac and CanSino are among the 82 vaccine makers that have received scientific advice from the European Medicines Agency to prepare for "eventual applications," but Rasmus Hansen thinks it unlikely that Chinese vaccines will play a huge role in the EU. "They're not necessarily a good alternative at this stage," he tells me.
Beijing's biotech ambitions
Nevertheless, Chinese vaccine makers have capacity in a time of great demand, and countries for whom China might not otherwise be the first choice are eager to take what they can get. If vaccination drives using Sinovac and Sinopharm are successful, the gains could be huge. "There's a massive and undersupplied global market, so there's a real commercial opportunity, without a doubt," Andrea Taylor tells me.
The real prize might not be short-term profit but long-term reputational gain. China's pharmaceutical industry has been plagued by scandals and low levels of trust at home and overseas. Making Sinovac and Sinopharm household trusted names might start changing perceptions. Xiaoqing Boynton, senior director of international affairs at the Biotechnology Innovation Organization, tells me, "Equally important as any diplomatic objective is the push to get Chinese companies to be seen as reliable providers of vaccines and pharmaceuticals in general." 
China has already had problems with fake vaccines within China, and its harnessing of vaccines as a soft power tool is not without risks.
Over the past couple of decades, Beijing has sought to cultivate national champions to "go global" and compete on international markets. It's had success in multiple sectors, and this may be the moment for China's biopharma industry, which Beijing has identified as a strategic emerging industry. "By doing this, by really establishing these brands, that will reap benefits for decades to come," Boynton says. "Beijing is getting these companies primed to become truly global players."
Again, these pharmaceutical ambitions are part of wider Chinese efforts to move its national industries up the global value chain through a kind of corporate upgrading. In the real world, mainly through the presence of Chinese telecoms like Huawei, perceptions of what "Made in China" means are changing. A successful Chinese vaccine rollout may be part of this wider transition, with more people associating China with smartphones, high-speed rail, and healthcare, and fewer with low-quality plastic tat. Altay Atli in Turkey tells me, "I think the widespread use of these vaccines will help to overcome this 'Made in China equals low quality' perception — if the vaccine works well, of course." This last disclaimer is important: China has already had problems with fake vaccines within China, and its harnessing of vaccines as a soft power tool is not without risks. 
An important step in gaining wider recognition of Chinese vaccines will be approval by the World Health Organization (WHO) prequalification process. Chinese vaccines have applied for this, and a decision is expected in March. 
Being seen to engage with organizations like WHO is important for China's claims to be a champion of multilateralism, but Xiaoqing Boynton also says that international recognition is vital for China's economic ambitions. Boynton tells me that WHO prequalification is "key to China becoming a global player." Jerome Kim, director of the International Vaccine Institute, adds about Sinovac: "After they get a common seal of approval, then we can talk."
Becoming regional manufacturing hubs
Chinese vaccines aren't just facilitating Beijing's tech ambitions. The UAE's emergency approval of the Sinopharm vaccine back in September was a major boon for China, but the partnership also benefited the UAE. G42 Healthcare tells me that it explored "vaccine options with leading global pharma companies from around the world," but that Sinopharm was chosen because of G42's key criteria that a partner be "willing to conduct phase III clinical trials in the UAE to ensure a deeper understanding of safety protocols, and build native capabilities."
In other words, Sinopharm guaranteed the kind of tech transfer and close cooperation that wasn't available through purchase agreements with Western vaccine makers. Sinopharm not only conducted trials in the UAE, but also arranged to manufacture its vaccine in the UAE for regional distribution.
Guy Burton, an academic who works on China-Middle East relations, sketches a portrait of the UAE for me. "In the UAE, you get this sense that it wants to be at the cutting edge of everything." This is the country with a "Ministry of Possibilities," a place fueled by petrochemical wealth but desperate to diversify and employ all kinds of techy-sounding buzzwords in the process. Healthcare is, of course, one area that the UAE wants to develop. "You can't see this as a one-way street," says Burton.
Andrea Taylor tells me that the Pfizers and BioNTechs of the world didn't need to drum up business: "They had countries knocking down their door." Chinese vaccine makers, on the other hand, used "fairly assertive sales techniques." 
Part of their sales pitch was this deep cooperation with partner institutions. In Brazil, Sinovac is partnered with the Butantan Institute, which plans to distribute the vaccine throughout Latin America. In Southeast Asia, Indonesia is poised to become a regional hub for Coronavac through its state pharmaceuticals company Bio Farma, but Malaysia Pharmaniaga has also signed an agreement to manufacture Coronavac under licence. 
Chinese vaccine makers sought out these partnerships in the first place because low infection rates at home meant they had nobody to trial their vaccines on. The countries were not so much chosen for political reasons as for pragmatic ones. Brazil, for instance, is an obvious choice. The large country is a hotbed of infections and Sinovac's cooperation with Buntantan dates back to 2019. The purchase agreements and manufacturing contracts evolved alongside these trials, though now many more countries are knocking on China's door.
Geopolitics isn't everything
The vaccine game isn't apolitical, of course, but it's not always about geostrategic competition with China. For a start, there's the domestic angle: In Brazil, Sinovac has faced pushback due to President Jair Bolsonaro's anti-China inclinations and his political rivalry with Coronavac champion and governor of São Paulo, João Doria. And then there's the regional dimension: China and India competing to deliver doses in South Asia, or Euroskeptic Hungarian President Viktor Orban leaping on Hungary's agreement with Sinopharm as an opportunity to bash the EU. 
Even vaccine geopolitics has a silver lining as far as equitable vaccine access is concerned.
In the Middle East, it's not only China that stands to benefit reputationally from distribution of a Chinese vaccine. While the UAE's interests in Sinopharm are primarily about health and the economy, being a manufacturing hub also presents the Gulf state with diplomatic opportunities of its own. It has already donated doses to Seychelles and may well leverage its wealth to gain favor with countries in the wider region. Guy Burton tells me that the UAE has long sought to punch above its weight and that the government is enthralled with the concept of soft power. "The UAE is looking inward as well as outward, it wants to open up its economy and gain first mover advantage, but it also wants that diplomatic edge," Burton says.
This national and regional focus is often what gets lost in conversations about China. China's global economic engagement is usually seen in the context of great power rivalries, and in the process, the agency of smaller countries is overlooked. This is just as true when it comes to vaccines. Achal Prabhala reminds me, "These countries are doing these deals with their eyes wide open — nobody has a gun to their head."
As Western criticism grows over Beijing's human rights abuses in Xinjiang, tightening grip over Hong Kong, and uncompromising position on Taiwan, it can be hard to write about anything China does without either defending or criticizing — without moralizing one way or the other. 
Ultimately, though, it's difficult to see how China's vaccine engagement should be something to condemn. The manufacturing agreements it has signed with local partners are a great thing for the middle-income countries involved. "It matters where manufacturing happens," Andrea Taylor tells me. "The countries that have capacity to control any part of the supply chain are in a much better position relative to countries that don't." Rasmus Hansen likens control of vaccine supply to investments in national defense: "It's absolutely critical," he says.
Beyond this parochial interest, devolved manufacturing is a step in the right direction toward solving the world's production capacity problem. Achal Prabhala usually campaigns for equal access to medicines by tackling monopolies that pharmaceutical companies hold through intellectual property rights, but in the current pandemic, he sees capacity as the main barrier to global access. When I ask Hansen what the solution is to equitable access, he says, "It's clear we need a decentralized global production system."
Even vaccine geopolitics has a silver lining as far as equitable vaccine access is concerned. Rivalry between China and India means that the two giants are competing for influence through vaccine donations to countries in South Asia. Bhagya Senaratne, a lecturer at General Sir John Kotelawala Defence University, tells me, "As a Sri Lankan, I think we are benefiting from the power rivalry in the South Asian region. I don't think we would have been able to receive these donations if it weren't for [China-India] competition and interest in Sri Lanka's geographical location."
Beijing's vaccines are providing middle-income countries with solutions in a time of need. Its donations are largely symbolic, but they are better than nothing. Once again, China is gaining ground just by showing up. 
When former U.S. Secretary of State Mike Pompeo toured Africa and berated countries for dealing with China and decrying the Belt and Road Initiative as a debt trap, he only succeeded in reinforcing narratives that Washington cares more about its own strength than it does African prosperity. Criticisms of the BRI are valid, but they will only be heard if accompanied by viable alternatives.
The message here is that many low- to middle-income countries are primed to accusations of hypocrisy aimed at the West. Europe and America's absence from the vaccine diplomacy game will surely not be lost on countries struggling to put together vaccination programs.
"China and India have at least made gestures," Andrea Taylor says. "We have not seen rich countries follow suit, which should be embarrassing for them." Health, rather than geopolitics, should be the focus right now, but if politics is inevitable, then the key takeaway from China's vaccine engagement should be that Europe and the U.S. need to do better.