Ride-hailing for the blind: Didi promises accessible travel
Business & Technology
Didi Chuxing, the ride-hailing and urban transport tech company that ate Uber's lunch in China, seems to be getting serious about accessibility for people with disabilities.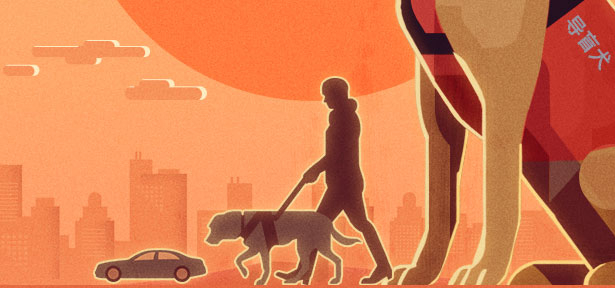 For most Chinese mobile users, the ride-sharing revolution has made travel as easy as tapping a button. But for Zhōu Tóng 周彤, the gains remain out of reach.
"There were countless times when I had issues getting a cab, and when the driver saw my guide dog, his initial reaction was to refuse the ride," said Zhou (in Chinese).
Zhou is one of 17.5 million visually impaired people in China who have long faced barriers unbeknownst to the majority: buses without announcement systems, elevator buttons without Braille, and locks without voice activation.
But now, as the digital revolution gets under way, the visually impaired are facing new barriers even as China's tech giants promise to break them down. Life in Chinese cities is increasingly difficult if one can't use mobile phone apps, and Didi has become China's main way to access taxis and other transportation.
Just navigating the complex interface of the Didi app is difficult enough for the visually impaired, but the troubles don't stop even when Zhou manages to order a ride. "Many drivers count guide dogs as pets, and since pets aren't allowed in cabs, there's a high chance I get rejected," she said.
Didi makes some accessibility promises
On April 13, Didi signed an agreement with the China Association of the Blind (CAB) to reduce barriers for the visually impaired in the ride-hailing process (in Chinese).
Accessibility issues — which Chinese often refer to using the adjective wuzhangai (无障碍 wúzhàngai; literally, "barrier-free") — became a topic of discussion on Chinese social media (in Chinese) following the news.
Per the agreement, the Association will provide Didi with data to help verify blind passengers who require special services, while also providing consultation throughout the process.
Lǐ Qìngzhōng 李庆忠, the president of CAB, said that accessibility, especially in the domain of travel, was a prerequisite for the visually impaired to participate in any social activity. "We hope that Didi's experiences can be extended to more companies," he said (in Chinese).
The news follows the ride-hailing giant's earlier initiatives to improve its accessibility services. Last September, Didi launched the "accessible travel service" program (in Chinese), which sets out to help passengers with certified guide dogs "find a car, avoid rejection, and complete their travel smoothly." The service covers 74 cities nationwide so far.
The service makes hailing a ride easier for the visually impaired, prioritizes their order, and alerts certified drivers that they are not to refuse the order and must provide assistance if necessary.
More than 1.8 million Didi drivers have completed the "accessible travel service" certification, which is more than half of all drivers in the cities where the service is offered. Certified drivers are trained to provide as much assistance as possible and never to refuse passengers with guide dogs.
"We believe more drivers will join the "accessible travel service" program as they begin to better understand the service," said Lúo Zhēnzhēn 罗真真, head of Didi's corporate social responsibility unit, to 36Kr (in Chinese).
Drivers receive awards and an additional bonus of 10 yuan ($1.50) per order after serving passengers with guide dogs.
Traveling for the visually impaired is a common challenge for many countries.
In Japan, train stations offer ticketing machines with Braille buttons and voice prompts. Tactile paving helps the blind navigate inside the station, and some companies are experimenting with more involved audio guidance systems.
In the U.S., Uber makes its software compatible with voice-over features and wireless Braille displays.
In China, there are laws that ensure that the visually impaired have access to public spaces.
Article 16 (in Chinese) of the Regulations on Construction of Accessible Environments mandates that "staff working in public places must provide accessibility services to the visually impaired in accordance with relevant state regulations."
But Didi is ahead of most competitors in the transportation industry on the issue of accessibility. Prior to working with the visually impaired, it rolled out a number of solutions for those with special needs. They include Didi's more spacious, wheelchair-friendly "Accessibility Car" (in Chinese) and the child-car-seat-equipped "Baby Car" (in Chinese), both launched in 2017.
"We hope our experience can be referenced and put into practice by our peers," said Luo (in Chinese). "On the issue of social responsibility, there are no competitors — only partners."