'Scumbags': Influencers caught stealing rescue boat to fake saving people in Henan floods
Society & Culture
Small-time internet "influencers" disrupted rescue work in the aftermath of the Zhengzhou floods. Douyin eventually took action.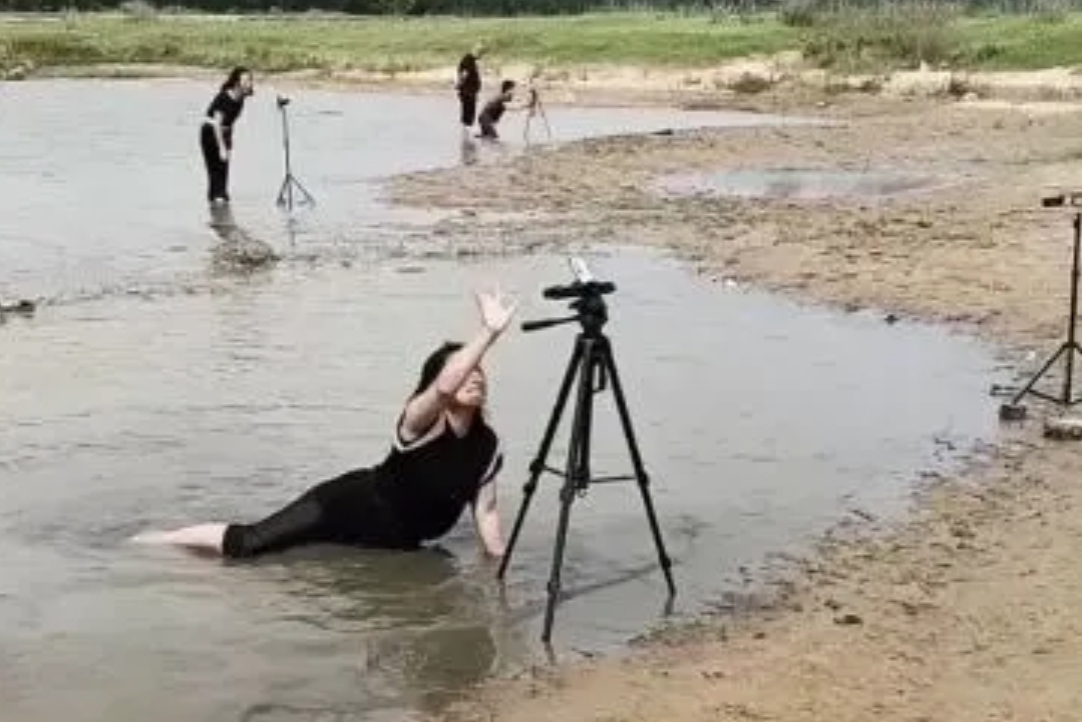 The clout-chasing micro-influencers are, regrettably, at it again.
Torrential rain and massive floods devastated Henan Province about two weeks ago, destroying thousands of homes, killing at least 71 people, and resulting in direct economic losses of 2.25 billion yuan ($348 million). So, obviously, areas affected by the catastrophe are now the perfect backdrop for videos on Douyin, TikTok's Chinese twin. According to some of its users, anyway.
On Tuesday, a dispute reportedly broke out between several Douyin influencers and a team of rescue workers in Xinxiang, one of the cities hit hardest by the floods. A video (in Chinese) that captured the altercation shows an agitated first-responder accusing the Douyin users of stealing a rescue boat when he took a brief lunch break between saving victims. When stopped by the rescuers, who searched for the boat for more than four hours, the influencers tried to argue that they were looking for people in need of help. 
The China Vibe.
Subscribe to The China Vibe, our society and culture newsletter, to get a free weekly roundup of the most interesting stories from China.
But the rescuer can be heard shouting, "It's crystal clear to everyone here that you weren't really trying to save people. You are scumbags!" as the influencers sit still on the boat, looking embarrassed and ashamed. 
According to media reports (in Chinese), local police were called to the scene and an investigation is underway. In an interview (in Chinese) with China Youth Daily, Dǒng Lín董琳, the head of the rescue team, said that the boat was "severely damaged" when they found the perpetrators. Besides that, he was particularly outraged by the influencers "wasting" hours of his time, which could have been devoted to searching for potential survivors.
"I've seen them and they've been here since the very first day of the floods, filming videos and doing livestreams," Dong said.
The two Douyin accounts operated by the influencers have since been suspended from posting on the platform. In a now-deleted video showing their "rescue attempts" while on the stolen boat, a man from one of the accounts says, "Live from Henan! You can see how deep the floodwater is here, but we are going to drive our boat to places where the water level is higher. We will save more people. Hang in there, Henan!"
The boat-stealing influencers weren't the only small-time social media personalities to use the deadly floods to grow followers, likes, and views. China Youth Daily reported (in Chinese) that in the immediate aftermath of the disaster, hundreds of influencers flocked to Henan, despite officials advising the concerned public to leave rescue work to professionals and not to go to affected areas to take up local resources. 
Rescue workers told the newspaper that the influencers, along with celebrities who traveled to the front lines with supplies and, of course, their camera crews, had not only posed a problem for the efficiency of their work, but also put some locals in a more perilous situation by giving them misleading safety tips.
Using breaking news events or other internet sensations to seize attention is not a new phenomenon in the influencer economy. Earlier this year, a farmer in Shandong found unexpected fame after a video of him showing off noodle-making skills went viral. Hoping to cash in on his popularity, hundreds of Douyin users flooded to his humble stall, livestreaming day and night. The influx of visitors caused a serious disruption of his business, leading the noodle maker to tearfully beg for them to leave in a heartbreaking video. 
As participants in the influencer economy, social media platforms rarely take action against such clout-chasing behavior. But with lives at stake, there seems to be a reckoning occurring at Douyin: This week, the platform issued a statement (in Chinese) vowing to crack down on users "capitalizing on the Henan floods." So far, 98 videos have been removed and 42 accounts have been suspended, including eight that suffered a permanent ban.