#MeToo setback in court for CCTV intern: Q&A with scholar Darius Longarino
Society & Culture
A court in Beijing dismissed an ex-intern's sexual harassment case against a TV star yesterday. Scholar Darius Longarino explains that despite several anti-sexual harassment laws introduced in the past few years, it's still depressingly hard for victims to win in Chinese courts.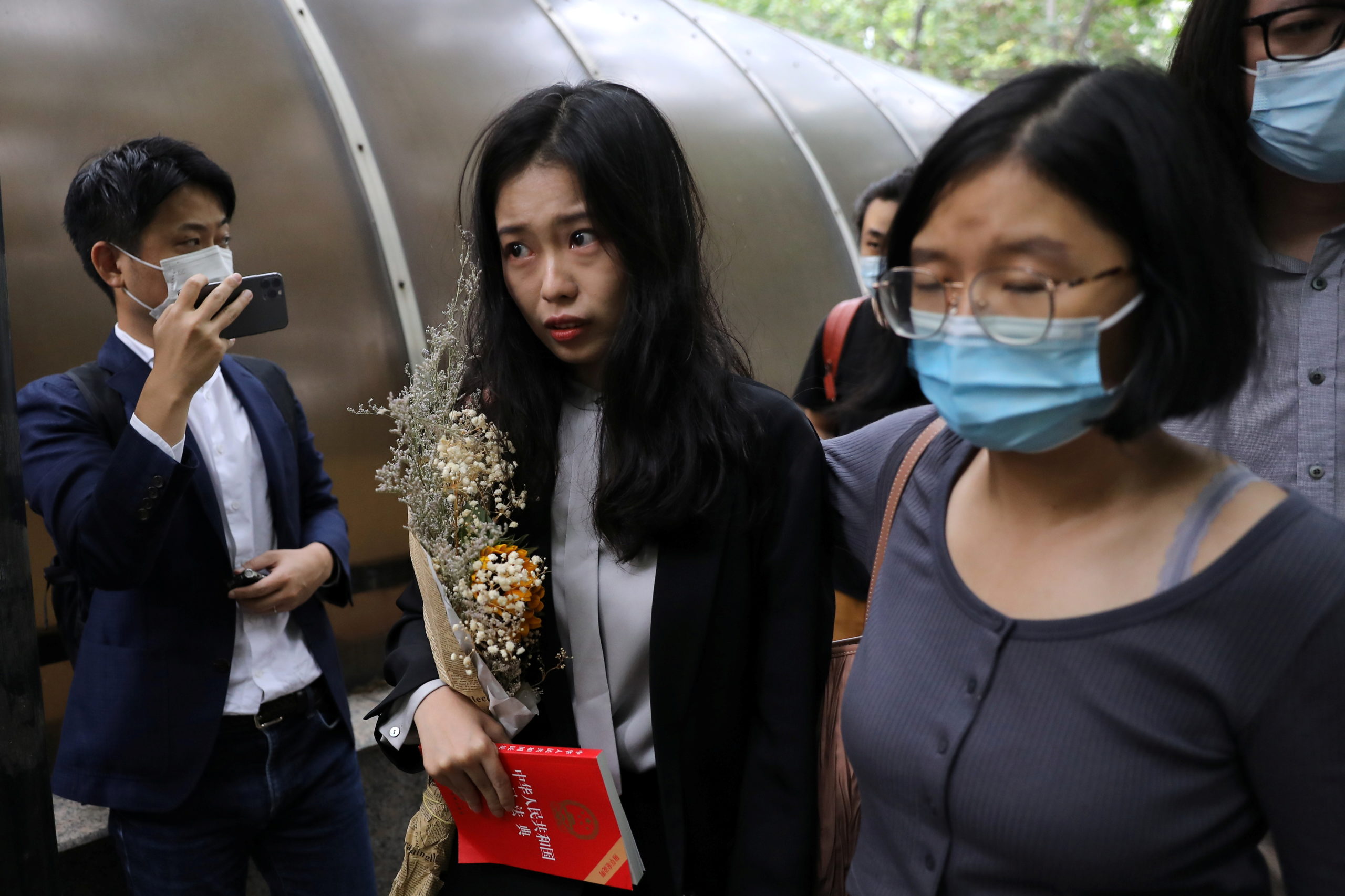 On Tuesday, in a major blow to China's beleaguered but resilient #MeToo movement, a Beijing court dismissed a lawsuit filed by Zhōu Xiǎoxuán 周晓璇, saying that she didn't meet the burden of proof in her sexual harassment claim against Zhū Jūn 朱军, a prominent host at state broadcaster CCTV.
Speaking to a small crowd of supporters and journalists outside the courthouse, Zhou, also known by her previous alias, Xiánzǐ 弦子, said that she was "disappointed" about the verdict and "exhausted" from the three-year legal ordeal, which started with Zhu suing her for defamation, then Zhou countersuing him for sexual harassment. 
In a statement published on Tuesday evening, Zhou vowed to appeal the judgment, claiming that the court treated her case unfairly in many ways, including blocking her repeated efforts to retrieve video footage evidence, and refusing her requests to consider evidence from a psychologist. "There is no shame in defeat. I'm honored to have stood with everyone in the past three years," she wrote. "It wasn't an easy matter, but an extremely arduous and glorious journey."
Zhou's experience is emblematic of many victims of sexual harassment or assault across the country who want to hold their perpetrators accountable and seek justice in civil courts. In a recent article published on the Diplomat, Darius Longarino, a research scholar at the Yale Law School's Paul Tsai Center, explains that despite a slew of anti-sexual harassment laws and regulations introduced by China in the past few years, it's still depressingly hard for victims to win in court. 
After analyzing 83 relevant cases in public databases of civil lawsuits, Longarino and colleagues found that "only six (7%) were sexual harassment cases brought against harassers, while 77 (93%) were brought by alleged harassers against their accusers or employers."
In the wake of Tuesday's hearing, we spoke with Longarino about the legal implications of Zhou's lawsuit and how Chinese courts can handle sexual harassment claims better.
Did anything surprise you about the way Xianzi's case played out? In her statement following the hearing, she listed seven instances in which she felt that the court handled her lawsuit unfairly. Do you think she was deprived of basic procedural justice in her lawsuit?
It did seem like a hand was tipping the scales even further against Xianzi throughout the whole litigation process. I was struck by the court refusing to categorize her case as a sexual harassment dispute. According to Xianzi, the court explained that such disputes only apply to sexual harassment that occurs in educational institutions, but that is plainly incorrect. The first lawsuit to use the official cause of action for sexual harassment concerned an incident that occurred in a workplace. 
Also, the court rejected requests to retrieve corroborating evidence, such as security camera footage, by declaring it was not probative. The court did not compel Zhu to testify so it could assess his credibility. In short, the court blocked Xianzi's legitimate requests to retrieve more evidence and then ruled that she did not have enough evidence.
In explaining its decision, the court cited "insufficient evidence." What's considered "hard" evidence in sexual harassment lawsuits in China? 
In civil litigation in China, plaintiffs must prove their claims to a "high degree of likelihood" (that is, roughly speaking, to a degree of 75% or 85% certainty). Chinese courts disfavor testimony as a form of evidence, especially litigant testimony. In Embedded Courts: Judicial Decision-Making in China, Kwai Hang Ng and Xin He write, "Most judges view uncorroborated oral evidence as useless." Among the court judgments regarding sexual harassment allegations that me and my colleagues have seen, litigants who can provide a video recording that directly depicts the incident or screenshots of offending messages fare much better than those who only present testimony, who do poorly. Courts also tend to defer to police decisions when they are available.
It seems like defamation suits have increasingly become an effective tool for alleged harassers to silence their accusers. Is there a way to prevent them from exploiting the system at the expense of victims?
Defamation suits have been used against the #MeToo movement globally and present a real challenge. Like in many jurisdictions around the world, Chinese courts reverse the burden of proof in defamation cases. The burden reversal in combination with the "high degree of likelihood" standard makes it easier to win defamation suits against survivors and creates a significant chilling effect. After losing a #MeToo defamation suit in January, Hé Qiān 何谦 and Zōu Sīcōng 邹思聪's lawyer, Xú Kǎi 徐凯, said, "This is equal to telling someone who was humiliated, who was hurt, that if you don't have audio recordings or videos of the event, then you better hurry up and shut your mouth."
I think helpful near-term steps include courts giving more weight to testimony they find credible and companies instituting systems for receiving and responding to sexual harassment complaints. Survivors could turn to effective systems for recourse first rather than taking a gamble by appealing to public pressure. The Alibaba employee only posted her account to the company intranet and protested in the canteen after managers gave her the runaround. Based on my reading of her account, the managers responded in a disorganized and inappropriate way, and there wasn't a clear process being followed. Xianzi recently wrote that, "#MeToo is the last resort for victims of sexual assault, because it represents the failure of the judicial system and of individual confrontation…"
When China introduced its first-ever Civil Code, many lawyers and activists applauded it for using more concrete language to define what constitutes sexual harassment and potentially paving the way for further changes to allow victims to seek justice. Do you think the law has made it easier to file a sexual harassment lawsuit in China? Has it brought out any positive change?
Article 1010 [of China's Civil Code] has helped to raise further the profile of sexual harassment as a rights issue within the legal system and society generally. Importantly, as you mentioned, it provides a definition of sexual harassment with a broad set of examples that clarify that sexual harassment is not just limited to unwanted touching but can also take other forms, like making unwanted verbal sexual advances or displaying offensive images. Article 1010 is also gender neutral, whereas sexual harassment provisions previously only appeared in laws and regulations concerning women.
The Code has only been in effect since January, so it is too early to tell whether it will encourage more survivors to turn to the legal system. A remaining problem is that once survivors get to court, they run into the same evidentiary challenges described above.
The second paragraph in Article 1010 obligates employers to take reasonable measures to prevent and respond to sexual harassment in the workplace. As for Alibaba, it seems like scandal was more important than the Code in prompting them to adopt anti-sexual harassment policies. The law could incentivize employers to adopt such policies by making them liable for workplace harassment if they fail to do so.