Cross-dressing star banned from Chinese TikTok for 'vulgar' content
Society & Culture
China's war on "effeminate" men continues as another gender bending influencer is removed from Douyin, the Chinese version of TikTok.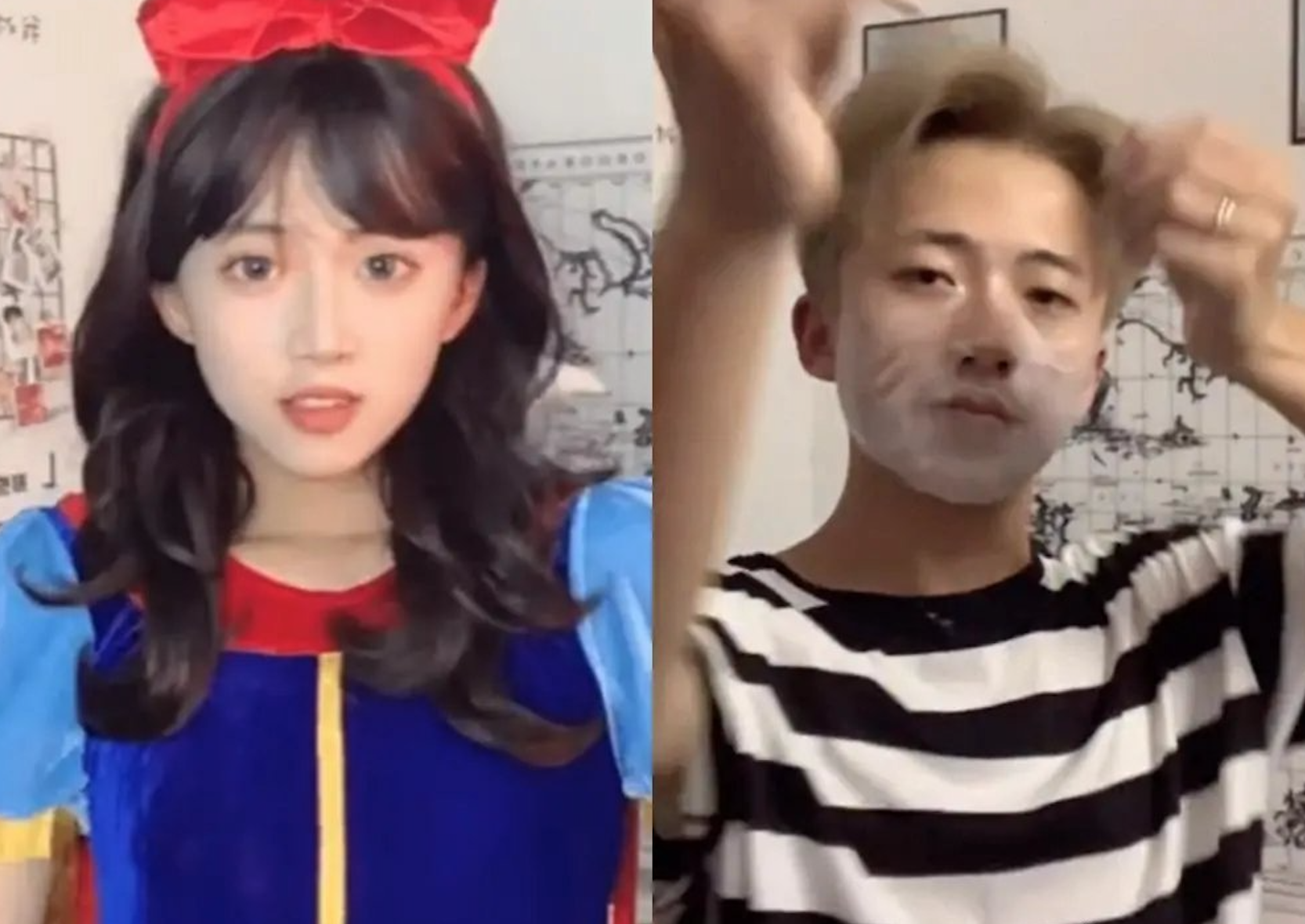 Douyin, the Chinese version of TikTok, has a history of following explicit and implicit rules from China's censors —  wealth-flaunting influencers and binge-eating personalities have previously been removed from the platform. Now Douyin is following government guidance on eliminating "effeminate" men from entertainment on China's internet and TV  
According to screenshots captured over the last weekend, the Douyin page of Kāng Yǎyǎ 康雅雅, a male vlogger who mainly posted videos of him cross-dressing, no longer appears on the platform. Instead, users are now met with a message stating that his account was permanently banned for violating community guidelines on "vulgarity."
While it's unclear what exactly caused the ban, an apology issued by Kang offered some clues. On Sunday, he wrote (in Chinese) on Weibo that he was sorry for the "negative impact" of his cross-dressing videos on teenagers and society, adding that he would take a hiatus from social media and stop posting videos of him donning women's clothing and makeup.
"I hope everyone will treat this matter rationally and please don't turn it into a trending topic," Kang wrote. "I also hope everyone will enjoy sunshine and have the courage to move forward."
Since joining Douyin, Kang had become a popular figure on the app, amassing more than 2.8 million followers and earning an average 500,000 views per video. Kang belonged to a small but vibrant Douyin community of cross-dressers (in Chinese), who present themselves in traditionally feminine ways, even if they do not explicitly discuss gender. 
But unlike some of his peers such as Máomáo Jiě 毛毛姐 and Hán Měijuān 韩美娟, whose videos often feature them wearing dramatic makeup and parodying female characters in high pitch voices, Kang came off more like a genuine lover of women's fashion and beauty. In one of his most popular videos, Kang shows before and after clips of himself transitioning from an ordinary-looking boy with short hair into someone dressed in a Snow White costume and channeling feminine energy. 

Although Kang seemed to have resigned himself to the ban, many of his followers and others on the Chinese internet were indignant on his behalf. They called on Douyin to provide examples of Kang's violations, saying that it's unfair to label the crossdresser's videos as "vulgar" when other creators on the platform are still allowed to wear revealing clothes and use suggestive language to attract viewers. 
"As a woman, I watched his videos regularly for makeup and fashion inspiration. Crossdressing is his hobby and he didn't get in anyone's way. It's ridiculous that someone found his videos vulgar," a Weibo user commented (in Chinese).
Others suspected that the real issues were Kang's crossdressing behavior and his effeminate demeanor, which has gradually become a potential source of offense for male creators on Douyin. In August, Douyin suspended a popular account owned by Fēng Xiǎoyì 风小逸 after a group of users mass reported him for being too feminine. While the app insisted that the suspension was caused by Feng's solicitation of virtual gifts from teengaers rather than his gender expression, many observers still believed that Douyin was taking issue with men challenging rigid ideas of masculinity.
The China Vibe.
Subscribe to The China Vibe, our society and culture newsletter, to get a free weekly roundup of the most interesting stories from China.
Douyin's growing animosity towards effeminate men is only a symptom of a troubling trend that's happening in Chinese society. Firmly convinced that the nation's overprotected teenage boys are having a "masculinity crisis," Chinese officials have introduced a slew of policies in the past year in order to curb gender-neutral aesthetics and reinforce traditional gender roles in the classroom. 
In May, education officials in Changsha, the capital city of Hunan Province, faced a backlash for lowering standards for male applicants when recruiting teachers. When called out for gender discrimiantion in its hiring, the local government defended its decision by saying that male teachers were desperately needed to address a decline of manliness among school-age boys. Earlier this month, China's top media regulator ordered a boycott of effeminate men on TV and told broadcasters to promote more "masculine" role models.