Chinese fans leave behind government's video game bashing to celebrate esports team's world title
Society & Culture
Coming just months after the Chinese government made strict new rules limiting under 18s from playing computer games more than three hours a week, a Chinese esports team won the League of Legends World Championship. Fans celebrated in the streets and even state-owned media offered congratulations.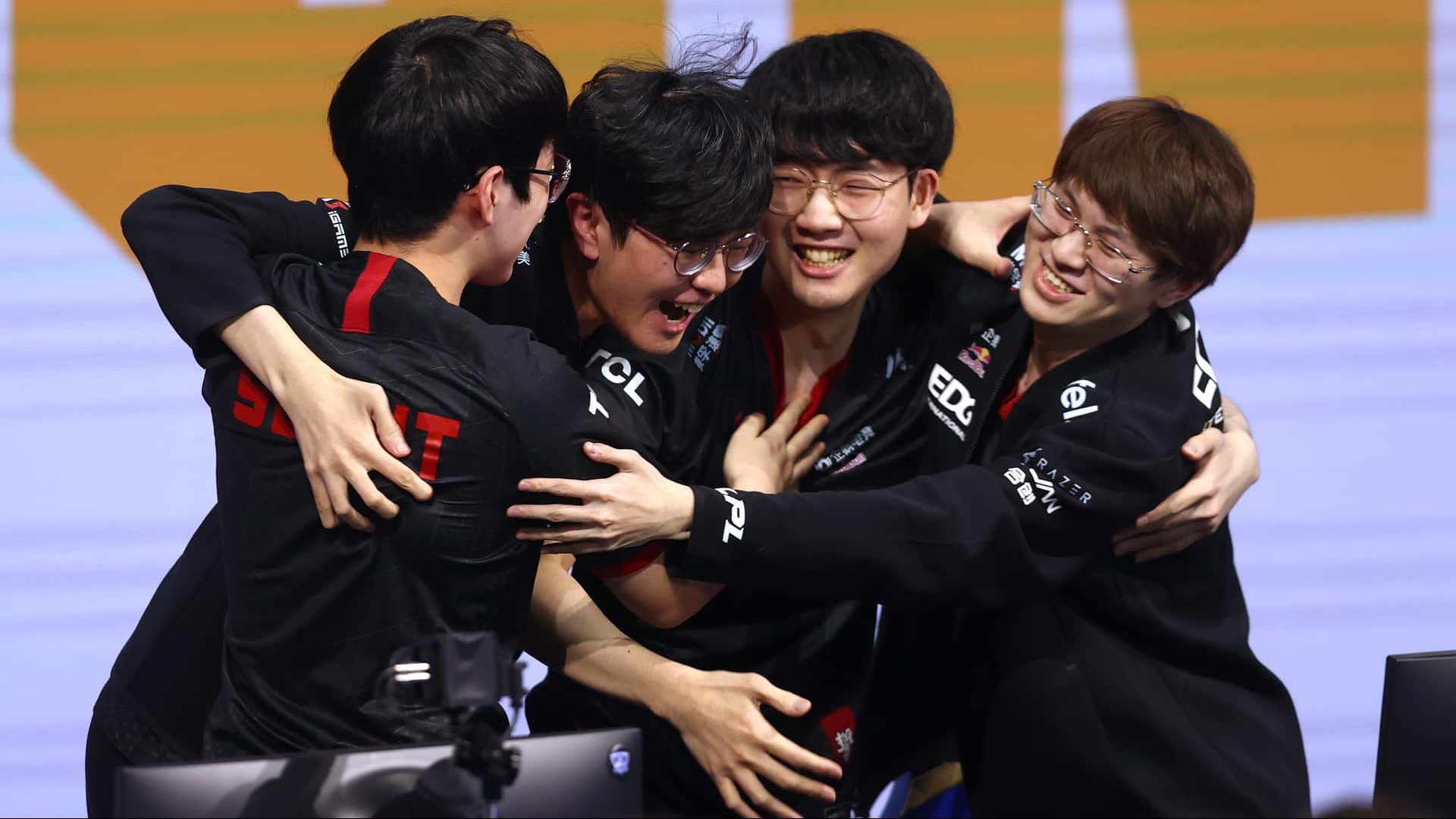 Tens of millions of gamers stayed up late on Saturday night to witness Edward Gaming (EDG), a Shanghai-based professional esports team, claim the 2021 League of Legends (LoL) World Championship which was hosted (virtually) in Reykjavik, the capital of Iceland.
Some Chinese fans of the new gaming champions marched down streets. Many cried. And most were in sheer ecstasy after watching the Chinese team, which had never previously advanced past the quarterfinals, bring home China's third world title since the tournament's inception in 2011. Chinese teams Invictus Gaming and FunPlus Phoenix had previously won the LoL championship in 2018 and 2019.
EDG's victory on Saturday marked an unexpected yet spectacular finale to their tournament run. In a nail-biting best-of-five series, the underdog team pulled off an upset against South Korea's Damwon Kia (DWG) by a narrow 3-2 margin, crushing its dream of winning two championships back to back. EDG's mid-laner Lee Ye-chan, a Korean LoL player also known as "Scout," was selected as the MVP of the finals for his standout performance. 
Founded in September 2013, EDG is named after its owner, Edward Zhu (Zhū Yīháng 朱一航). The esports tycoon is the eldest son of Zhū Mèngyī 朱孟依, the founder of Hopson Development, one of the five largest privately held real estate companies in Guangdong Province. Although the team has been a dominant force in China for a long time, it has "historically fallen just short of the title," said Walter Wang, the vice president of operations at U.S.-based esports company SoloMid Corp., also known as TSM. "This year, however, as the underdogs they won Worlds, proving many who underestimated them wrong."
Developed and published by Riot Games, League of Legends is a free-to-play online battle arena video game that has over 140 characters and four different multiplayer maps. Despite being a 12-year-old title — ancient by industry standards, the game still enjoys immense popularity around the world, especially in China, where it has been the country's most popular PC title nearly every year in the past decade, with a fan base of more than 100 million players. 
The game's success has spawned an entire franchise of competitions that includes the annual League of Legends World Championship, one of the biggest tournaments in the world of esports. In normal years, the tournament, commonly referred to as "Worlds," is an epic international event stretching across the globe, and the grand final usually takes place in a stadium with a live audience and a roster of famous entertainers. But this year, just weeks before the event was set to happen in China, organizers of the tournament moved it to Europe amid travel complications brought on by China's zero-tolerance approach to COVID-19.
Despite the last-minute change of location and the inconvenient time of the final match — it kicked off at 8 p.m. Beijing time and wrapped up around 1 a.m. on Sunday — the livestreamed game drew a staggering 350 million viewers on Chinese video-sharing site Bilibili, which had exclusive broadcast rights. After EDG's win, hashtags related to the news dominated Weibo's trending topic list over the weekend, with the main one generating over 3.3 billion views as of today.
The eruption of joy was felt in the physical world, too. Dozens of videos posted on social media captured loud celebrations across China as large crowds of overjoyed fans flooded into the streets from viewing events at crowded bars. Confined to their dorms, some college students screamed at the top of their lungs when EDG clinched its first world title. Others went out for celebratory runs on the campus, with some carrying homemade flags adorned with EDG's name and logo. 
The euphoric reactions were hardly a surprise, said John Oliverius — the founder and president of Verius Ventures, a business consultancy that publishes the China Esports Business News Digest, an English-language weekly newsletter covering the business of esports in China — given that "China has the largest fan base for LoL and by far the greatest cultural affinity for esports of any region." 
Major state media like Chinese Central Television (CCTV) also wasted no time celebrating the triumph. In a news segment (in Chinese) on Monday, the state broadcaster announced the news to its millions of viewers. On Sunday, Xinhua News Agency, China's most important state-owned newswire, congratulated EDG on its win in a video (in Chinese) posted to Weibo, which so far has accumulated nearly 7.8 million views.
In a stark contrast to the positive coverage of EDG, the Chinese government has been intensifying its push to eliminate children's obsession with video games, as part of a broader effort to eliminate what it sees as "bad influences" in young people's lives. In August, China tightened restrictions from 2019 aimed at addressing what the government said was a growing scourge of online game addiction among schoolchildren. Under the new rules, players under the age of 18 are barred from online gaming from Monday to Thursday, and limited to one hour a day on weekend and holiday evenings. 
"Adolescents are the future of the motherland, and protecting the physical and mental health of minors is related to the vital interests of the masses, and in cultivating newcomers in the era of national rejuvenation," declared a government explanatory statement about the rules. And just days before the directive, Xinhua News Agency published a harshly worded article (in Chinese) bashing video games as "spiritual opium," an allusion to past eras when addiction to the drug was widespread in China. 
Given the hostile environment for Chinese gamers, Oliverius said that he believed the news of EDG's win offered "a moment of relief" for them when the future of esports in China is murkier than ever, as well as a source of "consolation" for some fans who were unable to attend the event in person as they originally planned.
Competitive gaming, or esports, is huge in China. In 2020, the world's biggest video gaming market had an estimated 720 million gamers, or about half of the nation's total population, and roughly 110 million of them were under the age of 18, according to a study by market researcher Niko Partners. Because professional players are typically discovered in their teens and have to spend hours practicing after school, the ubiquity of gaming in China, especially among teenagers, was once what made China an esports powerhouse with an estimated 5,000-plus teams. 
But the country might lose its competitive edge because of its clampdown on teen gaming, which will "potentially suppress the talent pool in China and choke the path to pro," Oliverius said. The restrictions might also cost China some medals, since recognition is growing globally that competitive gaming is a legitimate sporting activity: In 2022, esports will debut as an official medal event at the Hangzhou Asian Games, and LoL is one of the eight video games that have been added in the program.
"At that point, will the authorities start creating some exceptions around esports to support it?" Oliverius asked. But for now, he added, "the idea that EDG may be part of the last generation of China's dominance in pro LoL gaming makes this victory all the more profound."