Chinese fashion photographer Chen Man apologizes for 'unthoughtful' work
Society & Culture
Chinese internet users are mad at one of China's most successful photographers. Was she culturally insensitive, or are her critics guilty of a particularly lame version of cancel culture?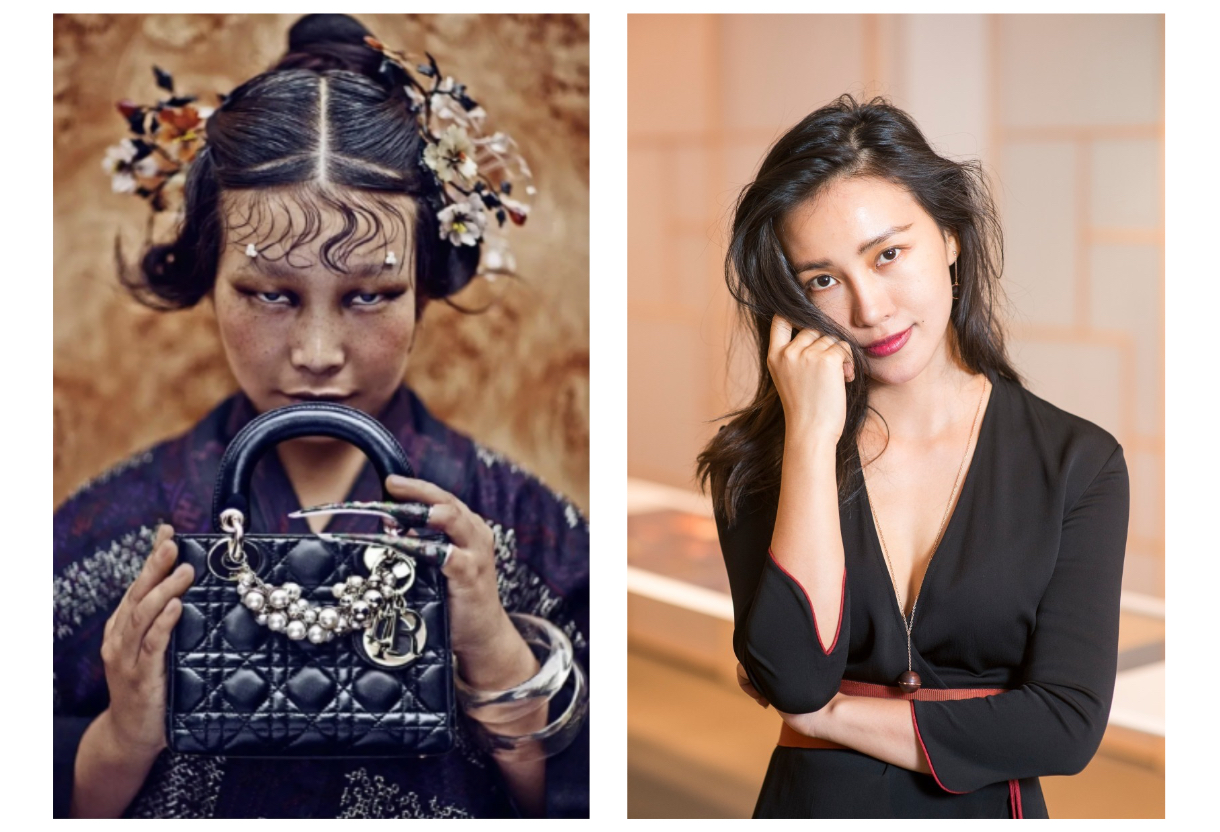 Chinese photographer Chén Màn 陈漫, who has worked with numerous fashion magazines, A-list celebrities, and influential brands around the world, has apologized for "inconsideration" and "ignorance" in the past after her recent photoshoot for French luxury fashion house Dior caught flak on the Chinese internet for perpetuating Western stereotypes of Asian faces. 
In a statement (in Chinese) posted on her Weibo account today, the 41-year-old visual artist wrote that she had reflected on her past mistakes and felt compelled to issue a formal apology after "carefully looking through nearly every negative comment" about some of her past artwork.
"I was born and raised in China. I deeply love my country. As an artist, I'm totally aware of my responsibility to document Chinese culture and showcase Chinese beauty through my work," Chen stated. "Because I was still developing my visual language in my early career and I didn't fully understand the themes of many exhibitions where my photos were displayed, there was a lack of consideration in my past work."
One specific project by Chen that has been called into question is a series of photos titled Young Pioneer (少先队员) from 2008, which features a young girl in a sheer dress juxtaposed against pictures of Chinese landmark architects and milestone achievements, such as the Three Gorges Dam and the country's first lunar orbiter, Chang'e-1. 
In a 2015 interview with KCRW, an American radio station with a focus on art and music, Chen explained that the collection was meant to show a hybrid of "past and future Chinese ideals," with the dress evoking a sense of nostalgia and the scenes representing the realization of China's "material dreams," which she was "so proud of." But in the eyes of critics, the young model was "overly sexualized" by her revealing clothing and it was disrespectful for Chen to put her next to some of China's biggest accomplishments.
Another photoshoot that has attracted negative attention is Chen's 2012 collaboration with Vice Media's fashion publication, i-D Magazine. In honor of the Chinese New Year, Chen created 12 covers for the magazine's spring issue, many of which were portraits of women from Chinese tribes. Although the photographs are hailed in the fashion industry as a celebration of the diverse beauty in China, some Chinese internet users have taken issue with the "spooky makeup" and "slanted eyes" of the models, claiming that Chen was feeding into racist stereotypes about Chinese people's facial features and fashion taste.
To avoid "hurting people's feelings," Chen said that she had pulled the problematic photos from all platforms. "In the meanwhile, I will educate myself on Chinese history, attend more relevant events, and improve my ideologies," she wrote. "I will continue to use the confident spirit of China's new era as a source of inspiration and strive to tell China's story right through my work."
Although nowhere in the statement did Chen mention Dior, it's evident that the recent backlash against the artist was initially triggered by a publicity photo taken by her for the French brand. As part of Dior's ongoing art exhibition in Shanghai, the photograph features a stern-looking Asian woman wearing a traditional dress and holding the brand's iconic Lady Dior handbag.
In many ways, the Dior image is reminiscent of Chen's portraits for i-D Magazine. And this is exactly why it incurred the wrath of social media users who were upset by Chen's "offensive, insulting, and vilified" portrayal of Chinese women. "It should be easy to showcase the beauty of Chinese culture. The beauty is in China's thousands of years of history and she can just directly draw inspiration from that. Why vilifying China? Just because the fashion world is dominated by Western standards? Because of people like Chen Man who constantly play into stereotypes and are so used to falling on their knees, China doesn't have much cultural influence globally," a Weibo user wrote (in Chinese). 
The China Vibe.
Subscribe to The China Vibe, our society and culture newsletter, to get a free weekly roundup of the most interesting stories from China.
State media was quick to weigh in on the matter, too. In an editorial (in Chinese) titled "Is this the Asian woman in Dior's eyes?" the Beijing Daily described the model as having "sinister eyes" and a "gloomy face." In another editorial (in Chinese), by China Women's News, the official newspaper of the All-China Women's Federation, the author wrote that Chen's image of the female model, who was shown with "greasy hair" and "droopy single eyelids," was extremely unpleasant. 
The author also said that the Dior incident reminded people of previous instances of foreign brands "stereotyping" China, such as the 2018 row involving Italian fashion house Dolce & Gabbana, which faced a boycott by Chinese consumers following a series of promotional videos showing a Chinese woman struggling to eat classic Italian dishes with chopsticks. "In the wake of Dior's 'hell-ish' photo, it's safe to say that some Western brands still hold a certain degree of 'pride and prejudice' against Chinese people and culture," the author wrote. 
As the controversy mounted, Dior removed the photo from both the Shanghai exhibit and its social media accounts on November 18. Following Chen's statement, the brand wrote (in Chinese) on Weibo today that it "always respects Chinese people's feelings and strictly abides by Chinese laws and regulations." 
Known for her unique ability to depict China's unusual clash of tradition and modernity through immaculately staged and often wildly fantastical images, Chen started out at age 23 as a contributor to prestigious Chinese art magazine Vision. Since then, she has shot covers for renowned publications such as Vogue, Elle, and Harper's Bazaar, and worked with iconic brands like Chanel and Nike.
The controversy has shed light on the delicate line that foreign brands have to tread between finding connections with Chinese consumers and avoiding cultural insensitivity in their marketing materials. It also highlighted the changing climate of art creations in China, where artists like fashion designers are now subjected to increasing scrutiny over their political views and mounting pressure to show the "confident" and "positive" side of the country in their work. 
Online, Chen's apology has done little to quell the anger from people who called her a "traitor to China" and a "two-faced hypocrite," among many other labels. "If Chen really thinks that slanted eyes and high cheekbones are symbols of Chinese beauty, why does it seem like she has done some job to have big eyes and a V-shaped face? Why does she look like the opposite of what she claimed to be the ideal beauty in her eyes?" a Weibo user commented (in Chinese).