Are video games China's next cultural export?
Society & Culture
The rise of MiHoYo's 'Genshin Impact' should make people reconsider the viability of China's culture factory.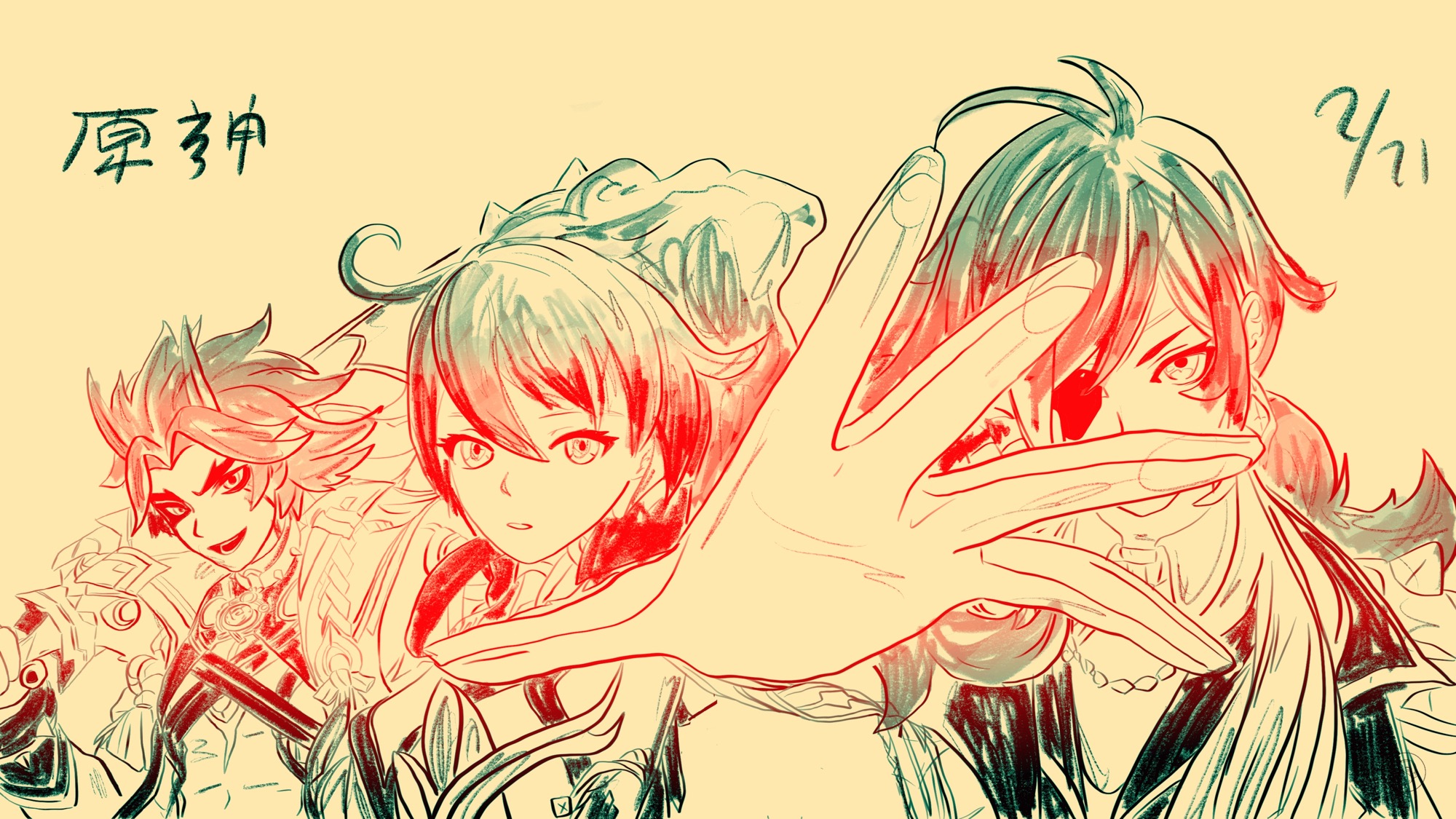 A fantasy world of dragon-slaying anime girls. An international community of geeky fans. Billions of dollars in revenue. And rave reviews from acclaimed Western critics. Two decades ago, only Japan had the technical muster to pull off a game of such description — but not anymore.
Genshin Impact, an open-world role-playing game out of China, has become the most successful title of Chinese origin on global markets to date. Two months after its release in September 2020, the title won the "game of the year" award on both Apple and Google Play. In its first year, Genshin became the fourth-highest grossing game worldwide, generating $3.7 billion in revenue and surpassing such legendary titles as Fortnite and Pokemon Go. While some say much of that money is earned through controversial means — a payment mechanism akin to a slot machine — there's no denying that Genshin Impact has set a new standard for what a mobile game can be.
China has historically produced very few global hits from its culture factory despite heavy investment and rising economic clout. Meanwhile, China's neighbors, South Korea, Japan, and Taiwan, each boast an enormous foreign fanbase eager to consume their music, movies, and TV shows. But Genshin Impact — which averages 9 million players a day, more than half of which live in the U.S., Japan, and countries in Southeast Asia — is a surprising exception. And it may be the first of many.
With a strong technical team, deep pockets, and redoubled overseas ambitions, Chinese games may mark a new frontier in the country's efforts to influence global culture.
Technical excellence over originality
Genshin Impact is set in the mountainous planet of Teyvat, an anime fairyland of immaculate rivers, deep ravines, and lush flora, and home to plenty of wackable, loot-bearing fauna. Users amass a party of scantily-clad girls and steely-eyed boys, each with unique skills and magical abilities.
Unlike martial arts or Chinese cuisine, Genshin is not your typical Chinese export. Its Shanghai-based developer, MiHoYo, was founded in 2012 by a self-styled "otaku" named Cài Hàoyǔ 蔡浩宇. "Otaku" refers to the quintessentially hermetic fanboy of Japanese anime culture or the ACG genre (an acronym for anime, comics, games), which has become immensely popular in China's coastal cities like Shanghai.
MiYoHo's motto is "tech otakus save the world," and the company's first hit game, Guns Girl — Honkai Gakuen, is chock-full of steamy anime characters of the female variety. Cai has admitted that girls were "an important element" in his games, given his target demographic. (The company didn't respond to a request for an interview.) For Genshin Impact, MiHoYo's developers drew much inspiration from another Japanese smash hit: Nintendo's The Legend of Zelda: The Breath of the Wild. (Some even say too much).
Gaming analysts told SupChina that Genshin's appeal lies not so much in its novelty, but in its execution. Everything from the role-playing gaming genre to the open-world concept to its seamless play across various platforms has been done before, but MiHoYo turned up all the dials, combining these elements into something bordering perfection. It has also gone a step further by being simultaneously released on PC, PS4, and other consoles.
"The amount of work it takes to do a cross-platform game is incredibly, incredibly hard. Very few games allow for full cross-platforming, at least between mobile and PC," said Johnny Liu, a game developer formerly at NetEase. Liu praised Genshin's fluid gameplay and other technical achievements as particular standouts. "It's just a really well-polished game and it clearly took them a lot of money and time to get there."
When it comes to game development — the attention to detail, the depth of characters, the intricate storylines, along with a dedicated and ambitious staff — Genshin is a tour de force. If the game teaches us anything about the future of Chinese cultural production, it is that, at least in this sector, technical excellence may make up for the lack of pure originality.
The rise of an industry
Over the past few years, China's gaming sector has been a microcosm of its economic growth. "What we've seen in the past 15 to 20 years is that China has gone from outsourced studios to creating domestic games to now creating global games," Daniel Ahmad, a senior analyst at Niko Research, told SupChina.
In the 1980s and '90s, Japan dominated the global market for gaming consoles and PCs — as it did with batteries, LEDs, and much else. Chinese games, back then, were mostly "reskins" of Japanese titles. By the 2000s and 2010s, with the explosion of China's internet giants, games began to break out of their mimetic cocoons. Companies like Tencent, NetEase, and MiHoYo developed and refined their own production pipelines, and Chinese-made games — suddenly accessible to everyone with a smartphone — broke records as some of the highest-grossing titles in the world.
"O​ne of the more recent trends [in China] is the industrialization of China's games industry," Ahmad said. "Medium- and large-size Chinese game developers are trying to standardize their development tools, create advanced production processes, invest in really large-scale teams, create large scale-AAA [A-list] titles. Ultimately, that helps provide them with the competitive edge to reach a broad audience both in terms of geography and platforms."
The most successful domestic release was Tencent-distributed Honor of Kings, a masterpiece inspired by League of Legends. But Honor of Kings remained largely a domestic fare: 97% of its current users are based in mainland China. It was Genshin that finally broke through in foreign markets.
An aggressive monetization model
Genshin was the first title in MiHoYo's collection with clear overseas ambitions. But in trying to appeal to other countries with different gaming cultures, MiHoYo may have exported something less savory: an aggressive payment mechanism. Since mobile is the most popular gaming format in China, Chinese apps have evolved to deploy a creative array of free-to-play monetization models. Genshin is notorious for deploying one of the more predatory versions, known as the "gacha" mechanic, a method whereby users "pull" — as in a slot machine — to collect rare items and characters.
One popular YouTube streamer, Michael "Mtashed" Tash, spent over $5,000 on his Genshin Impact account, and recently removed his videos after believing he had been setting a dangerous example for his viewers. "There are very addictive practices in this game and I'm sorry if I ever baited you into [trying it out] yourself," he told his subscribers in a video. "I regret covering this game."
China first began regulating gacha mechanics back in 2007, and has continued to lead the world in regulating games with this mechanism. Much of Europe and other parts of Asia have since caught up with China, but the U.S. lags behind. "This monetization model has been around in China and Asia for almost two decades at this point," Ahmad said. "Whereas in the West…it's grown more recently to become a much larger part of the landscape, and so that's why there's this initial pushback that we've seen [in the U.S.]"
The divergence means the same game plays differently depending on the jurisdiction. Genshin Impact has much tighter restrictions for minors within China as compared to the U.S. In the latter, it is private companies, not governments, that take action on behalf of users. In 2017, China's Ministry of Culture released rules requiring that loot boxes reveal the odds of winning a given item. Months later, Apple followed suit.
Last year, regulators slowed game approvals and banned minors from playing games except from 8 to 9 p.m. on Fridays, Saturdays, and Sundays. Gaming developers including MiHoYo rushed to comply. China's gaming sector began tightening significantly in 2018, when the first round of underage curfews and stricter game approvals emerged. The crackdowns chilled domestic listings: MiHoYo, which planned a public listing in 2017, withdrew in the fall of 2020 and no gaming company has managed to go public in mainland China since. Chinese gaming companies have instead set their sights overseas.
Global ambitions
The country's latest gaming crackdowns may have accelerated this trend. Last year, MiHoYo opened a new office in Montreal and is currently producing another AAA game to add to its distinguished portfolio. Throughout 2021, Tencent went on a rabid buying spree, acquiring more than 100 game-related companies, a third of them outside China.
Investors have signaled that they aren't too worried about China's gaming regulations. "The [crackdowns] haven't had that big of an impact [on MiHoYo] since their overseas sales percentage is quite high," Ben Zhang, a gaming investor at the venture capital firm CK Capital, told SupChina. Zhang said the tighter the domestic squeeze, the stronger the impetus for gaming companies to invest in, and adapt their offerings for, overseas consumers.
China's next cultural export, then, may well be games. Genshin has proven that there are no longer any clear technical differences between Chinese developers and their older Western counterparts like Ubisoft and Activision Blizzard.
Despite its anime appearance, Genshin Impact contains traditional Chinese personalities, and the studio has only added more in subsequent updates. A few weeks ago, its development team released two new characters, a Peking Opera actress named Yun Jin and an exorcist named Shen He, whose backstory resembles the ancient legend of Lǐ Jì 李寄 and the giant snake from the Eastern Jin Dynasty. (These updates came months after a leaked government memo urging regulators to treat games like artistic products that must showcase the "correct values" of Chinese culture such as more "masculine" role models.)
The canon of traditional Chinese myth and history awaits a high-res digital rendering. Black Myth Wukong, another up-and-coming AAA game developed by Chinese indie developer Game Science, is one standout. It has so far garnered widespread media attention with millions of views just on the trailer alone. The title, based broadly on the Journey to the West, is a console game with English subtitles, with gameplay mechanics similar to the blockbuster success Skyrim.
China hasn't been very successful in pitching its culture in the real world, but in the virtual realm — inchoate and ever-growing — it may yet create a lasting impact.