Hong Kong intensifies COVID control measures amid Omicron wave, pushing residents to the brink
Science & Health
To deal with its worst surge of COVID yet, Hong Kong will test its entire 7.4 million population three times in March, in addition to delaying an election and turning schools into health facilities. Some residents are in desperate situations, and some are choosing to flee the city.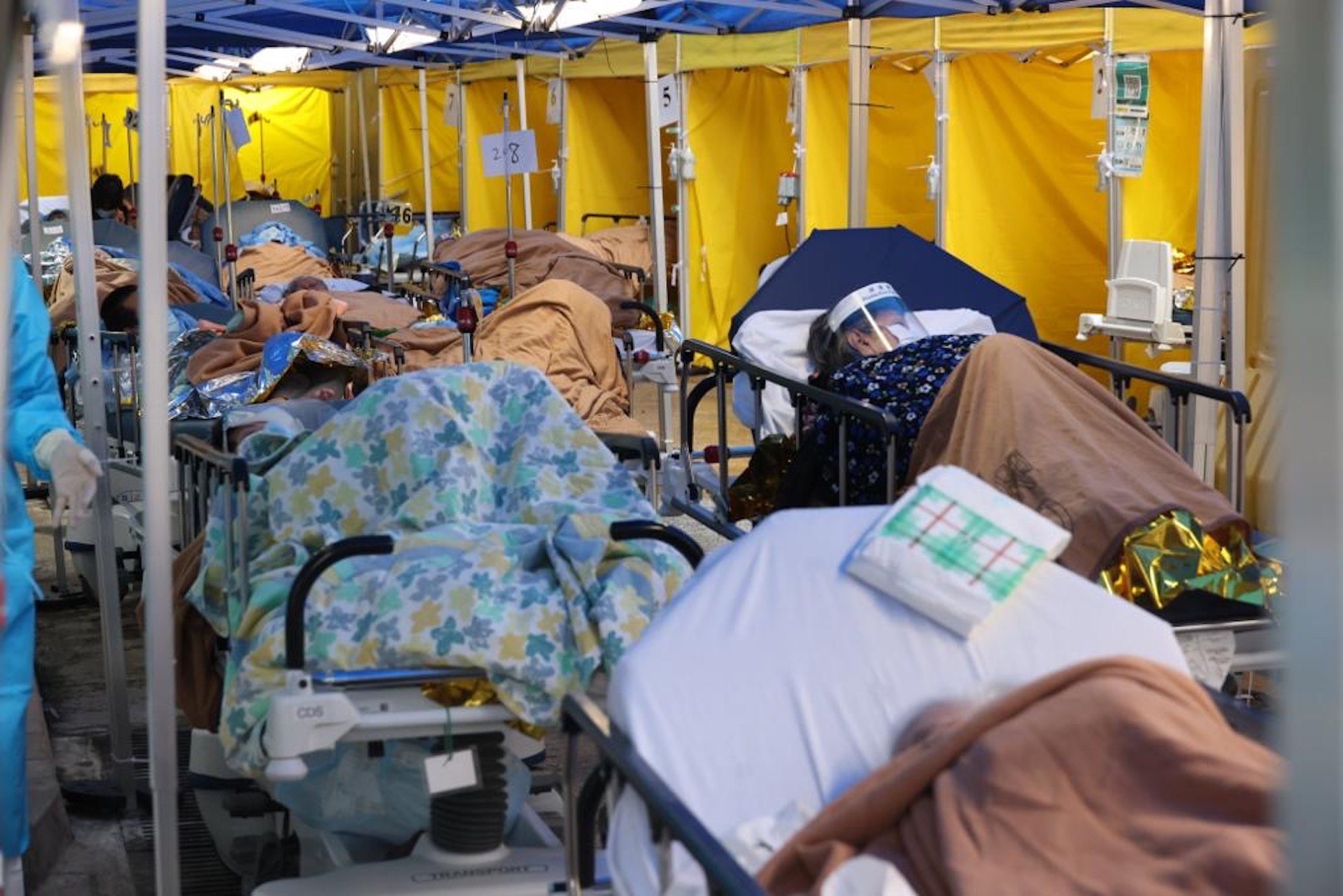 Hong Kong will mandate city-wide testing of its 7.4 million residents three times in March, as authorities try to contain a fifth COVID surge that is overwhelming the city's resources. Though mandatory mass testing is a strategy frequently used by mainland authorities to stamp out outbreaks, this will be the first time it's used in Hong Kong.
The Center for Health Protection (CHP) reported 6,211 additional cases on Tuesday, bringing the all-time total number of positive cases to 66,574 in the city. A total of 311 patients have passed away in public hospitals thus far, the Hospital Authority reported.
Unvaccinated patients take up almost 90% of fifth-wave deaths, per Hong Kong Free Press, raising concerns about Hong Kong's dangerously under-vaccinated elderly (only 36% of those aged 80 and above have been inoculated).
Several public hospitals are pushed over their operating capacities, with shocking scenes of bedridden elderly and children left for hours in car parks, per Reuters.
Many Hongkongers are feeling isolated, exhausted, and defeated. Hong Kong's "dynamic zero" approach has deployed some of the world's strictest pandemic restrictions since the start of the virus in 2020, which came on the heels of months of social disruption from mass pro-democracy protests and clashes between civilians and police.
China news, weekly.
Sign up for The China Project's weekly newsletter, our free roundup of the most important China stories.
Hong Kong's most vulnerable are suffering the most. Domestic helpers, who are often migrant workers from Indonesia or the Philippines, are in many cases being pushed out into the streets by local employers after they test positive for the virus. "We all know it's illegal to terminate sick workers but it is more appalling to ask them to leave [their accommodation] given their vulnerable condition," said Philippine Consul General Raly Tejada to the South China Morning Post.
Rights groups have sounded alarm bells, as NGOs have stepped in to compensate for a lack of government assistance. HELP for Domestic Workers, a local charity, raised nearly $160,000 to provide emergency aid.