Taiwan has its eyes on Ukraine, but some experts discourage comparisons
Politics & Current Affairs
Some commentators have speculated that China may use Russia's invasion of Ukraine as pretext to make a move on Taiwan. But this line of thinking is fallacious and premature, experts warn.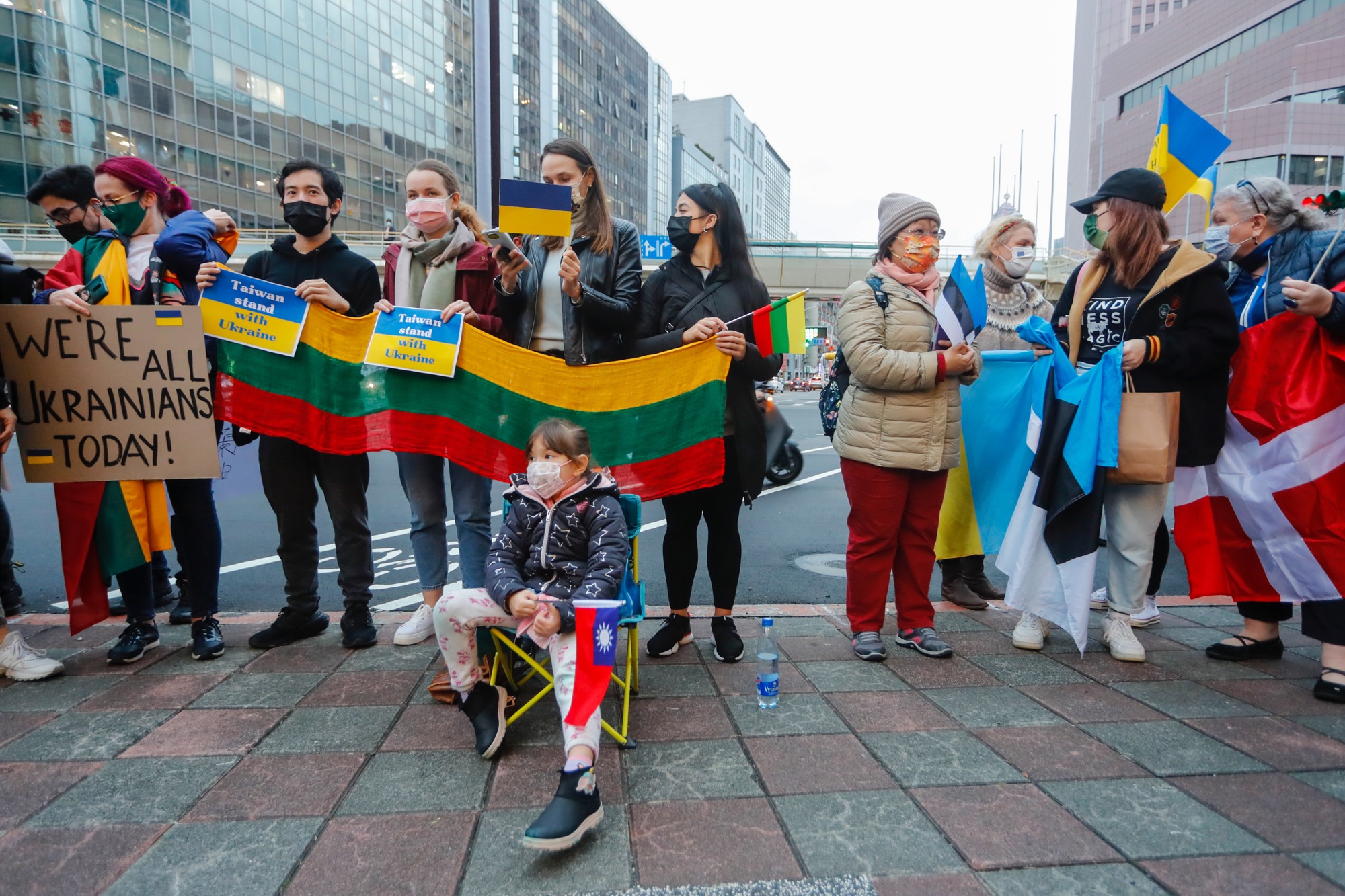 On a cloudy Friday afternoon in Taipei's busy financial district, a group of demonstrators gathered outside the Moscow representative's office to protest Russia's invasion of Ukraine and stand in solidarity with Ukrainians. "We are all Ukrainians today," one sign read.
The modest demonstration was only one among many that have occurred around the world in the past several days. But many Taiwanese, who live in a young democracy in the shadow of a large authoritarian power, feel a unique sense of identification and sympathy with Ukraine.
"When I saw the news yesterday [of Russia invading Ukraine]," said Liao Pinyan, a 21-year-old college student who attended Friday's demonstration, "I was surprised that I was wondering if Taiwan would become like that too."
He said Taiwanese needed to support Ukrainians who are in a similar situation as them, "like we did with Hong Kong a few years ago."
But many experts discourage comparisons between the two geopolitical situations, and say the war in Ukraine should not be viewed as a pretext for a Chinese invasion of Taiwan or a litmus test for how partners would respond in such an event.
"I understand that right now Taiwanese people might be feeling like this," said Oleksandr Shyn, a Ukrainian student living in Taipei who has been organizing to raise awareness and support for Ukraine in Taiwan. "But at the same time I think it is important not to give into this panic. People saying 'Taiwan is next' are really not helping. They're not helping Ukrainian people nor Taiwanese people."
The differences between Taiwan's and Ukraine's geopolitical situations are numerous. While Russia and Ukraine share a 1,300-mile land border, Taiwan and China are separated by 110 miles of sea. As a critical part of the global supply chain, Taiwan is of high importance to the U.S., whose commitment to the island is laid out in official policy, while NATO's security guarantee does not extend to Ukraine. And while Russia's goal for Ukraine is a regime change, China views reunification with Taiwan as a "historical inevitability." "Taiwan is not Ukraine," Chinese Foreign Ministry spokesperson Hua Chunying said on Wednesday.
The situations are "totally different," said Kitsch Liao, a cyber and defense consultant for the Taiwan-based Doublethink Lab. "There's a reason the Chinese [leadership] are so silent right now. It's because no matter what side they choose, it's going to hurt them."
Beijing is indeed caught in an awkward position. It wants to maintain its relationship with Russia, but has urged Moscow to respect Ukraine's territorial integrity. On Friday, China called on Russian President Vladimir Putin to negotiate with Ukraine.
"China and Russia are not really best buddies," says Wen-ti Sung, a lecturer in Australia National University's Taiwan Studies program. China, rather, views its economic relationship with Russia as not much more than "insurance."
"Supporting Russia at this point doesn't really yield any immediate foreseeable concrete positive for China," Sung says. "But conversely, China doesn't really want to take the side of the West because at this point the U.S. clearly has reiterated that China is a primary geopolitical competitor."
Still, there are lessons about Taiwan that can be learned from Ukraine, experts say. The situation in Ukraine can have implications for the Nationalist Party (KMT), says Mark Harrison, a senior lecturer in Chinese Studies at the University of Tasmania.
"The [Democratic Progressive Party] can point to the analogy of Ukraine and Russia and say it is unrealistic to imagine that dialogue will achieve peaceful relations when Beijing threatens Taiwan militarily and uses the kind of rhetoric it does," he says. "Up until the Russian invasion, it has been easier for the KMT to accuse the DPP of scaremongering, but those accusations simply look complacent now."
Taiwan President Tsai Ing-wen's administration has condemned Russia's actions, and on Friday announced that it would join the U.S. in issuing economic sanctions against Russia. Further details of those sanctions have not yet been provided, but the Taiwan Semiconductor Manufacturing Company (TSMC), has announced that it has begun halting sales to Russia. Previously, before Russian troops crossed the border, Tsai announced that Taiwan would strengthen its efforts to monitor developments in the strait as well as its response to cognitive warfare and media manipulation. In late January, Tsai ordered the formation of an Ukraine task force that would study its potential impact on Taiwan.
Sung says these measures are preventive and send an important message to Taiwanese people and the international community, which are both concerned for Taiwan's security in the wake of Russia's invasion. (Beijing's nationalistic tabloid Global Times recently wrote, "The performance of the U.S. in Ukraine should remind 'Taiwan independence' advocates: You cannot rely on Washington.")
"If the resolve of the Taiwanese government and public are both up, then that will up Taiwan's deterrence against Beijing," he said.
For what it's worth, Shyn, the Ukrainian living in Taiwan, says he feels safe in Taiwan. He has been moved by the massive support of the Taiwanese people and government, and believes the events of the past week will be the start of a new chapter in Taiwan and Ukraine's relationship.
"The Ukrainian government will have to remember that China abandoned us and Taiwan was there for us," he said. "They will have to remember, during this tragedy, who was helping us and who was backing the invader."