Shanghai promises steps to end COVID lockdown, but locals are not convinced
Domestic News
Shanghai authorities have outlined a three-stage roadmap to reopening, but few people believe that they would be able to leave their apartments soon.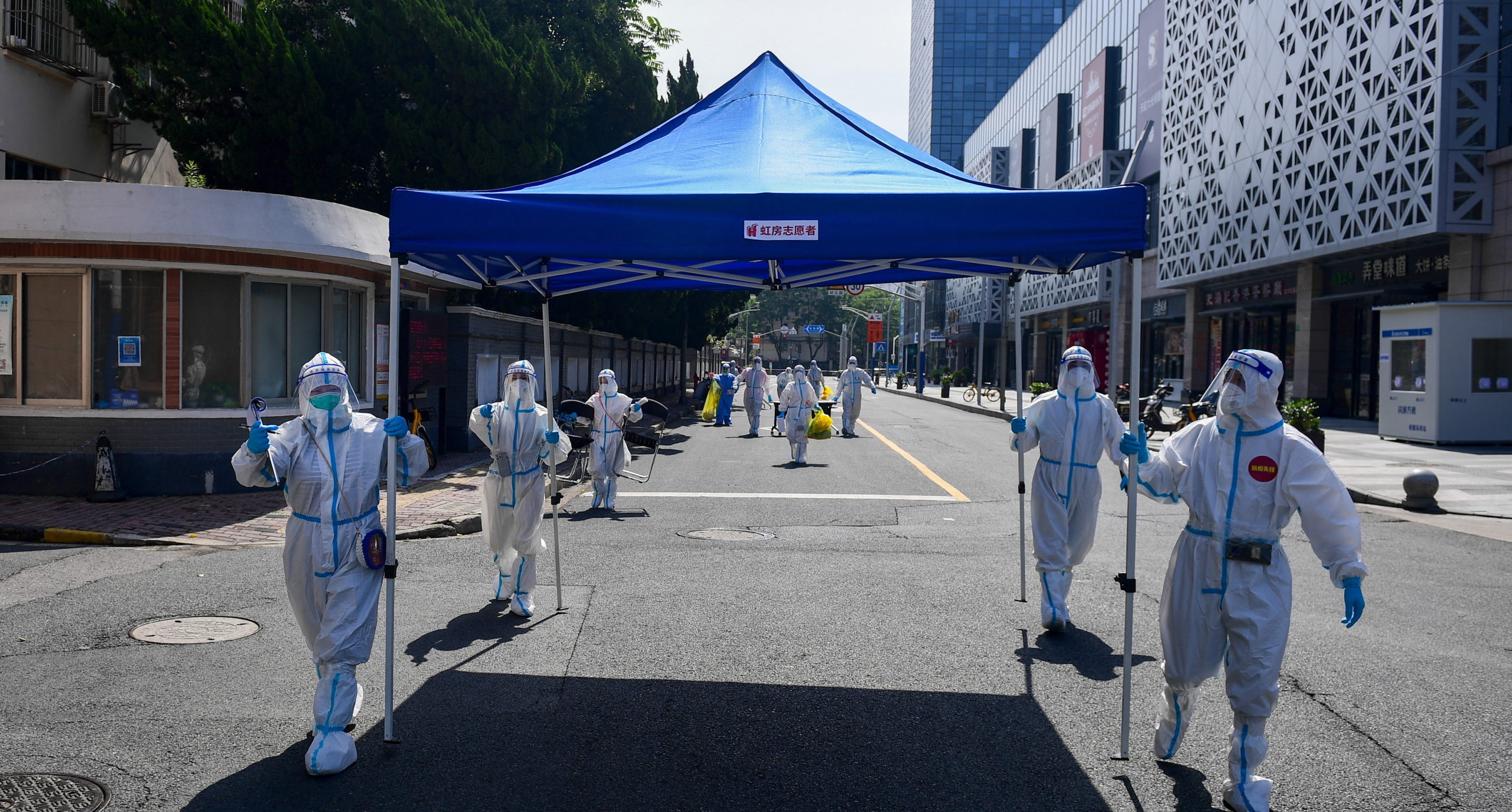 In Shanghai's clearest statement to date on relaxing its rigorous COVID-19 lockdown that have confined millions of residents inside their homes for more than six weeks, the city's officials have announced a phased plan for reopening. 
The roadmap to Shanghai's lockdown exit was revealed at a daily briefing on Monday, where deputy mayor Zōng Míng宗明 laid out three stages to incrementally loosen restrictions on businesses and individuals. Given that 15 out of Shanghai's 16 districts had achieved "societal zero-COVID," meaning that new cases were only limited to people who were already in centralized quarantine, Zong said that the outbreak in the city was "under effective control." 
In June, as long as risks of a rebound in infections are properly mitigated, Shanghai "will fully implement epidemic prevention and control, normalize management, and fully restore normal production and life in the city," Zong said, adding that private cars and taxis would be allowed on the streets from Monday onwards, and some public transit would resume on May 22. 
Zong also stressed that authorities remained cautious about the possibility of the outbreak making a comeback, particularly as reports of new infections continue to come in from centralized isolation facilities and older, rundown neighborhoods. "Citywide, the foundation of our prevention efforts is still not firm enough. It requires all of our continuing hard work, as well as cooperation and support from the broad masses of citizens and friends, to restore the normal running of the city in an orderly fashion," Zong said.
A day prior, Chén Tōng 陈通, Shanghai's other deputy mayor, remarked (in Chinese) at a press conference that supermarkets, convenience stores, and pharmacies would be the first batch of businesses that could start reopening from today, although with limits on the numbers of people allowed inside and mandated "no contact" transactions. In the second phase of Shanghai's reopening plan, business activities at wholesale agricultural markets will be resumed. Eventually, non-essential services like restaurants and hair salons will be allowed to open again. 
'The reopening only exists in the news'
Although the three-stage plans announced by Zong marked the first time Shanghai has provided an explicit timeline for reopening, the news was met with immediate skepticism from many Shanghai residents whose hope for an end to their prolonged ordeal have been repeatedly dashed by the government. "How am I supposed to believe you after all the lies that you've told?" a Weibo user commented (in Chinese).
As Monday progressed, more and more complaints began to surface about how people's situations remained unchanged under the new policy. "Many relatives and friends who saw the news of Shanghai reopening reached out to me, asking if the lockdown has been lifted and if my life has returned to normal. As someone who is still forbidden from leaving home, I just want to say: It must be so nice to live in the news," a Weibo user wrote (in Chinese), while another person said (in Chinese), "I hope news like this can be blocked from us in the future. I'm starting to think I live in a parallel universe."
Many pointed out that although their residential compounds met the requirements for loosening up, neighborhood-level authorities tended to drag their feet in lifting restrictions for fear of an uptick in positive cases. "There is actually no need to read news when you are in Shanghai. Everything in the news has no real impact on me unless I hear a policy change from my neighborhood committee," a Weibo user commented (in Chinese). Even those who were called in by their employers to resume work haven't been allowed to commute daily between home and workplaces. Some of them said (in Chinese) online that once they clocked in for work they were under "enclosed management," meaning they had to live in their offices or factories for at least a week. 
There are many reasons for Shanghai, China's biggest city and financial hub, to reopen its economy and resume business activities. According to data released by the National Bureau of Statistics on Monday, China's industrial output fell 2.9% in April from a year ago, down sharply from a 5.0% increase in March, while retail sales slipped 11.1% year-on-year, worse than a projected 6.6% drop. Meanwhile, the unemployment rate rose to 6.1% in April, with the youth jobless rate hitting a record.