China makes another push for wind and solar energy
Business & Technology
As the NDRC launches a new implementation plan for new energy, China is already leading the world on new energy production, and photovoltaic and wind power will expand prodigiously over the coming decades.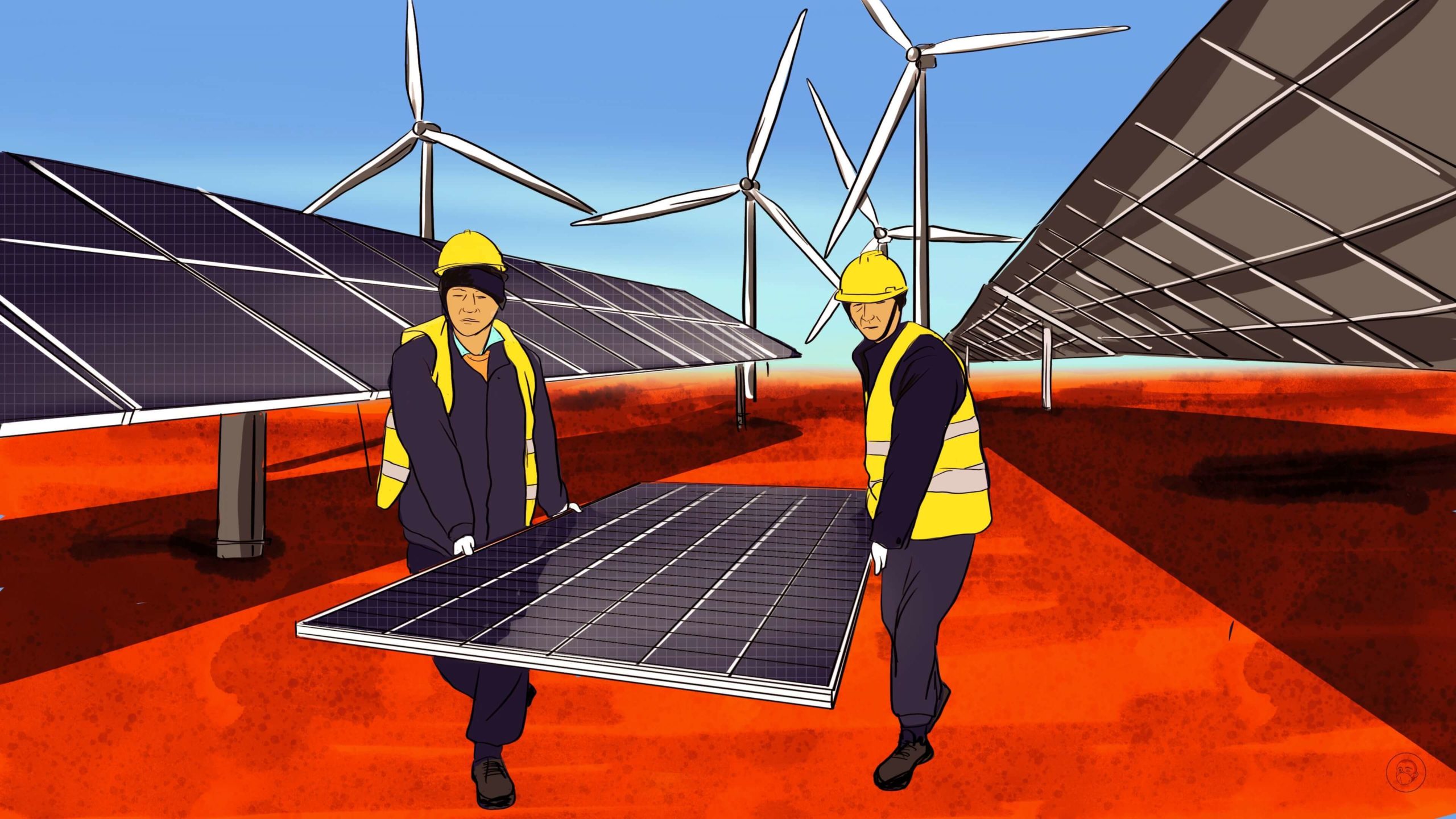 But Beijing has once again signaled its long term commitment to developing renewable energy resources. On Monday, the National Development and Reform Commission (NDRC), a powerful agency with administrative and planning control of the Chinese economy, and the National Energy Administration (NEA), responsible for energy policy and regulations, jointly issued a new implementation plan for the development of "new energy in the new era".
The plan confirms that the proportion of renewable energy in China's primary energy consumption will reach 25% by 2030, by which time installed wind and solar energy capacity will reach 1.2 billion kilowatts — in both cases fulfilling elements of China's "double carbon" policy proclaimed by Xí Jìnpíng 习近平 in 2020.
The plan says that the development of wind and solar energy in China has achieved "significant results," as China leads the world in installed capacity, and domestic costs have decreased substantially. But the plan also identifies problems currently affecting the development and utilization of new energy in China, such as insufficient adaptability of the power grid, and constraints on land resources — the rapid expansion of photovoltaic plants needs a lot of empty land.
To coordinate and develop the utilization of new energy and clear out bottlenecks, the plan contains 21 specific policy proposals under four main directives:
Accelerate the construction of large-scale wind power photovoltaic bases in desert areas, along with an integrated supply and consumption system. In October 2021, for example, construction commenced on a two-megawatt photovoltaic desertification control project in the Kubuqi Desert in Inner Mongolia. .
Integrate new energy with rural revitalization. Farmers will be encouraged to install solar panels and wind power resources, and to organize rural land for new energy development and be able to share in the dividends.
Promote new energy in industry and construction by, for example, extending the integration of solar energy with existing and new buildings. By 2025, 50% of new public buildings will have photovoltaic panels installed on their roofs.
Guide society to consume more new energy by funding it, and expanding the national emissions trading scheme (ETS).
According to the plan, photovoltaic and wind power will be the fastest growing energy sectors in the next 30 years.
Companies that stand to gain include the following:
Photovoltaics:
Wind power:
Orient Cable 宁波东方电缆, producer of smart grid wires, submarine optical cables and a range of other types of cables that are widely used in the wind power industry as well as various other industries; the company was recently awarded a 1 GW offshore wind farm project in Guangdong province.
Dajin Heavy Industry 大金重工, manufacturer of onshore and offshore wind power equipment, whose stock price has been surging recently.
Jiayin Hengrun Heavy Industries 江阴市恒润重工, another whose stock price is surging.
The context
As the new report noted, the availability of land is still a bottleneck restricting the development of new energy resources. Photovoltaic projects require a lot of land, which is why they are being constructed in unpopulated areas. But as the number of photovoltaic power plants has continuously increased, disputes have arisen over illegal land occupations. For example, in April, the Jiangsu provincial government announced that a company from Zhejiang province had illegally occupied farmland in Jiangsu without approval to build a photovoltaic project.
Last week, the Ministry of Water Resources issued guidelines regarding photovoltaic and wind projects, mandating that such projects must not be constructed in or near rivers, lakes and reservoirs. Existing regulations specify that new photovoltaic projects must not alter the original nature of the land, or interfere with activities such as agriculture or fishing. In addition, provincial governments are steadily tightening land use policy for photovoltaic projects. According to one industry insider, where previously only the consent of the local village and county government was required, now several government departments need to give consent.
The takeaway
Despite China's ongoing reliance on coal, and problems such as land shortages, Chinese wind power and photovoltaic companies are set to play a leading role in global new energy.