Dragon boat association blasted online for 'no women' rule
Society & Culture
"Stop using ancient rituals as an excuse for your sexism. It's time to let old things that don't make sense die."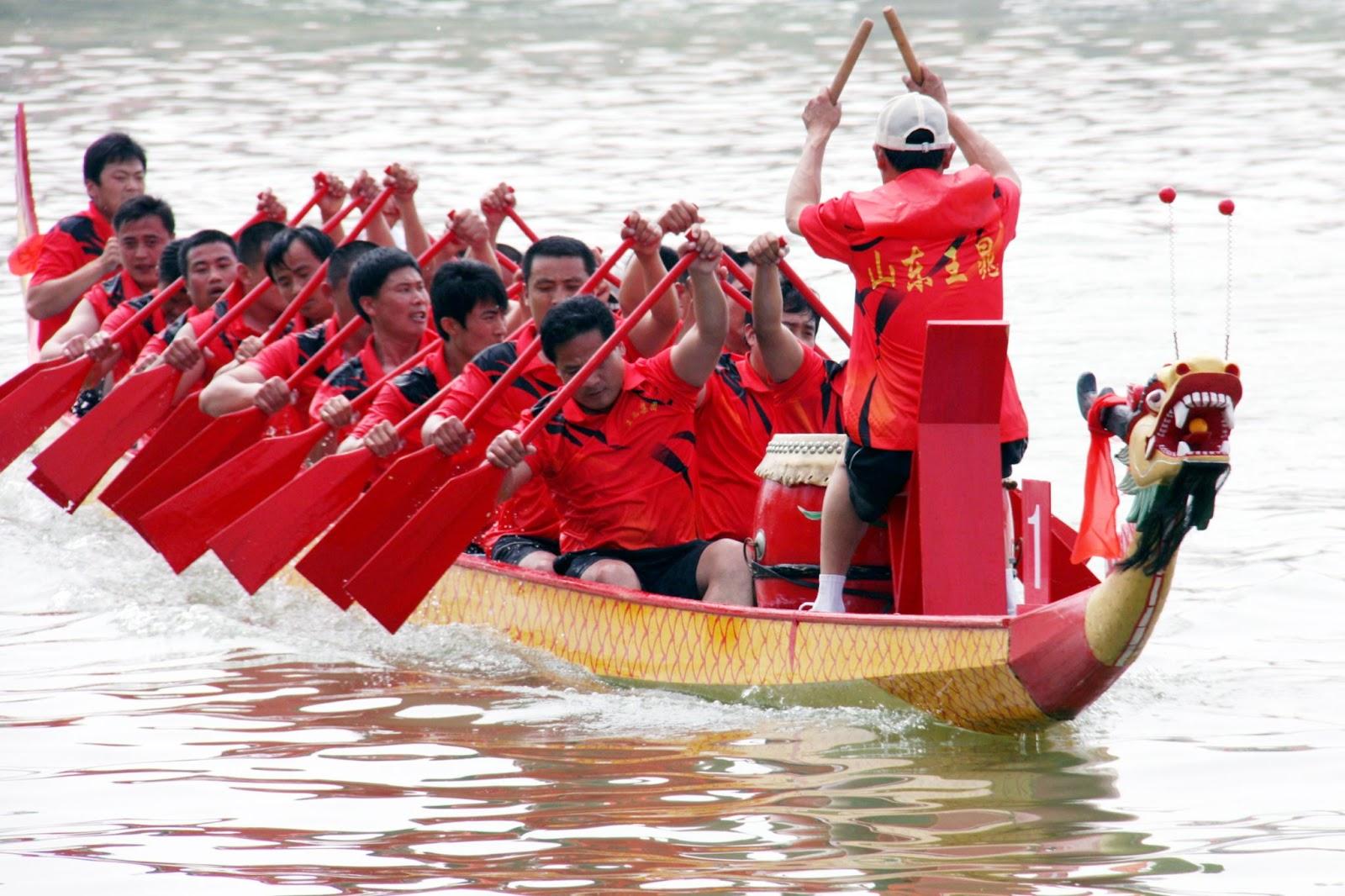 Dragon boat racing is one of China's oldest traditions and a staple during the annual Dragon Boat Festival (端午节 duānwǔjié), which was celebrated this past Friday. While it might be a casual pastime for most Chinese, for some, its inviolable rituals are not to be trifled with or changed. 
Every race is preceded by a unique ceremony during which red paint is dabbed onto the eyes of each boat's figurehead, which is believed to awaken the dragon from its sleep. At the end of the racing season, it's customary to sink the boats by loading them up with stones. And women should never, ever, set foot on a boat — and maybe should never even lay their eyes on a race.
Over the weekend, a viral video circulated showing a team of male paddlers loudly telling female spectators along the riverbank to "get out of the way" while they were rowing. Captured in Foshan, Guangdong province, the behavior immediately attracted a fusillade of criticism on Chinese social media.
But local officials defended the action, saying that critics should learn about the rituals associated with dragon boat racing before passing judgment. "Different gods invited from local temples were worshipped on that boat, and there is a custom that women need to stay away from these sacred spirits for the sake of their families and themselves," a government employee in Foshan told Feidian Video, an online news outlet. 
In another controversy over dragon boat tradition over the weekend, an internet user faced an onslaught of hate after she shared a video of herself getting on an empty dragon boat in Foshan. "You've ruined the traditional culture in Guangdong, where women aren't allowed to touch dragon boats. I've reported your video to relevant authorities and you will pay a price for your behavior," read a comment under her video. "Please apologize! The boat you were on is cursed now," another person wrote.
When asked about the incident by Paper.cn (in Chinese), a dragon boat association in Foshan said that the backlash against the woman was "justified," noting that there was a local custom forbidding women from boarding traditional dragon boats — though they could use a different type of boat "specifically made for women." Responsible for organizing matches and overseeing Duanwu-related activities to ensure that traditions are properly observed, the association added that it would continue "spreading the message" to prevent female tourists from breaking the rules.
Critics lashed out, saying they hoped this episode could ignite a debate about whether this tradition was still relevant in contemporary society. "Such sexist conduct should be tossed away like a thing from the past," a Weibo user fumed (in Chinese). "Chinese women can walk in space now and some random guys still exclude us from dragon boat races? This is beyond ridiculous," another commentator wrote (in Chinese), referring to Chinese astronaut Wáng Yàpíng 王亚平, who made history last year when she became the first Chinese woman to ever complete a spacewalk. 
Historians trace dragon boat racing's roots as far back as the Warring States Period (402-221BC), roughly 2,500 years ago. Along with zòngzi 粽子, a traditional Chinese food made of sticky rice stuffed with special fillings and wrapped up in bamboo leaves, the water sport is one of the main elements of the Dragon Boat Festival, which falls on the fifth day of the fifth lunar month and is established to commemorate the death of Qū Yuán 屈原, a Chinese poet and minister known for his patriotism and contributions to classical poetry. 
Various theories exist as to why women are barred from participating in the activity. One theory suggests that the practice was initially a folk ritual invented by fishing communities along the Yangtze River to appease the rain gods, and they believed that a woman's "negative energy" would upset the gods and dry the drivers. 
In a country that consistently ranks low on gender equality, especially in political empowerment and economic participation, the controversy over dragon boat racing was seen by many observers as a reminder that centuries-old sexist practices are still undermining women's rights and freedoms, as well as a metaphor for how women are regarded in today's China. "Stop using ancient rituals as an excuse for your sexism," wrote (in Chinese) Orange Umbrella, a WeChat blog run by Beijing Qianqian Law Firm, which specializes in women's rights advocacy. "It's time to let old things that don't make sense die."