COVID's monkey business: The booming market for laboratory test animals
Business & Technology
Testing on monkeys has been fundamental to the development of COVID vaccines, and the market for research monkeys for all kinds of clinical trials is going through the roof.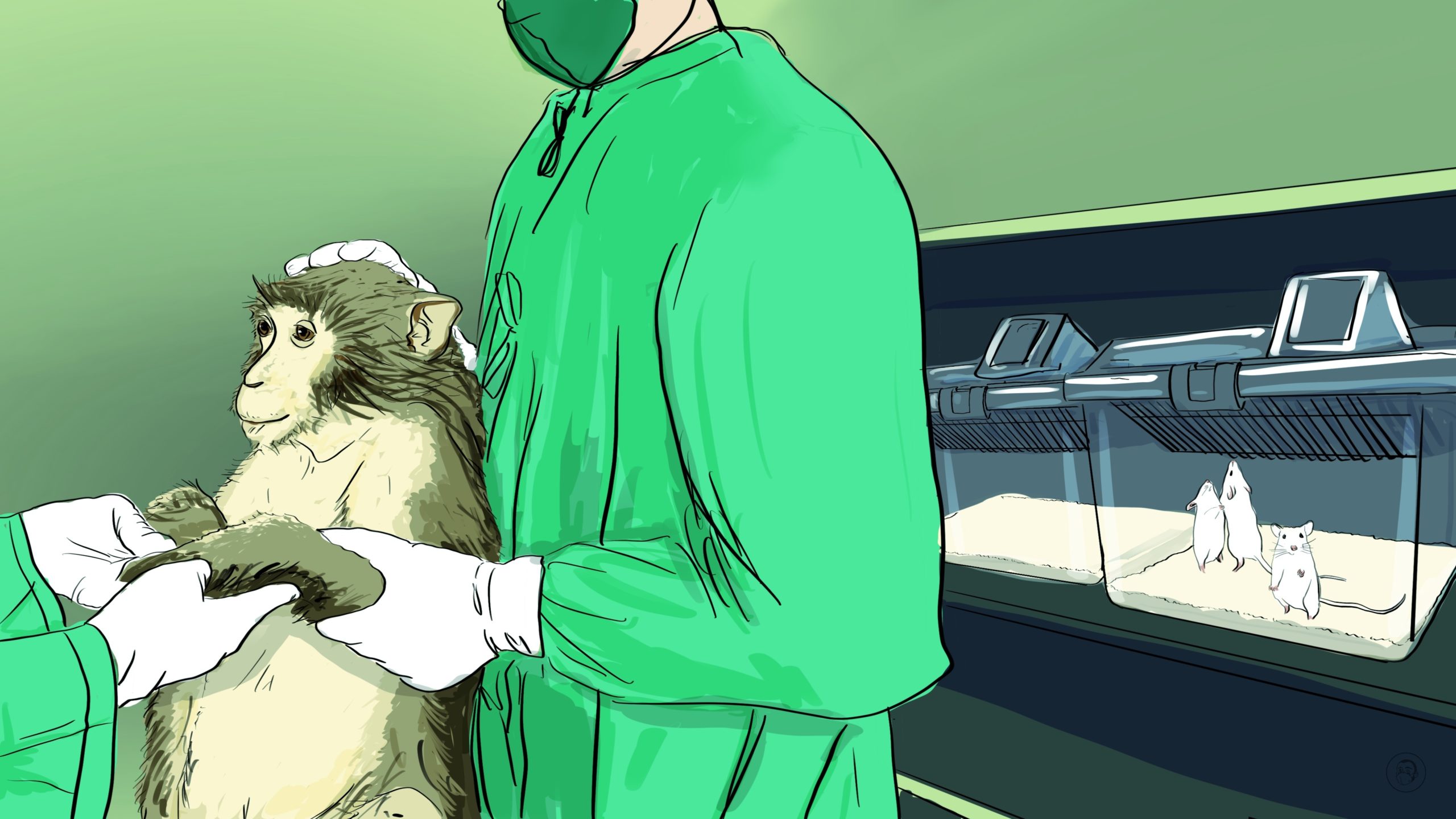 In 2017, it cost about 13,800 yuan ($1,936) to buy one crab-eating macaque, known as the cynomolgus monkey in laboratories. Now the domestic price of one laboratory monkey can easily exceed 150,000 yuan ($22,341).
Since the start of the COVID-19 pandemic and the emergence of macromolecular biological drugs (used to treat tumors, autoimmune diseases, and metabolic diseases), the Chinese government has greatly increased its support for the research and development of innovative new drugs, and this in turn has created a massive demand for laboratory monkeys, as rodents are poorly matched with the human body for macromolecular tests.
Primates have been instrumental in medical research in the COVID era, as their physiology is similar to humans. The organizations that need them are contract research organizations (CROs), namely companies providing outsourced research support services to the pharmaceutical, biotechnology, and medical device industries; pharmaceutical companies themselves; and vaccine companies.
The National Medical Products Administration says that a total of 831 new drugs were approved in China in 2021. According to one estimate, 70-80% of biological drugs in China are tested on laboratory monkeys in preclinical trials.
Toxicology experiments require about 40 monkeys per trial, and drug metabolism experiments require a further 20 monkeys, so a normal preclinical study of a new drug requires at least 60 laboratory monkeys.
But due to the long reproductive cycle and low birth rate of monkeys, there are simply not enough of them for testing and breeding purposes.
There are currently 57 licensed farms breeding laboratory monkeys in China. According to the Chinese Academy of Sciences, in 2020 there were about 180,000 cynomolgus laboratory monkeys in China, 69,304 of which were female breeding monkeys.
The great demand for laboratory monkeys has inspired large-scale investments:
In November 2019, a subsidiary of WuXi AppTec 药明康德, a producer of pharmaceutical and biopharmaceutical products, acquired a monkey breeding company with around 20,000 monkeys for 804 million yuan ($119.74 million), making WuXi AppTec the largest domestic monkey breeding company.
In 2021, Pharmaron 康龙化成, a manufacturer of small molecule, macromolecule, and cell and gene therapy drugs, made a series of acquisitions to increase its supply of monkeys to an estimated 10,000 animals.
JOINN Lab 北京昭衍新药研究中心, a provider of pharmaceutical CRO outsourcing services, also made two large acquisitions in 2021 at a cost of 1.8 billion yuan ($268.09 million), and has commenced construction of a large monkey breeding base in Guangxi Province with an estimated breeding capacity of over 15,000 animals.
Some of the companies who are moving too slowly to secure their access to laboratory monkeys are paying the price:
The preclinical research costs of Shanghai Medicilon 上海美迪西生物医药, for example, increased by 113.16% in 2021, and in the first quarter of this year, the company's cash flows dropped by 328.82% year-on-year — all mostly due to the soaring costs of laboratory monkeys.
The context
The onset of the COVID pandemic radically transformed the outlook for China's monkeys: Before 2020, China exported 30,000 monkeys annually (mostly to the U.S.), but now they are being bred in unprecedented numbers for domestic clinical trials, which require testing on animals first before being approved for humans. In 2021, one physician explained that government projects requiring the use of monkeys generally cost at least 10 million yuan ($1.48 million), nearly a third of which is used for laboratory monkeys.
Such trials involving monkeys are widespread not only in China but across the globe: In 2019, more than 108,000 monkeys were used for experiments in laboratories in the U.S., along with nearly 200,000 guinea pigs, 58,000 dogs, 18,000 cats, and millions of mice and rats.
The takeaway
The booming market for monkeys is one sign of how much money and scientific resources are going into new drug development. This is a trend that will outlast COVID-19: China's R&D capacity in pharma is only getting bigger and better.
What's not clear is if trials on primates and other animals need to continue. Activists say that lab animals are suffering and dying needlessly even though there are other options for many clinical trials.