An NFT explosion is taking place in China, but how long will it last?
Business & Technology
An NFT can be almost anything, cost any price, and be subject to few if any regulations, and everyone from Alibaba to Moutai is joining the wave.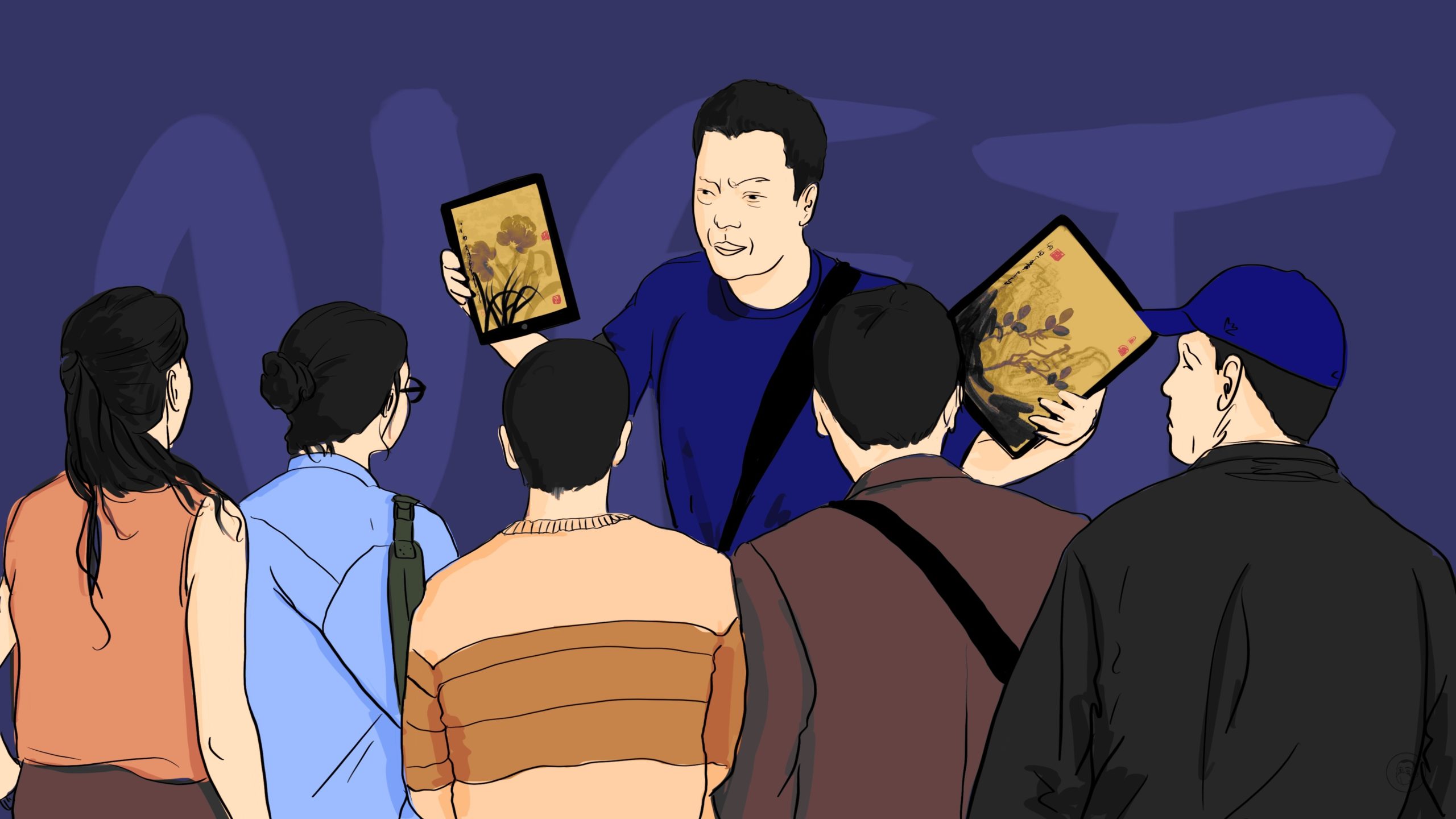 Non-fungible tokens (NFTs), or "digital collections" as they are known in China, are all the rage. NFTs are encrypted via blockchain technology to make unique items and artworks, such as digital paintings, pictures, music, accessories, and 3D models in a range of fields such as culture, sport, art, entertainment, and fashion.
The NFT hype took off in China in July 2021 when Alibaba's 阿里巴巴集团 Alipay ecommerce app and the Dunhuang Academy jointly released two artworks in limited quantities.
The NFTs were priced at 10 Alipay points and 9.9 yuan ($1.47) each, but later fetched up to 1.5 million yuan ($223,247) apiece on second-hand trading platforms.
In addition to Alibaba, tech giants like Tencent 腾讯, Bilibili 哔哩哔哩, and Xiaomi 小米 have all launched digital collection platforms or products, with marketing campaigns to boost their attractiveness among young people.
Other companies in various industries are getting in on the act: Even famous liquor brand Kweichow Moutai 贵州茅台 launched a series of digital collections in May.
In 2022, NFTs have exploded in China: The number of domestic digital collection platforms has grown from less than 100 in February to over 300 in May, and the number of related companies may have soared to more than 10,000.
Tianqiong 天穹数藏, for example, one of the few digital art collection platforms in China licensed to hold art auctions, was launched in April by Hainan International Culture and Artworks Exchange 多行(海南)艺术品交易, which itself was founded in January with a registered capital of 10 million yuan ($1.48 million).
On May 9, the company was officially listed as "abnormal" by local authorities because it could not be contacted at the registered address.
As of this week, Tianqiong's registered user base has reached 1.5 million.
NFTs have opened up a new world of possibilities for China's cultural and creative industries:
In January, the Luoyang Museum in Henan Province released a collection of 10,000 NFTs based on the museum's collection of artworks from the Northern Wei dynasty, and the museum staff were surprised when the entire collection sold out within 10 minutes of going online. During the Dragon Boat Festival, the museum released five more collections, which all sold out within three days.
Last week, a digital collection of traditional zòngzi 粽子 (fillings wrapped in bamboo leaves) sachets, limited to 10,000 copies and priced at 29.9 yuan ($4.45) each, attracted 450,000 viewers and sold out in 10 seconds.
The context
In China, the NFT explosion is occurring in a regulatory vacuum. Many customers have complained about not receiving their NFTs as promised (or digital collection platforms simply disappearing with their money), a total lack of after sales services and no possibility of returns and refunds, and leaking of customers' personal information.
In May, for example, the WeChat account of the digital collection platform TT Shuzang (TT数藏) announced that the company's boss had misappropriated the platform's start-up funds, and the platform could not continue to operate, declaring itself bankrupt.
A journalist who logged on to the domestic NFT platform iBox found one NFT that was first sold for 99 yuan ($14.73) and then resold repeatedly until the price reached 38,900 yuan ($5,789).
The journalist discovered how easy it is to set up a digital collection platform: At a cost of 50,000 yuan ($7,441), it could be up and running within seven days.
In April, the National Internet Finance Association of China, the China Banking Association, and the China Securities Association issued a joint statement warning of the dangerous and unregulated nature of the NFT market.
On the one hand, they declared, the market is enriching the digital economy and promoting the development of the cultural and creative industries.
But on the other hand, it is rife with hidden risks such as speculation, money laundering, and illegal financial activities.
NFTs could in theory be subject to a wide range of regulations, such as website ICP licensing, Blockchain Information Service (BIS) filing, auction licensing, and online publishing licensing. But the absence of a legal framework means that there are no guidelines as to what constitutes an NFT, what acceptable price ranges are, what the copyright implications are, and how customers' rights can be protected. NFTs bought for a small amount can be resold for thousands of yuan, so digital collection platforms are beset with hype and get-rich-quick enthusiasts.
The takeaway
The NFT party is just getting started in China, and at present, the lack of regulation is allowing a free-for-all atmosphere. But this is unlikely to last long.