BRICS summit kicks off in Beijing
Foreign Affairs
In a virtual keynote speech to the group, Chinese leader Xi Jinping hit out at sanctions for "weaponizing" the global economy, while shoring up Beijing's awkward position of neutrality on Russia's war in Ukraine.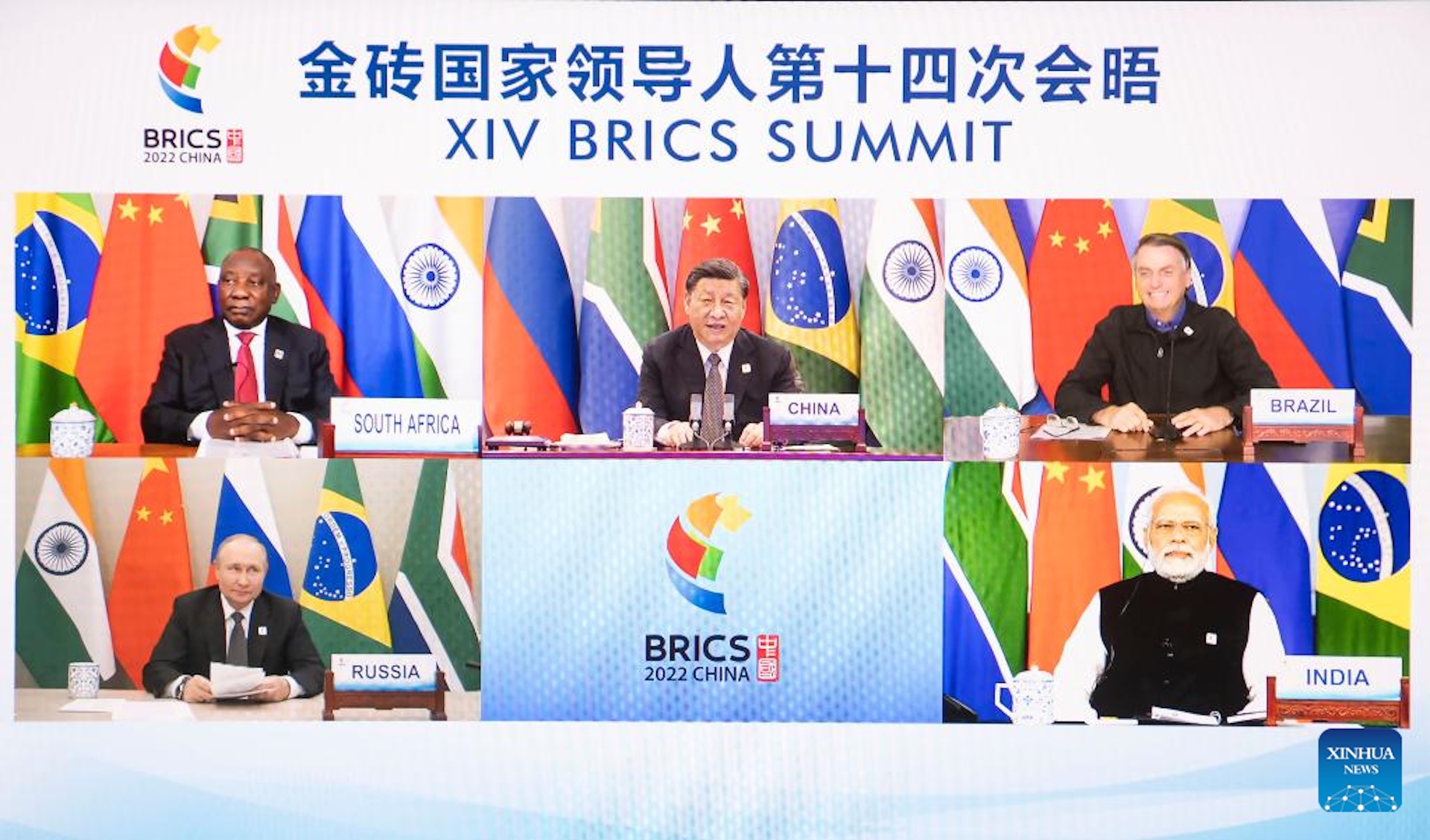 The 14th annual BRICS summit kicked off in Beijing via a virtual meeting on Thursday, but despite the development focus of the group, the Ukraine crisis has cast a looming shadow among the five member nations.
Chinese leader Xí Jìnpíng 习近平 gave a keynote speech at the opening ceremony of the Business Forum, where he reiterated Beijing's neutral position on the war in Ukraine while simultaneously backing its longtime ally Russia.
Xi criticized sanctions for "politicizing, instrumentalizing, and weaponizing" the global economy, while stating that the conflict in Ukraine has "sounded an alarm for humanity."
Both Xi and Russian President Vladimir Putin called for greater BRICS cooperation, while Putin said that, despite Western sanctions, trade and investment between Russia and other BRICS countries had increased.
BRICS, a bloc that was created as an alternative to Western-dominated governance, gets its name from the first initials of its members — Brazil, Russia, China, India, and South Africa. None of the nations' leaders have openly condemned Putin for his nation's invasion of Ukraine, though they have advocated for talks to end the war.
BRICS ambassadors met in Moscow and "enthusiastically exchanged views on developing and strengthening their strategic partnership," Russia's Foreign Ministry wrote on Twitter nearly a month after Putin's invasion of Ukraine on February 24. BRICS has previously shown support for Russia over Crimea in 2014.
Though China and India have each bought large amounts of cheap crude oil from Russia, the Modi government plans to resist anti-U.S. messaging at the summit, as both nations are caught in a similar awkward position between balancing their commitments to Russia with their well-founded fear of alienating the West.
But a lack of unity has stymied any substantial impact the group might wield: "One of the problems with the BRICS is that it's divided internally. China and Russia agree with each other, but you also have India and Brazil, both of whom tend to be quite skeptical of China," James Crabtree of the International Institute for Strategic Studies told CNBC.
BRICS nations include the five foremost emerging economies: Together, they account for one-fourth of the world's economy, are critical players in global supply chains, and have a combined population of 3.23 billion.
Last month, Chinese Foreign Minister Wáng Yì 王毅 told his BRICS counterparts that Beijing would like to start expanding the group, without specifying which countries might be included.
"[BRICS] may seem irrelevant because it hasn't really moved the needle forward on its long-standing efforts to usher in viable global economic alternatives to the U.S.-led existing system," says Michael Kugelman, the deputy director at the Washington-based think tank Wilson Center, but added that the bloc's collective economic might should not be underestimated "even though it often tends to punch below its weight."
Meanwhile, the Group of Seven (G7) — a group of "advanced" economies, which includes the United States, Germany, France, Britain, Italy, Canada, and Japan — is set to begin its three-day summit on Sunday. The Biden administration plans to announce a "concrete set of proposals" and a possible sanctions package to ramp up economic pressure on Russia over its war in Ukraine and tackle soaring energy costs.