Adopt a Cow is disrupting China's milk industry with online sales and pampered cows
Business & Technology
Focusing on online sales and allowing customers to adopt their own cattle, Adopt a Cow is challenging Yili and Mengniu, and now it's seeking an A-share IPO.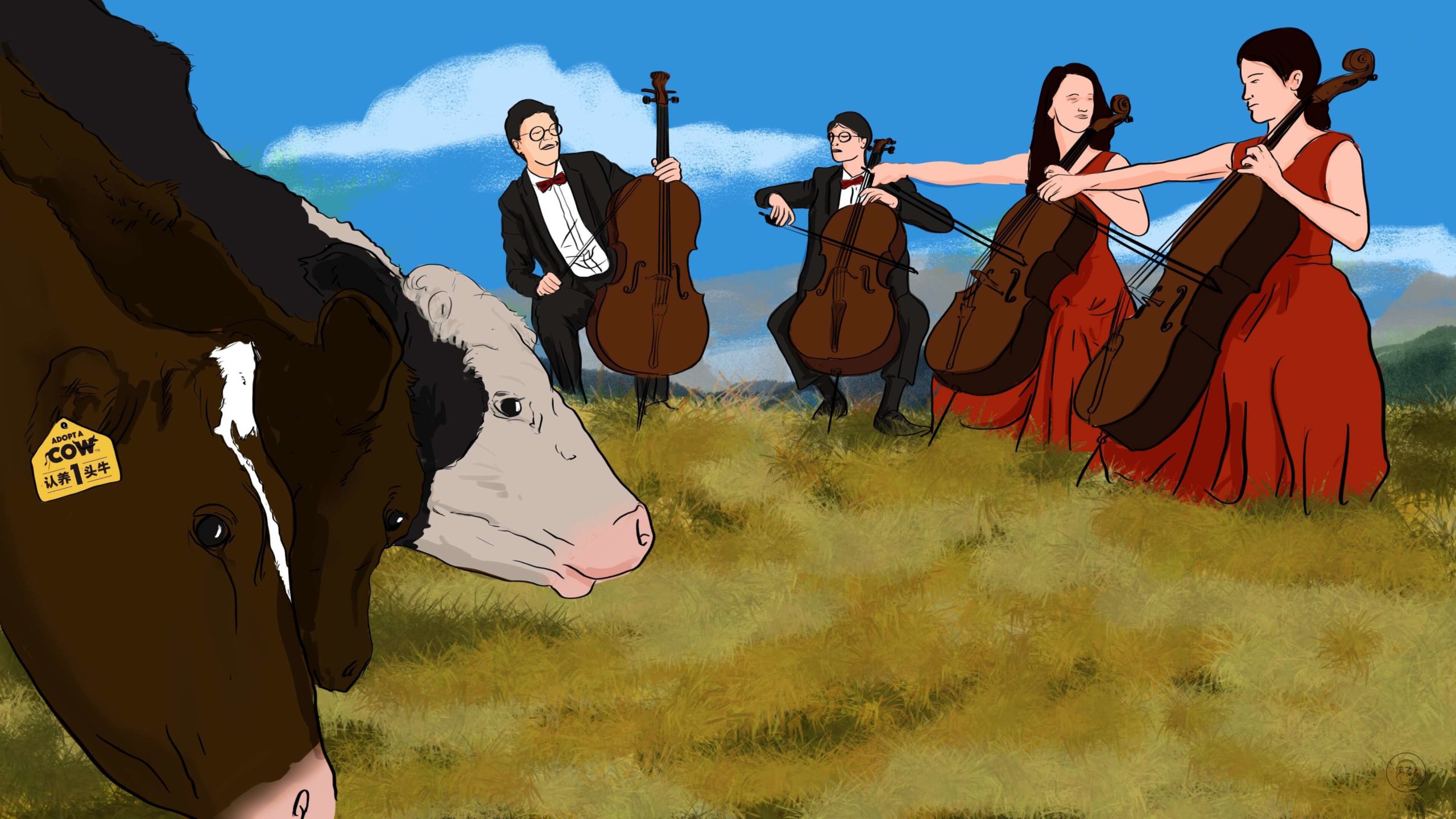 Last week, Adopt a Cow 认养一头牛 submitted its prospectus for an A-share listing on the Shanghai Stock Exchange, aiming to raise about 1.85 billion yuan ($275.05 million), most of which will be used to construct a "smart dairy farm." According to the prospectus, in 2021, Adopt a Cow had revenue of 2.56 billion yuan ($381.30 million) — with almost 80% of its sales occurring online — and a net profit of 140 million yuan ($20.80 million). 
Adopt a Cow presents itself as taking extra special care of its cows, which are provided with imported fodder, deep well water, spa treatment, classical music, and herbal baths. The company's branding, moreover, is meant literally: In 2020, the company launched three cow adoption models: cloud adoption (online only), joint adoption (online but with your cow's milk delivered to your door), and real adoption (including participation in farm activities and the ability to name new calves). 
Adopt a Cow was established in 2016 by Xú Xiǎobō 徐晓波, who had made a fortune in real estate development. In 2012, Xu had an experience that changed his life: He went to buy some milk powder for his son in Hong Kong, but on the return journey, he was questioned by police in a "small dark room" for four hours as he did not understand the purchase restrictions. The experience left a deep impression on Xu, and he decided to give up real estate and to build his own dairy farm so "Chinese people can have a decent cup of milk." Xu invested 460 million yuan ($68.35 million) of his own funds in the farm, and imported cows from Australia. According to its prospectus, as of April 2022, Adopt a Cow has seven dairy farms in Hebei and Heilongjiang provinces, with a total of more than 60,000 cows.   
The context
In 2020, the combined market share of Yili Group 伊利集团 and Mengniu Dairy 蒙牛集团, with their vast offline sales channels, was 85.7% of China's dairy industry. But with a focus on online sales and a unique branding approach, Adopt a Cow has successfully disrupted the milk industry:
Adopt a Cow

opened its online store

on Alibaba's 阿里巴巴集团 business-to-consumer Tmall platform in 2018, and after three years, the company's flagship online store had accumulated 10 million fans.

By April 2022, the company had the third-largest dairy sales on all of Alibaba's ecommerce platforms, behind Yili and Mengniu. Adopt a Cow has fully embraced not only all the major ecommerce platforms, but also livestreaming, short video, and various other platforms. 
Adopt a Cow's predominant online sales layout, however, is both a strength and a weakness: 
Online customers can be fickle and unreliable compared with offline customers, and the company's marketing costs, mostly for online sales, increased from 194 million yuan ($28.82 million) in 2019 to 483 million yuan ($71.77 million) in 2021, or 18.82% of total revenue, which far exceeds the industry average. 

Adopt a Cow's products are more expensive than those of the two industry giants. A set of 12 whole milk 250 ml (8.4 oz) boxes, for example, is priced at 59.9 yuan ($8.90), while that of Mengniu is priced at 52.9 yuan ($7.80). 

In 2019 and 2020, more than 90% of Adopt a Cow's milk was still procured from external suppliers, mostly from Bright Dairy 光明乳业, although the company claims that this proportion will decrease to 36% in 2022. Hence, the company's model of actually allowing customers to adopt a cow is not entirely feasible, and has raised doubts among online users. 
The takeaway
Adopt a Cow has successfully taken on China's dairy industry giants by focusing on online sales, but it now needs to figure out how to make an impact in offline sales if its business is to be sustainable. An IPO is a big step in that direction.