What does the Xinjiang Production and Construction Corps do, aside from forced labor?
Business & Technology
The Xinjiang Production and Construction Corps (XPCC) stands accused of widespread human rights abuses in Xinjiang, but its operations are fundamental to Beijing's economic plans for the region.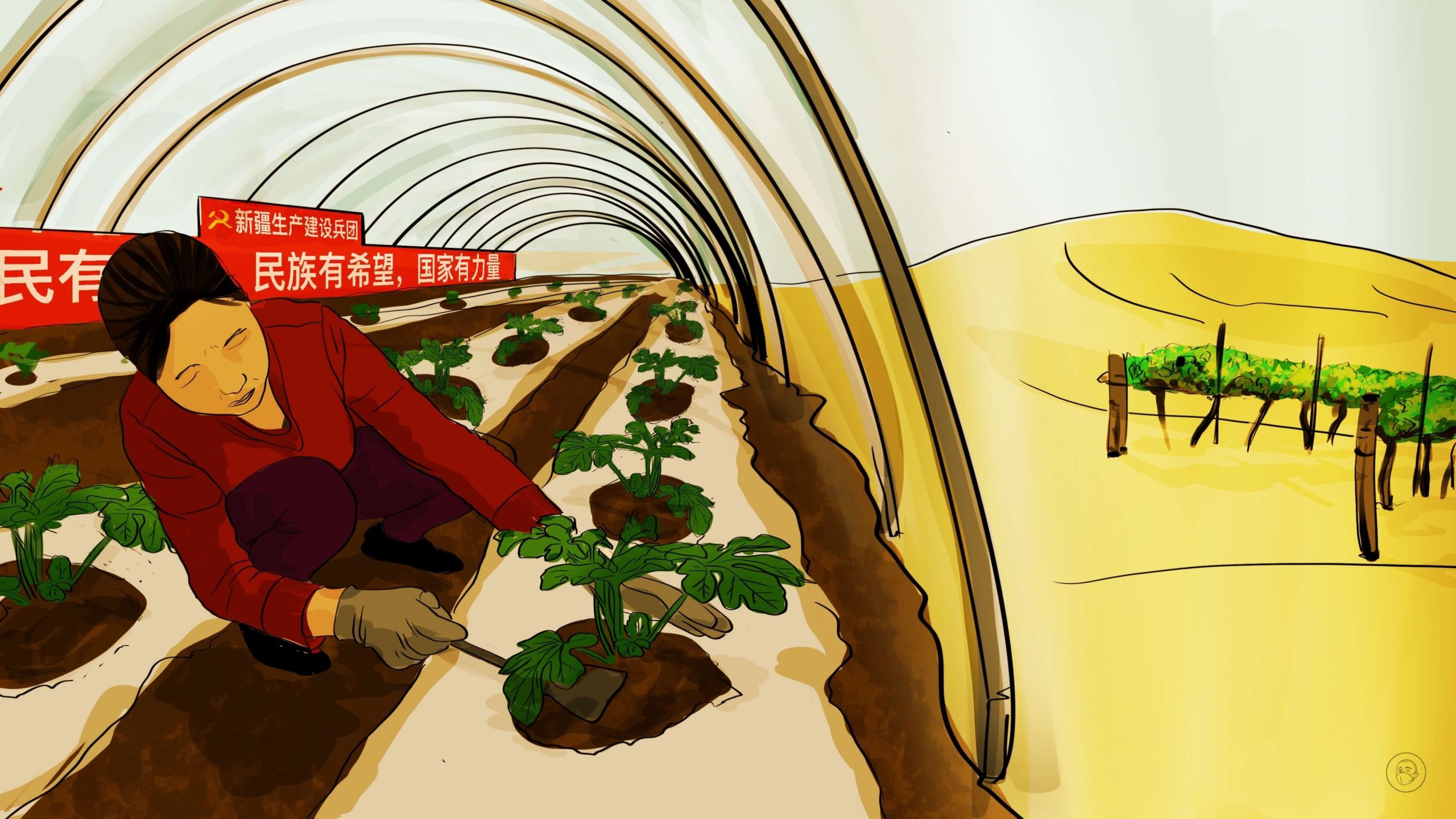 Over the last few months, the Helena Kennedy Center for International Justice at Sheffield Hallam University in the U.K. has produced a series of reports on alleged human rights abuses of the Uyghur population in Xinjiang, including forced relocation, forced labor, land expropriation, extrajudicial detention and imprisonment, and religious persecution.
The reports say that the Xinjiang Production and Construction Corps (XPCC 新疆生产建设兵团) plays a "core and crucial role" in all of these abuses. The researchers describe the XPCC as a "colonial agency" perpetrating a "reign of terror," with its own prison system that has been vastly expanded over the last few years. 
Since 2017, dozens of reports by journalists and researchers have documented the extralegal detention of hundreds of thousands of Muslims in Xinjiang, including Uyghurs, Kazakhs, and other ethnic groups, with some estimates putting the number at more than 1.5 million people in camps. 
The U.S. State Department has accused China of "genocide" against Uyghurs, and imposed sanctions on the XPCC in 2020. In June this year, the U.S. passed the Uyghur Forced Labor Prevention Act (UFLPA), which provides U.S. authorities with increased powers to block the import of goods linked to forced labor in China.
But what does the XPCC actually do? 
The XPCC through official Chinese eyes
The XPCC operates as a large state-owned enterprise integrating agriculture, industry, transportation, construction, commerce, and various construction activities. About 60% of staff of the XPCC is reportedly associated with large-scale farming, while the rest are occupied in non-agricultural sectors such as industry, construction, and public services.      
According to Chinese media reports, the XPCC accounts for 19.9% ​​of Xinjiang's grain output, 30% of oilseed production, and 44.5% of beet production. Of Xinjiang's total 2021 GDP of 1.59 trillion yuan ($236.33 billion), the XPCC, "a special organization with a special management system," accounted for 339.56 billion yuan ($50.20 billion), for a share of about 21%. 
The XPCC regularly features in Chinese media for its agricultural projects. It has been reported to be engaging in ostrich farming; tomato farming and tomato paste production; various greenhouse projects; a wide range of fruit farming, including apricots, pears that are pollinated by agricultural drones, and "dinosaur egg" plums; and demonstration bases for cotton and wheat. In addition to such agricultural projects, the XPCC is now also engaging in ecommerce, logistics, and the services trade.     
Last week, two Chinese journalists visited Tiemenguan, a city in Xinjiang, located about 500 kilometers (310 miles) southwest of the regional capital Urumqi. One of the journalists reported on how 15 varieties of wine are being produced in Xinjiang's Taklamakan Desert, with the "mountain lake effect" of the Yanqi Basin, and are then sold all over China. 
In two years, the wine-producing area of Xinjiang has been enlarged from 6,600 hectares to 20,000 hectares. The other journalist reported seeing sand dunes outside Tiemenguan, and then large quinoa plantations, a "biological desalinator" crop, rising out of the desert, along with other crops.   
In February this year, the XPCC formed a Red Tourism Leading Group (tourism to historical sites connected to the Communist Party), and has established at least 56 Red Tourism scenic spots in Xinjiang. In 2021, Xinjiang received over 31 million tourists from the rest of the country, a year-on-year increase of 36.82%, with tourism revenue of 14.48 billion yuan ($2.14 billion), a year-on-year increase of 63.22%.    
Avoiding sanctioned companies
According to a 2021 report by the Center for Advanced Defense Studies (C4ADS) in Washington, there are at least 2,873 companies operating within the XPCC, and assets held directly and indirectly by the organization have been linked to 862,000 entities around the world. 
With such a complicated web of companies, it may not be easy to keep the XPCC out of global supply chains. For details on how companies are ensuring that their products are not tainted by forced labor in Xinjiang, have a look at SupChina's recent webinar on American corporations and their measures to comply with the Uyghur Forced Labor Prevention Act, or check up on your suppliers on our ChinaEDGE database of Chinese companies, which includes details on ownership and affiliations.