Looking back at Les+, China's community-building lesbian zine
Society & Culture
Many of the stories printed in Les+ from 2005 until its official suspension in 2015 showcase women's journeys of identification, their quotidian joys and struggles, and their pursuit of intimate life, while some of the special issues touch on topics that were fervently discussed by the community, recording the history of the lesbian subculture of those years.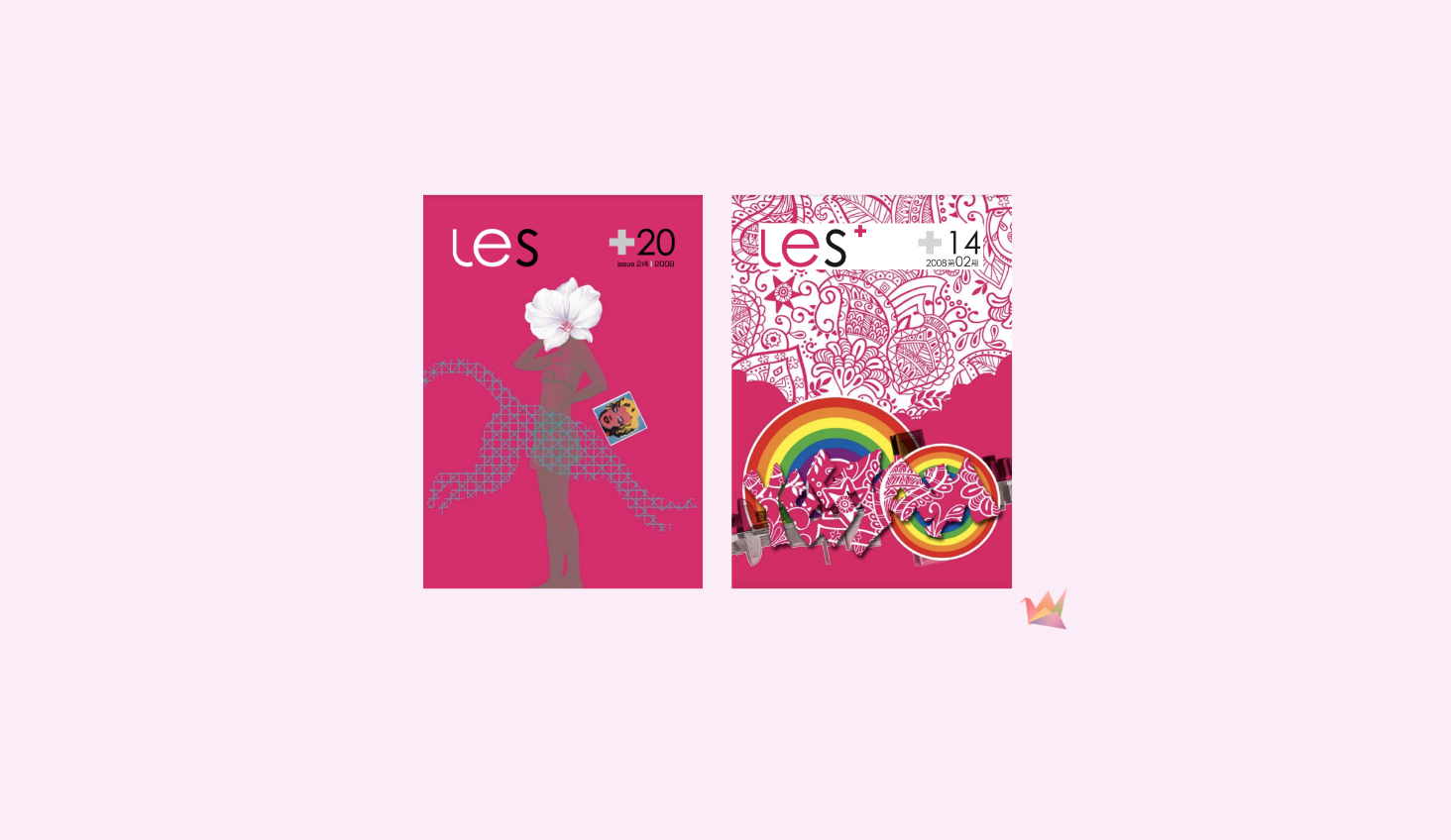 According to Bao Hongwei, an Associate Professor at the University of Nottingham, the history of LGBTQ media in China can be traced back to the early 1990s, when a group of queer and HIV/AIDS activists started distributing leaflets and establishing hotlines to build networks for their community. The following decades witnessed the evolution of media forms, from newsletters, pagers, print magazines, and websites to new forms of social and advocacy media. Some of the community media is still running, including the longest surviving magazine Gay Spot (GS), while other influential ones have suspended their publication, among which was probably the longest running lesbian print magazine, Les+.
Les+ was first created in 2005. A total of 29 issues were published before its official suspension in 2015. Some of these issues are still available on its website. The magazine was launched by Sam and Gogo, two twentysomething lesbian women living in Beijing. With the support of their respective partners, queer friends, and local non-profit lesbian organizations such as Tongyu (Common Language) and Beijing Lala Salon, Les+ gradually evolved into a fully fledged editing team and a grassroots organization. In addition to publishing the zines, the team also produced lesbian-themed plays, held feminist art exhibitions, and released manuals on media coverage of LGBTQ news.
The plus sign in its title, pronounced same as "home" (家 jiā) in Mandarin Chinese, tells the founders' intent to create a space of belonging for queer women. According to an interview with Sam in 2009, Les+ was initially a "lifestyle magazine" dedicated to documenting lesbians' everyday life and happiness, but the development of the LGBTQ movement turned their attention to activism.
In accordance with this bifocal lens, the magazine comprises a wide range of genres, including news reviews, film and literary critiques, fictional writings, fashion suggestions, historical studies, life stories, interviews, photos, and comic trips, all revolving around LGBTQ issues that are related to queer women. Many of the stories showcase women's journey of identification, their quotidian joys and struggles, and their pursuit of intimate life, while some of the special issues touch on topics that were fervently discussed by the community, recording the history of the lesbian subculture of those years.
For instance, one early issue in 2007 (No. 10) discusses the label of "娘T" (niáng T, i.e., soft butch), a then-newly emerged label among Chinese lesbians. Different from the conventional division of gendered roles between the masculine T (short for tomboy) and the feminine P (short for pó 婆, literally meaning "mother-in-law"), niang T is described as "a T lesbian who is a little sissy…accepts the feminine identity but still embodies masculinity." A few self-identified niang T's photos were displayed, in tandem with stories on how they related the label to their preference on cosmetics, ideal body image, and meaning of femininity and masculinity. It turns out, as the editor commented in the concluding remarks, niang Ts do not necessarily follow a common definition, but were all "idiosyncratic individuals" who should be proud of their identity.
Some of the other special issues include lesbian bars, queer public spaces, elder care, lesbians in rural areas, coming out to parents, transgender issues, and cooperative marriages (形婚 xíng hūn) between lesbian women and gay men.
The zine switches from a cultural to a political tone when it comes to activist campaigns. An issue in 2008 (No. 16) collects discriminatory experiences that lesbian women encountered when donating blood for the victims of the catastrophic Sichuan earthquake — both male and female homosexuals were barred from giving blood back then, a ban that was lifted for lesbian women in 2012 but is still imposed on men who have sex with men. 
Another issue in 2009 (No. 19) documents a same-sex marriage campaign on Valentine's Day of that year, when a few lesbian couples staged a wedding on Beijing's busiest street. A review of news coverages is attached after the story, where the editor briefly compares Chinese mainstream media outlets such as China Daily, Beijing News, and CCTV with reports by Western media: "The foreign media tends to focus on the lived experience of LGBTQ people and the governmental attitude toward the group, while Chinese media writes more about the love story of the couples… Regardless of the positive or negative attitudes toward the event, it has successfully prompted LGBTQ people to move outside of the gray ambiguous zone and show their visibility under the sunshine."
According to a 2011 report by the Chinese newspaper Southern Metropolis Weekly (南都周刊 nándū zhōukān), Les+ could be purchased at distribution sites located in more than 20 cities, and also offered delivery. More than 4,000 copies were sold for each issue. The editing team often received positive feedback from lesbians on how the magazine helped them accept their sexual identity. In a letter from a young girl living in a rural region of Yunnan province, she mentioned how, after receiving the magazine from the post office, she presented it to her father to prove the existence of lesbian women. "This is a magazine sent from Beijing. It is all about this kind of people," she said. Southern Metropolis Weekly confirmed the function of the lesbian zine: "Les+ builds culture for the LGBTQ movement. Its influence has gone beyond the urban area; through the post, she can reach lesbian women living in small towns and remote areas."
After its suspension at the end of 2015, some of the core members of Les+ started a new platform called Yummy, which aims to help women explore their desires and sexualities.
Other LGBTQ stories:
Korean LGBTQ reality romance show wins postive reception in China (GS点)
A Korean reality TV show called Merry Queer is becoming popular among the Chinese queer community. The show screens the intimate lives of three ordinary gay couple and the challenges they face in Korean society. It is rated 9.3 out of 10 on the movie review Chinese website Douban.
A new transgender sexual health manual is released (跨儿心理)
Zhitong Guangzhou LGBT Center has released a sexual health manual for transgender people. The manul aims to fill in the gap of transgender issues in the field of sex education and provide useful information for trans individuals.
Recreating the non-gendered "TA (they)" (TA字再造)
Third-person pronouns in Mandarin Chinese are gendered in the written form but not when spoken. The pinyin "ta" has been used by Chinese queer activists as a non-binary third-person pronoun in recent years, similar to the singular form of "they" in English. In July, a group initiated an activity to "recreate the Chinese character" for the non-binary "ta," and has received 42 designs.