Winter is coming for Huawei's car business
Business & Technology
Huawei's CEO last week warned that winter is coming, and Huawei needs to focus on revenue and profit. But the company's car business is burning through money, and now Huawei needs to make a crucial decision.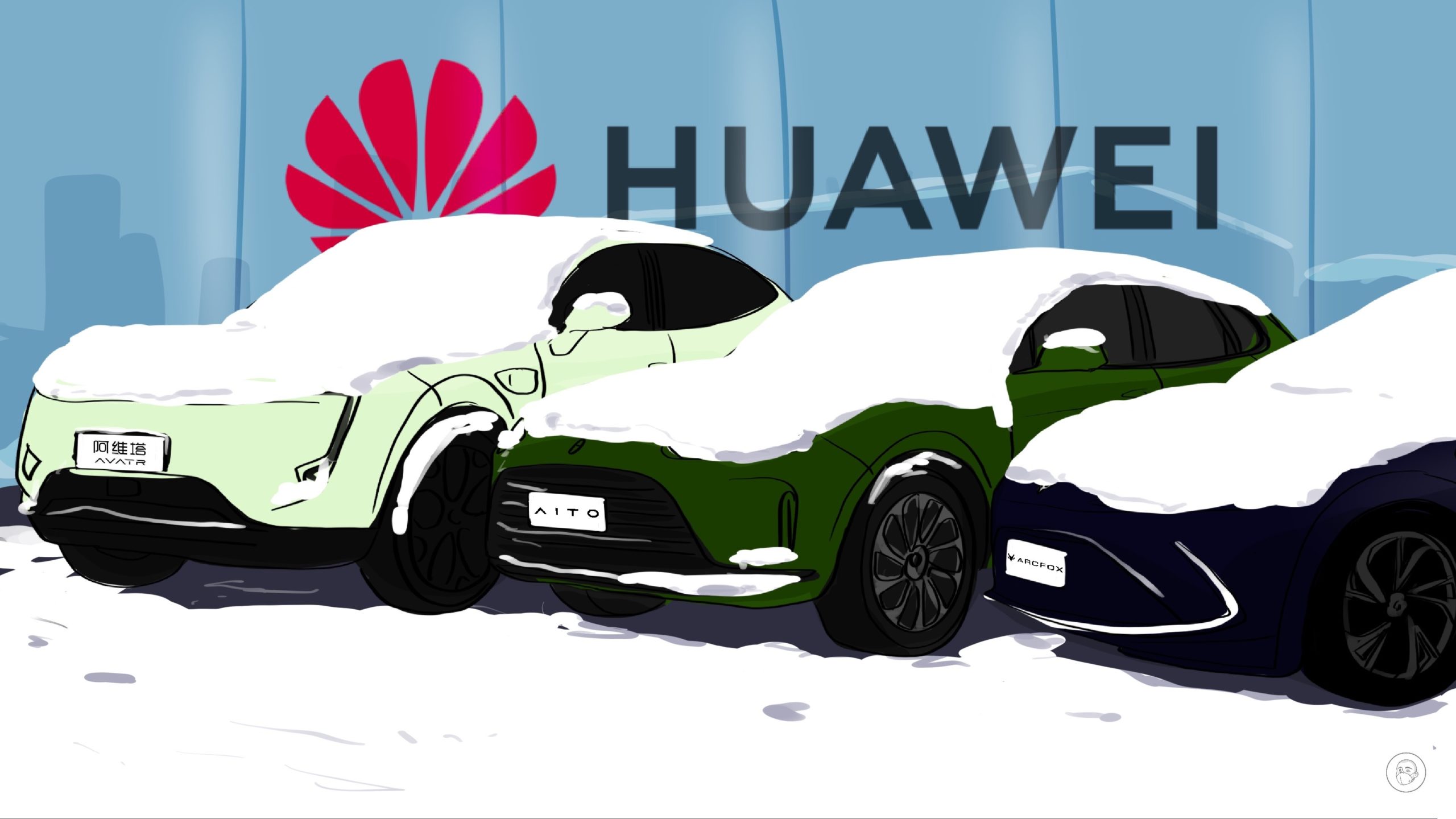 Last week on Monday, Huawei 华为 CEO Rén Zhēngfēi 任正非 shocked China when he issued an internal company statement warning his colleagues that winter was coming for Huawei and for the global economy: In order to survive the coming cold, he said, the company needed to reduce all of its marginal business and focus solely on revenue and profit.
Ren's fears were probably influenced by Huawei's financial results for the first half of the year that were released just 10 days earlier. The results showed that overall sales revenue decreased by 5.87% year-on-year to 301.6 billion yuan ($43.64 billion), and the company's terminal business (mobile phones, mobile broadband, and home terminals) revenue decreased by over 25%.
What does this mean for Huawei's budding car business? Back in October 2020, Huawei released an internal document stating that the company does not intend to build cars, but only car parts. But this document also made it clear that it was only valid for three years, and Huawei had previously also promised that it would not make phones, a promise that was clearly broken. If Huawei is actually going to build cars, the decision will have to be made soon.
But according to a July statement from Richard Yu (余承东 Yú Chéngdōng), the CEO of the Huawei Intelligent Automotive Solution Business Unit, the car business was "Huawei's only loss-making business." Can this fit in with the new directives from Ren Zhengfei?
A succession of overhyped underachievers

Yesterday, the first batch of AITO M7 electric SUVs, jointly produced by Huawei and Seres 赛力斯, a subsidiary of Chongqing Sokon Group 重庆小康工业集团, was delivered to buyers in Chongqing and Shenzhen, marking the start of the model's nationwide rollout. The M7 (and its previous iteration, the M5) is the second model jointly produced by Huawei with Seres, after the SF5, another SUV. It is also the fourth car developed partly by Huawei, with the others being another SUV, the Avatr 11, jointly produced with Chang'an Automobile 长安汽车, and a sedan, the Arcfox series, produced with BAIC Motor 北京汽车.
Even if Huawei "does not build cars," the company was involved in the entire design process for the AITO M5 and M7 series, as well as in quality control, marketing, and sales. The AITO models were the first cars to be fully equipped with Huawei's Smart Cockpit and Harmony Operating System. At the launch of the M5 in December 2021, Richard Yu predicted that it will sell 300,000 units annually.
The M5 and the M7, however, like all the previous Huawei cars, were done no favors by Yu's boasts. At the M7's launch on August 24 (two days after Ren Zhengfei's "cold" memo), Yu directly compared the SUV with Porsche and BMW, claiming that it was loaded with "millions of apps," and was "too cheap." Yet despite Yu's boasts, the M7 follows a series of overhyped, underachieving Huawei car collaborations. At the launch in April 2021 of the first SUV produced by Seres and Huawei, the SF5, Yu predicted that it would sell 5 million units annually, but in fact, the SF5 sold only 8,169 units in 2021, and a mere 40 units in the first half of 2022. The SF5 is now dead in the water.
As the first car fully equipped with Huawei technology, the M5 initially had strong sales, with more than 150,000 orders in the first five months after launch. But the monthly sales volume in June barely exceeded 7,000 units, and sales in July were basically at the same level. By the end of July, a total of only 26,000 units had been delivered, and Richard Yu was forced to concede that annual sales of 300,000 units were not possible.
The Arcfox series of sedans, produced with BAIC Motor, which entered mass production in July, and the Avatr 11, an electric SUV produced in collaboration with Chang'an Automobile and launched early in August this year, experienced similar trajectories. The Avatr 11 has been plagued by a long delivery cycle, a short warranty, and complaints about unsatisfactory performance. Users of this SUV have described the user interface as not high-end enough, providing insufficient scope for Huawei's smart technology. As for the Arcfox series of sedans, the first models to be equipped with the Huawei Inside (HI) autonomous driving technology, total sales in July amounted to only 3,640 units.
Ren Zhengfei's coming decision
Huawei's foray into the car business has so far been mostly a failure, even though the company's automotive business has spent $1.5 billion this year on research and development. In fact, all of China's up-and-coming electric vehicle brands are still in the phase of expanding their scope while making huge losses: In the second quarter, while increasing its revenue, Li Auto 理想汽车, for example, announced a net loss of 640 million yuan ($92.61 million), and XPeng Motors 小鹏汽车 announced a net loss of 2.71 billion yuan ($392.14 million).
But with winter now fast approaching, per Ren Zhengfei's warning, Huawei and Richard Yu may not be able to keep trading scale for losses. A fundamental problem that Yu has encountered is a clear reluctance of the major domestic auto companies to enter into partnerships with Huawei. A general manager of GAC Group 广汽集团, for example, a purported Huawei partner, recently complained that partnering with Huawei, with its overbearing reputation, left GAC Group with little bargaining power. As a result, Huawei's most in-depth cooperation has been with Seres, a relatively unknown brand, and the outcome for Huawei (as well as the people who bought the SF5 and AITO models) has been disappointing. Seres itself has not done well out of the partnership: In the first half of this year, the company reported a net loss of 2.31 billion yuan ($335.13 million), a year-on-year decrease of 226.29%.
Ultimately, as he prepares to batten down the hatches, Ren Zhengfei needs to make a decision: continue on the current highly dubious (and loss-making) path, hitching Huawei's technology to other car brands, or take the bold step of letting Huawei actually build its own cars, and go it alone. In the latter case, the likely best path would be to spin off Huawei's car business from the group, thus allowing it to raise capital from the markets, and thereby sidestepping the new directives to focus on profit.
The fully self-developed Huawei car may be the only option.