The Hong Kong LGBTQ community's diminishing visibility
Society & Culture
Hong Kong's turbulent political situation has affected sexual and gender minorities, especially transplants from mainland China, many of whom no longer see the city as the safe haven it used to be.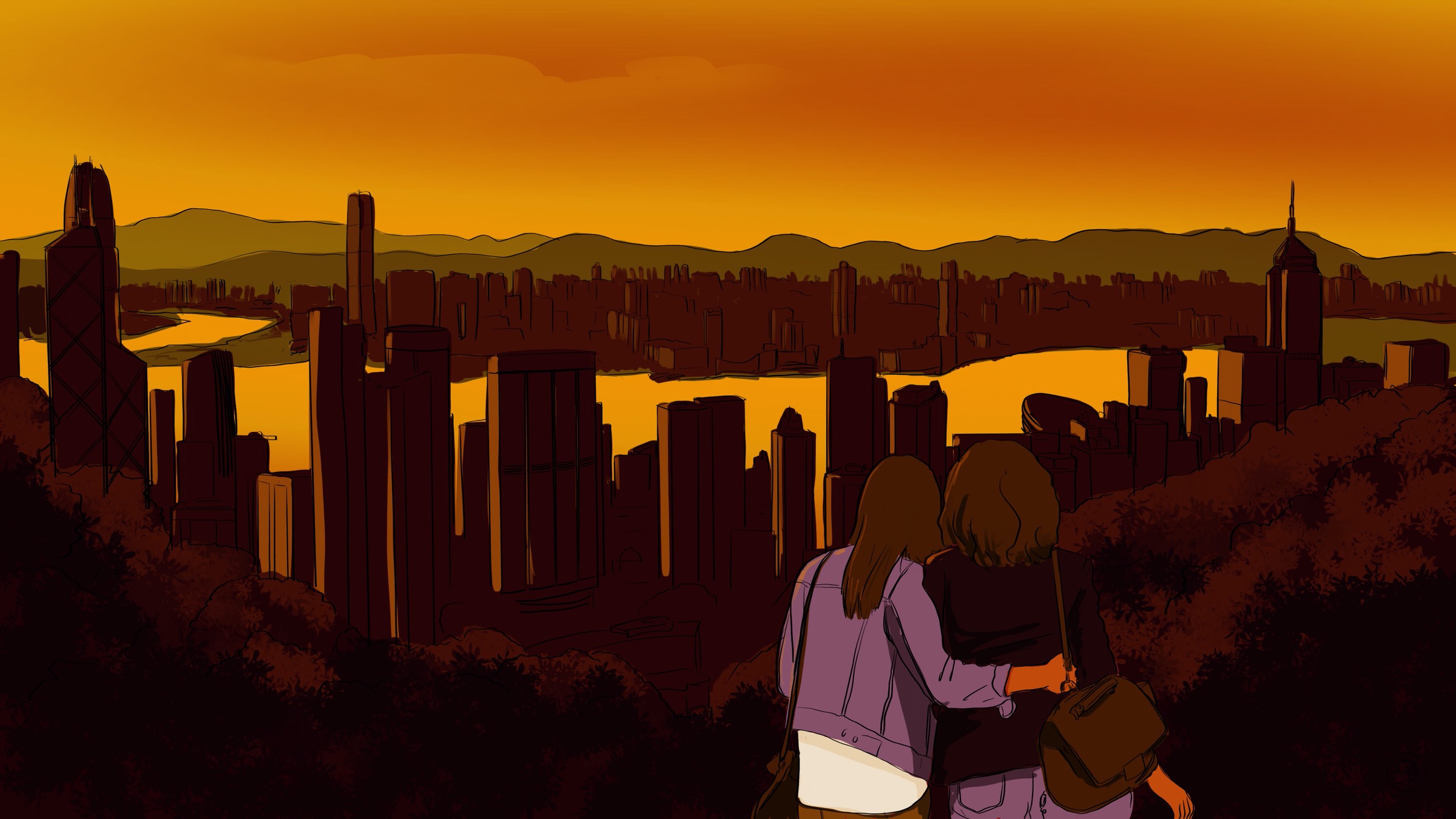 Thirty-three-year-old Guangzhou native Jasmine Liang just welcomed a baby girl in August with her same-sex partner Rae Wong in Hong Kong. If getting married in New York and pregnant via IVF in Barbados last year weren't tricky enough during pandemic times, the couple is about to face another challenge: they are leaving Hong Kong.
"I didn't feel I belonged anywhere until I met my partner, who gave me a sense of home in Hong Kong, where I no longer feel like a drifter," said Liang, who has a Master's degree in comparative literature from the University of Hong Kong. But: "Under Hong Kong law, I am the sole mother of our child, even though we are married overseas. My wife cannot be her legal parent unless I nominate her as the guardian in a will in case anything happens to me."
In the recent past, a sense of disorientation has afflicted many gender minorities who are gǎngpiāo 港漂, i.e., Hong Kong drifters — young and educated mainland migrants. The city that once had a reputation as an inclusive and safe haven — at least compared to mainland China, where sexual minorities are pushed to the fringes due to repressive social mores — has changed along with the city's political landscape. Bruised press freedoms and a shrinking civil society has caused the marginalized to lose their limited sense of belonging.
Following the anti-government protests of 2019 and the imposition of the National Security Law in 2020, Hong Kong saw the fall of pro-democracy LGBTQ icons amid the arrest of other human rights activists. A crackdown on media outlets and civil society coincided with the scaling back of major LGBTQ events. Hong Kong, once a beacon of diversity and inclusion in Asia, has lost its liberal sheen.
"Public figures [in the past], such as singers Wong Yiu-ming (黃耀明 Huáng Yàomíng) and Denise Ho (Ho Wan-sze, 何韵诗 Hé Yùnshī), came out as [homosexuals] to promote LGBT rights," Liang said. "The social environment [then] was relatively liberal. Those years were quite hopeful."
"Voices that used to represent us are disappearing as pro-democracy LGBT lawmakers were disqualified in the Legco," Liang continued, referring to representatives such as Cyd Ho Sau-lan (何秀蘭 Hé Xiùlán), Leung Kwok-hung (梁国雄 Liáng Guóxióng), and Raymond Chan Chi-chuen (陈志全 Chén Zhìquán), who supported legal recognition for same-sex partnerships. "It's a regression."
Exodus
About 90,000 Hong Kong residents left the city one year after the implementation of the National Security Law. More than 22,500 Hongkongers obtained Canadian visas in 2021, a historical high. 113,742 Hongkongers have received British National (Overseas) visas since the scheme was launched. But those in the LGBTQ community have more to consider than their heterosexual counterparts.
"When queers choose their destination for migration, they will prefer LGBT-friendly places, or places where they can apply for migration together as a couple. Somewhere even more liberal than Hong Kong when it comes to gender inclusion," said Lucetta Kam, an associate professor from Hong Kong Baptist University's department of humanities and creative writing, who is researching the queer migration trend. Kam said LGBTQ couples tend to gravitate toward destinations that offer legal recognition of same-sex partnerships.
In 2019, Taiwan became the first place in Asia to legalize same-sex marriage. Still, the island has yet to recognize foreign same-sex spouses who are citizens of jurisdictions where same-sex marriage remains illegal.
Also considering leaving the city is a 26-year-old social worker from Harbin who came to Hong Kong to study for a Master's degree in social work at the Chinese University of Hong Kong in 2018. "I prefer Canada, as I heard that it's quite a tolerant [country]," said the social worker, who would only be identified as K.
While there have been inspiring cases of successful fights for homosexual rights in Hong Kong, like a 2018 landmark top court ruling that required immigration authorities to grant same-sex partners spousal visas previously available only to heterosexual couples, K lamented that progressive attitudes toward sexual minorities have regressed over the past few years.
The exodus of human rights organizations such as Amnesty International in 2021 and the denial of entry to Hong Kong of equality advocates like Human Rights Watch global head Kenneth Roth in 2020 dishearten those within the LGBTQ community who see the fight for equality for the underprivileged as their mission.
"It's getting more difficult for such organizations to survive in Hong Kong," K said.
From 2019 to 2020, K worked on a project by the Boys' and Girls' Clubs Association of Hong Kong that let parents of LGBTQ people share the experiences of their children coming out to them. "Caritas Hong Kong also had projects for sexual minorities. But those projects were suspended after sponsors stopped funding them," K said.
Challenges for those who remain
For Christina, 28, who came from northern China in 2016 to study media and communications, the once-vibrant city where she felt comfortable enough to come out as a lesbian has turned into a straitjacket. Now a freelance journalist in Hong Kong, Christina recalled with sadness the halcyon days when pride parades were embraced like carnivals by locals.
"I have never told anyone, even my best friends in university, in mainland China, even my best friends in university, about my lesbian status," Christina said. "But I came out in Hong Kong in 2017 [because] there's an LBGT-friendly atmosphere in my former media company where I served as an intern. I came out to the friends that I made during my internship at a gathering. I felt safe doing so.
"I joined the pride parades in the city in 2016, 2017 and 2019. While not all the people in the parade were LGBT themselves, they were very friendly toward me and were happy in the parades. I was so glad to have found a community that I can belong to."
But that once-welcoming community has disappeared, seemingly overnight, for Christina.
"In the post-national-security-law age, the loss of a free press has made the fight for LGBTQ rights very difficult," she said. "Many LGBT-friendly lawyers and legislators have been imprisoned. Media like Apple Daily and Stand News often cover lawsuits involving rights for minorities. Their reports were widely spread on social media. Their disappearance dealt a huge blow to the LGBT community."
Pink Dots HK, the largest annual LGBT event in the city, has been held since 2014 (though canceled in 2019 due to the anti-government protests and held virtually in 2020 due to COVID). Last October, for the first time, the event was moved indoors, from the open-air Tamar Park to the Kowloon Bay International Trade and Exhibition Centre. This year's event will once again be indoors, marking yet another scale-down. What was once an open, empowering celebration is increasingly becoming bottled up, and there are those within the LGBTQ community who fear that the very existence of citywide pride parades is under threat.
Hong Kong's charged political landscape has also bred division and hostility on a grassroots level among those who choose to stay. PY, a 30-year-old non-binary lesbian, recalled how she faced discriminated while chatting with a local lesbian on the dating app Butterfly.
"I was chatting with a local girl and introduced my mainland background. But she accused me of occupying Hongkongers' resources," PY said. "Some people judge us simply because of our birthplace without taking the time to understand our views. This made me feel quite speechless."
Still, Hong Kong fares better than mainland China in treating sexual minorities. Christina said she was unsure if she was ready to leave a city that was so recently seen as a haven for people like her. "But whether I leave or stay, Hong Kong is a very important place to me," she said. "It gave me a sense of security and inclusion…It allowed me to be who I want to be, to freely present myself as I really am. They are something I'm grateful for and I'll always remember."
"The future for queer activism in Hong Kong is gloomy after the introduction of the National Security Law and the tighter control of NGOs and civil society in Hong Kong," Kam said. But she added that the presence of multinational corporations in the city could bring a glimmer of hope. "Gender and sexual diversity is a branding strategy for them. The pink economy is also economically profitable. So non-political forms of LGBTQI+ activities will continue to survive and flourish."