It's tough working for the government: China's education startups after the crackdown
Business & Technology
A year after regulators nearly destroyed the business of most of China's private education and tutoring companies, large incumbent companies are just getting by while startups are failing.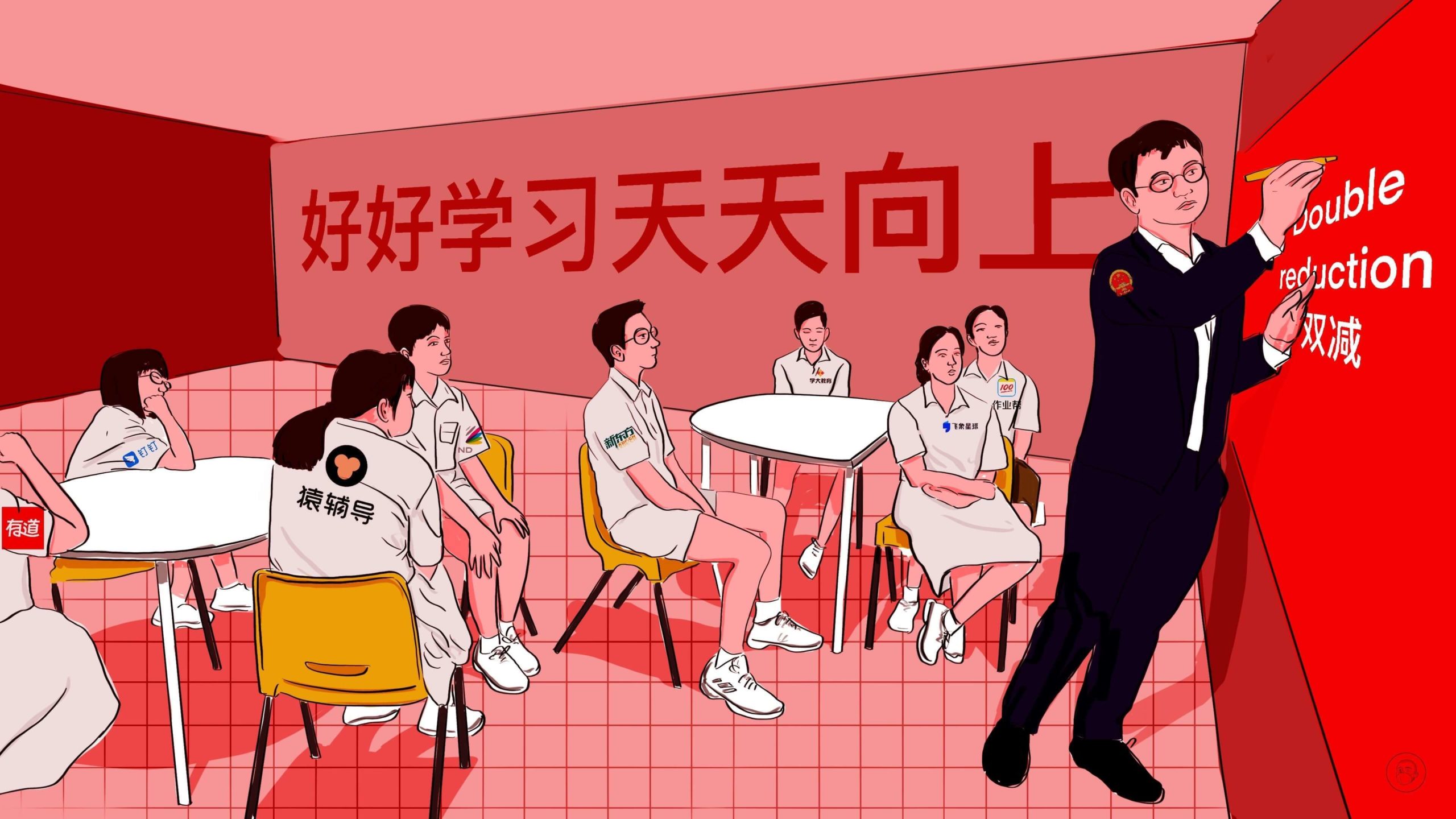 It has been just over a year since China's private education behemoths — like test prep provider New Oriental 新东方, which was once valued at $14 billion — were humbled by Beijing's so-called "double reduction" policy, which cracked down on private tutoring and extra-curricular education. In response, these companies have made desperate attempts to pivot into new sectors: New Oriental tried to work around Beijing's new policies by selling steaks alongside their livestreamed English lessons, while Beijing-based Xueda Education 学大教育 launched its own coffee brand.
Some companies have attempted to overhaul their business models, selling not to parents or private schools, but to the government itself. They reasoned that the state would be eager to absorb the freed up capacity of the private sector in service of better public service delivery.
But a year later, the outcomes of those efforts are mixed. Many attempts by startups to shift from a business-to-consumer (B2C) to a business-to-government (B2G) business model have failed, stalling in development or struggling to compete with well entrenched incumbents.
The rise of edtech
Since reform and opening up began in 1978, educational development in China has been guided by Dèng Xiǎopíng's (邓小平) philosophy that "education should be geared towards the need of modernization, of the world, and of the future." In 2019, the release of Beijing's Education Modernisation 2035 plan included a focus on "accelerating education reform and innovation in the era of information and communications technology". This policy validation of educational technology (edtech) saw China's edtech market grow by 118% from 143 billion yuan ($22 billion) in 2018 to 312 billion yuan ($48 billion) in 2020. This was reflected in usage too, with 232 million of China's 854 million internet users accessing online education in 2020.
But the 2035 plan (along with additional regulations issued by the Ministry of Education in July 2021) with its notion of "deep integration of information technology and education and teaching," was a policy issued on the government's terms. The plan included what is colloquially known as "double reduction" (双减 shuāng jiǎn): a policy to reduce the burden on primary and secondary school students of after-school supplementary courses and of homework requirements. Beyond its expressed intention, the policy allowed the state to reassert its presence in both the public and private education market.
Edtech companies tried to respond to the double reduction policy by shifting from a B2C to B2G business model, which they hoped would allow them to achieve compliance without drastically changing their products. In the wake of the crackdown, confidence was high that the state would need more help than ever to fill the gaps left by the vacated B2C space.
But many of these pivots seem to have stalled or failed. Flying Elephant Planet 飞象星球, a much-hyped hardware edtech brand launched by private education conglomerate Yuanfudao 猿辅导 in 2021, has only managed to enter 572 schools out of its 2,000 annual target thus far. Thus, even as the central authorities are encouraging digital government, rolling out projects from smart cities to local government websites, practical barriers remain for startups looking to make the pivot to selling to the state. Specifically, they face three main challenges.
Never miss a China beat.
Reporting on China without fear or favor. Expert-level insight and contextual analysis to take you beyond the headlines. Sign up for our free newsletter.
Challenge 1: Fragmented and bureaucratic public procurement
The first obstacle startups face is a great variation in public education technology procurement. At least 8% of China's total education budget is used for improving digital education, a sum projected to reach 665 billion yuan ($94.7 billion) by 2026. But when this budget cascades down the rungs of Chinese public administration, spending patterns vary dramatically by level and type. Primary schools have little purchasing discretion, and their budgets are dictated by provincial governments, whereas larger secondary schools in major cities are often completely autonomous. In practice, B2G contracts are not decided by large Ministry of Education tenders, but often through individual consultations with schools themselves.
This deeply fragmented market means that customer acquisition costs are very high for startup companies. Their hand-to-mouth cash profiles mean that they can't survive a six-month procurement process to win a small pilot contract with a secondary school.
Incumbents are familiar with these dynamics and the moat they constitute. One major Hong-Kong-based established edtech player, NetDragon 网龙, was confident of its position in the market in the immediate aftermath of the crackdowns, saying that the "trust, connections and lots of time" required to challenge incumbents in the space make it "just too hard" for would-be competitors to sell to government even after the double reduction policy.
Challenge 2: Well entrenched, politically-aligned incumbents
The second obstacle startups face is the interwoven relationship between the government and large education technology incumbents. The state's closest lieutenants are digital "national champions" such as Baidu 百度集团, Alibaba 阿里巴巴集团, and Tencent 腾讯, but also hardware-oriented firms like iFlyTek 科大讯飞 that the government draws on to further its digital agenda. It's these companies who are delivering services to public education bodies across the country, often at a loss.
Alibaba's Ding Talk 钉钉, a messaging and communication platform for remote learning and remote working, is a case in point. During the COVID-19 pandemic, Ding Talk's services were offered free to all students and classroom groups, and even though some users complained about quality, citing high lag times and buggy features, the company's competitive pricing allowed it to become one of the major players in the sector. Even after it plummeted in app store rankings after a series of negative reviews from students during the course of the pandemic, possibly offering an opportunity for a new entrant, Ding Talk still retains a huge share of the market. For startups which lack the capital to participate in so-called "volunteerism," incumbents can often prove too strong in the market to compete with.
Challenge 3: Conservative users
While Chinese citizens have displayed an "online first" eagerness and been willing to engage with digital education in the past, the picture changes when it comes to public school teachers and administrators procuring edtech solutions. The former CEO of an international education company told The China Project that Chinese schools are often populated by educational professionals wary of using advanced tech before it's fully mature, citing their lack of background in the technology. Moreover, the long shadow of double reduction hangs over even the public education system. Partners of primary and secondary schools report that they are worried that the advocates of double reduction might also take issue with public school administrators who procure new technology that, intentionally or otherwise, grows the after-school workload of students.
This risk adversity can limit the scope for innovation. Ted Mo Chen, VP of Globalization for edtech firm ClassIn, suggested that edtech software that succeeds in the public sector tends to solve problems that are less directed at pedagogical delivery, and more focused on supporting students outside the classroom and on operating schools effectively. Examples of this include using artificial intelligence (AI) to match students with suitable supplemental courses and better tooling for scheduling, grading, and assessment.
Where there has been a growth in student-facing technologies in China, this has focused on hardware rather than software or services, the key target of double reduction. Youdao ​​有道, New Oriental, and TAL 好未来, as well as new players Homework Gang 作业帮 and Yuanfudao have successively launched new intelligent learning equipment products.
No country for edtech startups
These obstacles combined have hobbled the B2G pivots of China's edtech sector. The few startups that have successfully managed long procurement cycles and competed with well-entrenched competitors often have done so by avoiding core pedagogical innovation.
Whether these obstacles will persist is open to question. Many of China's "national champions" have come under increased scrutiny in recent years from the government, as Alibaba's $2.8 billion fine in a 2021 antitrust case in Zhejiang Province has shown, and these firms no longer have the comfortable margins they once did to play casually in the edtech sector. This, combined with policy efforts to reform public procurement and upskill public school users, may create future openings for startups to enter the B2G sector. But in the meantime, most startups still reeling after double reduction may find it best to just stay away from the state.