TikTok is hiring lobbyists on Capitol Hill, but it's still not answering the questions that count
The app that American teenagers love and American politicians hate is in danger of being banned, but it still hasn't figured out how to navigate K Street.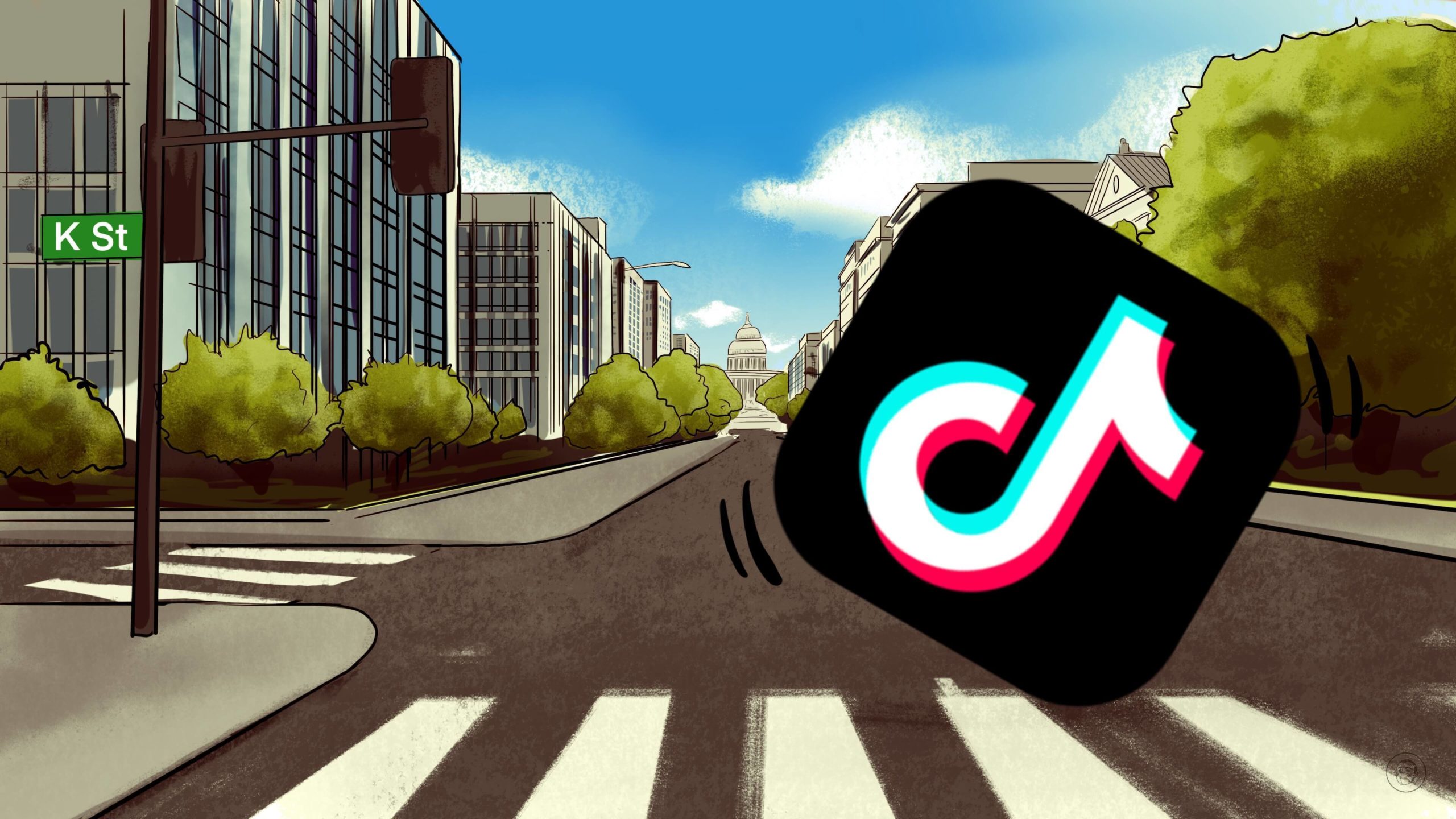 TikTok is the app owned by Beijing-based ByteDance that has amassed more than a billion global users since its launch in 2017. It's also attracted the scrutiny of lawmakers, journalists, and political opportunists in the United States, many of whom are advocating for a ban.
But American teenagers love it.
There are a few different concerns about TikTok. In late 2022, FBI Director Christopher Wray said the app is a threat to U.S. national security because it could be used for influence operations and for espionage purposes. Congressman Mike Gallagher (R) of Wisconsin says it is "digital fentanyl" that will corrupt America's youth. In June 2022, BuzzFeed published leaked audio calls that showed data from U.S. users had been accessed by ByteDance staff in Beijing.
Now two U.S. Trump-era executive orders on TikTok that began in 2020 but met legal challenges early on may finally become a reality. One is a TikTok ban in the United States, and the other is a forced divestiture of TikTok from its Chinese parent company.
Several congressional and state-level lawmakers recently revived the first order, struck down by a federal court and then overturned by the Biden administration. The second order that would force ByteDance to sell TikTok to an American company is on hold for the time being. But in the meantime, troubles continue to simmer for TikTok. Missouri Senator Josh Hawley (R) has recently introduced a new bill to ban TikTok from all U.S. devices. Marco Rubio (R), the perennial China hawk, Angus King, an independent from Maine, and Chuck Schumer (D) have also revived their commitment and joined the call to ban TikTok, unless it severs ties with ByteDance.
TikTok has continued to declare that it is an entertainment-driven app with little to do with politics. However, this characterization does not match the perception of TikTok in Washington, D.C.
Troubles started back in December last year, when the aforementioned Senator Marco Rubio (R) of Florida, the aforementioned Congressman Mike Gallagher (R) of Wisconsin, and Congressman Raja Krishnamoorthi (D) of Illinois put forth a bipartisan bill to ban TikTok in the U.S. More politicians have since piled on and joined the party. The ban is gaining support as TikTok is becoming one scapegoat for the broader geopolitical contest between the U.S. and China. Interestingly, Gallagher is also the incoming chairman of the U.S. Select Committee on Strategic Competition with the Chinese Communist Party.
Ongoing negotiations between the Biden administration and TikTok are adding uncertainty to the future. Previously, TikTok seemed to just sit on the sidelines and make lackadaisical PR efforts, but now TikTok's lobbying efforts in Washington, D.C., are finally picking up steam.
How much is TikTok spending on lobbying?
According to publicly available filings, ByteDance's total political lobbying spend in 2019 was a mere $270,000. By 2020, however, TikTok began aggressively recruiting and building a comprehensive lobbying organizational structure, spending nearly $4 million, 14 times more than the previous year's lobbying spend.
The first high-profile spend in 2020 was on David Urban and his lobbying company, American Continental Group. Urban was a key adviser to Trump's presidential campaign and instrumental in Trump's 2016 Pennsylvania victory. But ByteDance and Urban's partnership lasted only a year.
Also in 2020, TikTok hired Michael Beckerman to run its internal public policy organization. Beckerman is the former CEO and founder of the Internet Association, a lobbying organization representing the interests of Amazon, Google, and Meta. Beckman's reputation as a lobbyist for the technology industry is mixed. He argued to curtail protections for internet platforms in Section 230 of the Communications Decency Act, which gives immunity from civil liability based on third-party content. Beckerman's stance on the issue undermined the position of the association's members he was supposed to represent, and made many unhappy. And as a lobbyist for the TikTok side, Beckman now must stand in opposition to his previous position and defend the best interests of TikTok.
Is TikTok spending money in the right places?
But 2022 was the pivotal year for TikTok's political lobbying. Parent company ByteDance invested more than $5.2 million, about one and a half times the amount spent in 2020. The company also shifted to a more offensive strategy.
To put things in perspective — other high-profile Chinese companies with a lobbying presence in D.C., such as Huawei, Alibaba, and DJI, spent much less than ByteDance's more concentrated spending in the past three years.
In 2022, Huawei spent a total of $4.5 million on external and internal lobbying efforts. For Alibaba, the figure was $3.7 million, and DJI spent $2.6 million.
ByteDance, in comparison, spent almost 5 million dollars alone in 2022 on its internal lobby organization and about one-tenth of its total lobbying budget on hiring outside firms. This is a different strategy from that of its peers: Alibaba, for example, spent about two-thirds of its budget on outside firms.
There is not a one-size-fits-all approach, but generally speaking, in-house lobbyists can better navigate the firm's culture and corporate internal practices. They also build trust and have close communications with senior executives, which can really make a difference in ensuring a collaborative and successful endeavor. On the other hand, external lobbyists are experts in their respective issues area, and firms that choose to employ a number of outside firms have access to more resources and opinions, as well as the flexibility to change lobbying firms when issues evolve.
Unlike its peers, who have been lobbying in the U.S. much longer and have more experience, ByteDance's model is to build up its internal lobbying organization rather than a more balanced allocation to internal and external resources.
Aside from the budget, ByteDance's lobbying efforts seem to be slightly misguided, focusing on issues faced by all social media companies such as privacy, child protection, and content moderation, even though issues related to national security and the U.S.-China technology competition are much more likely to get the company in serious trouble. A case in point: In 2022, only two of the 16 issues lobbied were trade issues affecting internet companies and provisions related to sanctions on China and Chinese influence operations.
On the one hand, TikTok's recent active political lobbying efforts point to its increasingly treacherous political future in the U.S.: Will TikTok be banned completely or forced to release an alternative reincarnation of the app? Or will ByteDance be forced to divest and sell?
One of the major initiatives the company has taken since the BuzzFeed revelation is Project Texas, ByteDance's plan "to make substantive progress toward a compliance with a final agreement with the U.S. government that will fully safeguard user data and U.S. national security interests."
But so far, the $1.5 billion plan has not satisfactorily addressed national security concerns or assuaged U.S. politicians.
The TikTok conundrum at the core is about its ownership by a China-based company. But TikTok is still beating around the bush on a number of issues and several unfortunate missteps have undermined the already fragile public trust. The material issues at hand are as follows:
The clock is ticking for TikTok, and all eyes are on how these problems will be addressed before TikTok testifies before the House Energy and Commerce Committee in March. The ongoing negotiation with the Biden administration is also hanging by a thread. Without concrete actions beyond just PR stunts, all its lobbying efforts will have been in vain.