New Chinese premier Li Qiang, as judged by his peers
Politics & Current Affairs
Chinese scholars, officials, businesspeople, and more weigh in on Xi Jinping's right-hand man.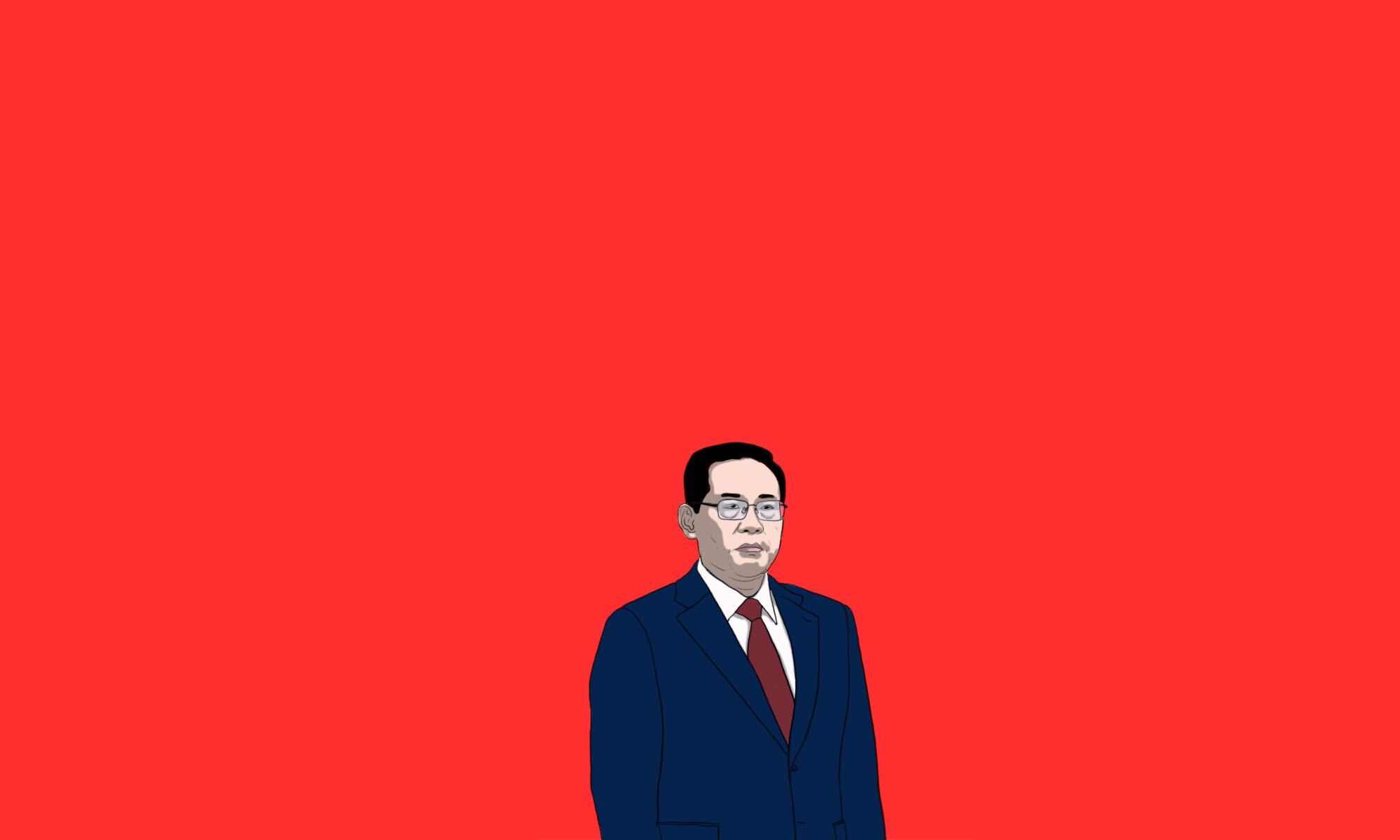 This article originally appeared in the newsletter Ginger River Review, and is republished here, with minor edits, with permission.
---
Last Wednesday, China's new premier, Lǐ Qiáng 李强, said that the country's determination to develop its manufacturing industry remains unshakable. He urged for greater efforts to build up the sector by promoting its high-end development through smart and green technologies.
Li made these remarks while presiding over a seminar on the development of advanced manufacturing. This was after he concluded a two-day visit to Hunan province for investigation and research purposes — believed to be his first inspection trip after becoming China's new premier.
While in Changsha, Hunan's capital, the premier noted that enterprises play a guiding role in sci-tech innovation. He emphasized the need to build world-class enterprises with outstanding products and brands, as well as specialized and sophisticated companies that produce new and unique products.
Recently, Ginger River Review published a near-full translation of the transcript of Li Qiang's introductory press conference, which attracted a lot of attention from China observers. What follows is a compilation of highlights from interviews and reports about the premier from Chinese officials, scholars, entrepreneurs, and media outlets.
This compilation sheds light on Li Qiang's views on topics including reform and opening up, the development of private enterprises, and foreign investment. They also offer insight into how the premier's prior working experience helps him understand the priorities of the economy, society, and the people. Overall, we hope this is a valuable resource for those seeking to understand Li Qiang's working style and his vision.
On reform and opening up
Wèi Jiànguó 魏建国, Vice Chairman of the China Center for International Economic Exchanges (CCIEE) and former Vice Minister of Commerce, said in an interview with Chinese news outlet Cailianshe that Premier Li Qiang comes from the forefront of China's reform and opening up, allowing him to have a good understanding of the situation, identify key problems, and always find ways to address them. Additionally, he impressed people with his affability and confidence.
Wáng Huīyào 王辉耀, a former counselor for the State Council and president of the Beijing-based think tank Center for China and Globalization (CCG), told China Daily the newly appointed senior officials had grown their expertise during the country's reform and opening up, which started over four decades ago.
"They are familiar with the market economy and the private sector and have rich experience working at local levels. We have reason to believe that they will play a greater role in contributing to the Chinese path to modernization," Wang said.
Li Qiang on reform and opening up:
"We will remain steadfast in deepening reform and opening up. As we often say, reform and opening up is a crucial move that has made China what it is today…China will only open itself wider to the world. We will provide a better environment and better services to all. An open China welcomes investors from all over the world."
On Li Qiang's work experience
Zhèng Yǒngnián 郑永年, an influential professor of contemporary China studies, in his review of the recently concluded Two Sessions political meeting, said that Li Qiang and his team have at least two defining features. First, most of them have an educational background in science, engineering, and economics, which reflects what the academic circle call "technocratic" characteristics.
Second, the new leadership has had rich work experience, from local to central governments, and from coastal to inland places. (Check out the list of key officials of China's State Council.)
Professor Zheng said that Li Qiang's own work experience gives people the feeling that "the future can be expected." Like General Secretary Xí Jìnpíng 习近平, Li also worked his way up from the most basic level of Chinese society. He was once a worker, and was later admitted to Zhejiang Agricultural University as a major in agricultural machinery. He started as part of a grassroots county youth league committee, then successively served as secretary of the Wenzhou Municipal Party Committee, deputy secretary of the Zhejiang Provincial Party Committee, secretary of the Jiangsu Provincial Party Committee, and secretary of the Shanghai Municipal Party Committee.
Especially from his political experience in Zhejiang, it can be seen that he attaches great importance to the private economy. When he was in Zhejiang, he emphasized, "The next step for Zhejiang's private economy depends on the main body of the economy — private enterprises, especially whether private entrepreneurs are still very active and creative."
Li Qiang on his experience in local governments:
I have worked in local governments for a long time. My experience is that when you sit in the office, you see lots of problems. But when you reach out to the people, you see all kinds of solutions.
On Li Qiang's Wenzhou background
Zheng Yongnian: Premier Li keeps a low profile and applies a pragmatic approach. He is a typical problem-solver, which means he has strong execution ability. He can not only identify new problems, but also find solutions…which has been shown in his own experience in politics. He once wrote a book called The Commentary of Wenzhou: Wenzhou in the Eyes of a Native Wenzhou Party Secretary, which specifically tells the story of Wenzhou's development from the perspective of a Wenzhou native. Even people who don't know him can feel his governing style once they have seen his political career.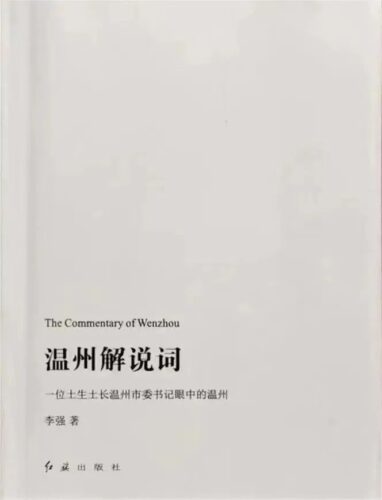 Li Qiang on Wenzhou, in an interview with Caixin on November 24, 2013, when he was governor of Zhejiang province:
When it comes to entrepreneurship, people in southern and central Zhejiang are more typical, especially those in Wenzhou, who are poor and want to change. They were the first to do business across the world at the beginning of the reform and opening up.
On private enterprises
Zhou Dewen, a representative of small and midsize enterprises in Wenzhou, said in an interview with Reuters that Li Qiang came across as open-minded and willing to listen. "He took a liberal approach of granting private companies default access to enter the market, except when explicitly banned by law, rather than the traditional approach of keeping private companies out by default," Zhou said.
Yú Mǐnhóng 俞敏洪, the founder and chairman of New Oriental Education and Technology Group in Beijing, said in the 23rd China Entrepreneurs Forum on March 17 that, "To be honest, I feel quite warm after watching Premier Li Qiang's press conference, especially when he talked about private enterprises. Because in fact, we have been waiting for the government's statement. Although there may have been similar expressions before, the most powerful one was at this press conference. There is no doubt that it has brought great confidence and warmth for us."
[Note: In 2021, China rolled out after-school tutoring reform, or the "double reduction" policy, to limit the amount of off-campus tutoring students can get. The private education industry in China, including Yu Minhong's company, suffered a major blow after the policy was unveiled.]
Li Qiang on how the development of private enterprises has aroused great attention at home and abroad:
I want to take this opportunity to mainly convey the following messages.

First, the policy of "two unswervinglys," namely unswervingly consolidating and developing the public sector and unswervingly encouraging, supporting, and guiding the development of the non-public sector, is an important component of China's basic economic system. This is a long-term policy that did not change in the past and will not change in the future…

The second point I want to make is that private enterprises will enjoy a better environment and broader space for development. Standing at a new starting point, this government will continue to foster a market-oriented and law-based business environment in keeping with international standards, treat companies under all types of ownership as equals, protect the property rights of enterprises and the rights and interests of entrepreneurs in accordance with law…
On human resources, people-centered economy
Zheng Yongnian: Premier Li did not put forward "people-oriented" as a slogan, but expressed it based on his rich front-line work experience. Whether in Zhejiang, Jiangsu, or Shanghai, he will first ask, Who is the subject of a certain field? What is needed? Then, effective policy configuration will be provided.
In an interview with China News Service on March 7, 2014, Li, who was then governor of Zhejiang, said:
The people-centered economy of private ownership, private wealth, and shared benefits has always been the biggest driving force of Zhejiang…To unleash the market and give market entities equal status, we must break through all kinds of "ceilings" and "glass doors."
In an interview with Caixin on November 24, 2013:
It is known to all that there are neither rich mineral resources underground in Zhejiang, nor large forests and black soil on the ground. However, the success of Zhejiang's economy lies in turning Zhejiang people themselves into resources. We often say that Zhejiang people, represented by Zhejiang merchants, are a huge fortune and the most cherished resource in Zhejiang. In the new view of resources, the last thing that should be left out is human resources.
On foreign investments
Zheng Yongnian: "As for Premier Li Qiang's attitude toward foreign investments, his support for the construction of the Tesla Gigafactory Shanghai speaks for itself."
When Gigafactory Shanghai, the first overseas factory of Tesla, was approved in 2018, the meeting of Elon Musk with Li Qiang, then the Secretary of the Shanghai Municipal Party Committee, made it to the frontpage of Jiefang Daily on July 11. "We will actively create an international, law-based, and convenient business environment, and create more favorable conditions for Chinese and foreign companies to develop in Shanghai," Li said. Three months later, the first China International Import Expo was held in Shanghai, and China's door of opening-up opened wider.
When Li Qiang and Musk met again at the delivery ceremony of the first batch of domestically produced Tesla cars on Jan. 7, 2020, Li was quoted by the People's Daily as saying, "We will use the Tesla case as an example of optimizing the business environment, and make 'Tesla speed' the norm of 'Shanghai speed.' We will strive to provide more high-quality and efficient services for all kinds of enterprises in Shanghai."
On Li Qiang's experience of governor of Zhejiang province
Zheng Yongnian: Zhejiang's development in recent years has been regarded as a model for the country and has been identified by the central government as a pioneer in achieving common prosperity and modernization. Zhejiang's development relies on the market economy and a large number of officials who understand the market economy. This is fully reflected in Premier Li Qiang. As someone who was born and worked his way up in Wenzhou, Li has always regarded the government as a service provider that should serve the economy and society.
Li Qiang, in an interview with Caixin on November 24, 2013:
Many Zhejiang merchants started with shining shoes, fluffing cotton, or even contracting public toilets for their first bucket of gold. Their commercial values are "it is an honor to make a penny." This sentence has two meanings: one is that making money is honorable rather than shameful, and the other is that making a small amount of money is also honorable. They are not afraid of hardship, low profits, or being looked down upon by others. Zhejiang people produce buttons and straws, accumulate meager profits, and eventually make a mickle through many a little. A company in Yiwu that makes beverage straws has become the largest in the world with huge profits. [Li could be referring to Yiwu Shuangtong Commodities Co., Ltd.] It is this entrepreneurial spirit that supports the booming development of Zhejiang's private economy. It is precisely because of this historical and cultural heritage that Zhejiang has the largest number of market entities.
On service-oriented government:
Zheng Yongnian: There used to be officials who incessantly said, "I want to do this" and asked entrepreneurs to do their bidding, as if this could achieve the desired goal. But the reality is not like this. Li Qiang reversed the chain of thinking, starting from what society needs, what private entrepreneurs need, and what the people need, and then formulated effective policies. This is the proper manifestation of an effective and service-oriented government.
According to Shanghai Fabu, the city's top government communications account, on Jun. 19, 2019, then Shanghai Municipal Party Secretary Li Qiang visited Honeywell (China) Co., Ltd., Siemens Medical Equipment Ltd., and Omron (Shanghai) Co., Ltd. to investigate the sustainable and healthy development of foreign-funded enterprises in Shanghai under the current economic situation.
Li inquired about the difficulties encountered by foreign-funded enterprises in their current development at each stop, and demanded that various districts and departments conduct in-depth interviews with enterprises and solidly promote the implementation of the "100 Measures to Expand Shanghai's Opening-Up." Li also emphasized that the government should further promote a stable, secure, and favorable environment to help enterprises solve practical problems and achieve better development.
In an interview with Caixin on November 24, 2013, Li said:
The ultimate goal of reform and development is to benefit the people. I believe that Zhejiang's reform and development must adhere to the three bottom lines of "increasing people's income, maintaining good ecological conditions, and ensuring social stability." People's prosperity is Zhejiang's advantage and the basis for entrepreneurship and innovation. No matter how we reform or develop, per capita income of urban and rural residents must continue to increase, and we must continue to maintain a leading position in the country. No matter how we reform or develop, the ecological environment and social order cannot deteriorate, and can only improve.
The highlights of Premier Li Qiang's speech at the State Council
Li gave a speech while presiding over the first plenary meeting of China's new-term State Council. It reads in part:
The five-year term of this government coincides with the crucial period for getting the efforts to build a modern socialist country in all respects off to a good start, said Li, adding that the new-term government's mission is to ensure the sound and faithful implementation of the decisions and plans made by the CPC Central Committee.

Li also underlined the importance of pursuing high-quality development as the first and foremost task, urging efforts to prioritize economic stability and pursue progress while ensuring stability, implementing macro policies in a systemic and targeted way, unleashing the potential of domestic demand with comprehensive measures, and pushing for an overall upturn in economic performance.

The real economy should be the focus in seeking economic development, Li said, calling for breakthroughs in core technologies in key fields and accelerating the development of the modern industrial system.

Li stressed further deepening reform and opening up, making plans for and implementing a new round of reform in state-owned enterprises, supporting the development and growth of the private sector, and stabilizing foreign trade and foreign investment.

The premier called for efforts to effectively prevent and defuse major risks, and ensure that no systemic risks arise.
---
Subscribe to Ginger River Review, which covers "the priorities of both the leadership and the general public in China and views you do not normally see from mainstream English-language media."