Beijing gives harsh decade-plus prison sentences to two leading activists
Politics & Current Affairs
Xu Zhiyong and Ding Jiaxi have been handed 14-year and 12-year prison sentences on sedition charges, as the space for political dissent gets smaller and smaller under Xi Jinping.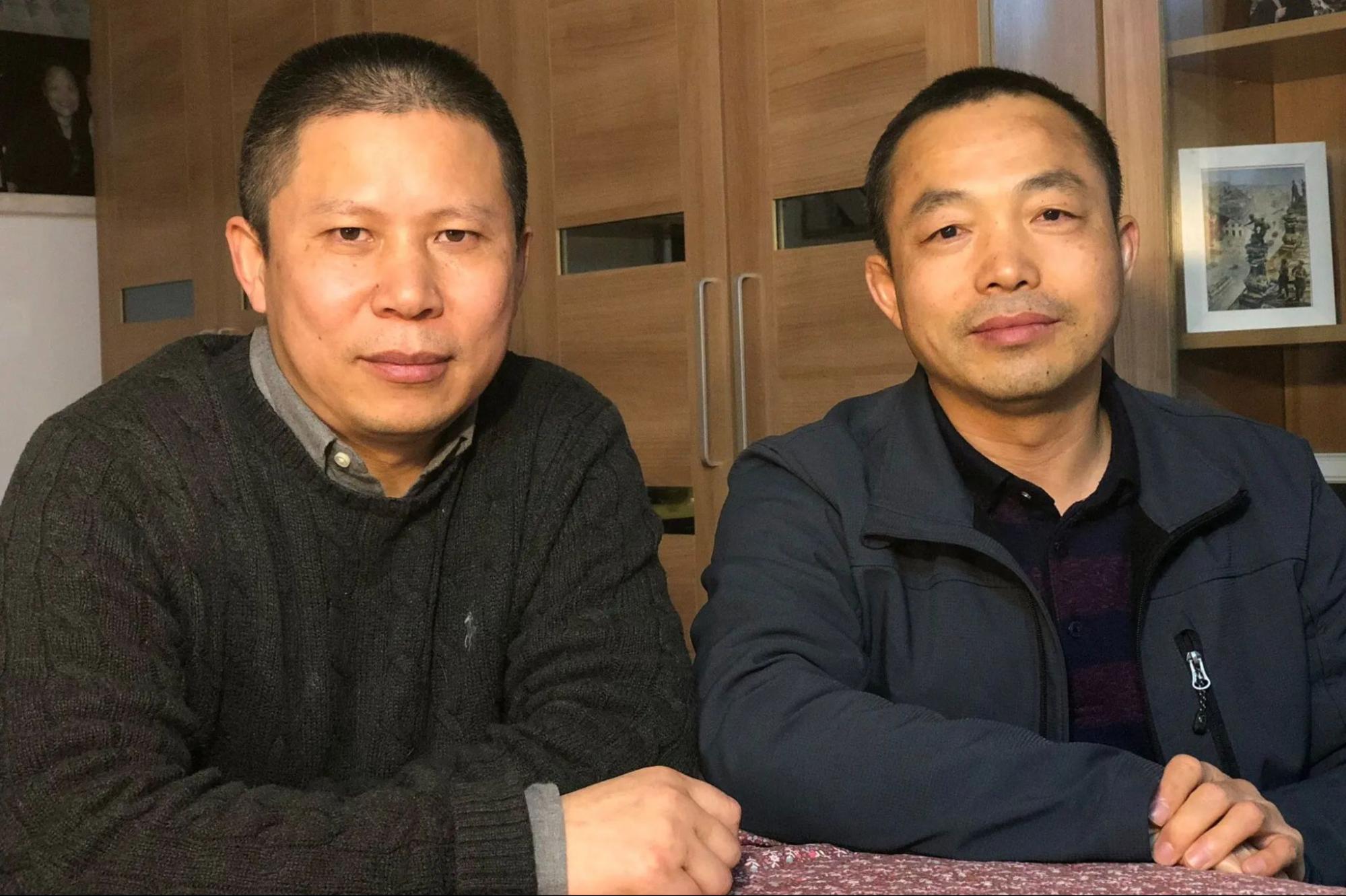 Two prominent human rights activists have each been sentenced to jail for over a decade on charges of state subversion, after spending more than three years in detention. Their lengthy punishments mark some of the most high-profile dissidents to be convicted by Beijing, and a stark example of the Chinese government's tightening grip on any civil actions that might threaten political stability.
Yesterday on April 10, a court in Shandong Province sentenced Xǔ Zhìyǒng 许志永, 50, and Dīng Jiāxǐ 丁家喜, 55, to 14 years and 12 years in prison, respectively, after they were tried separately behind closed doors.
Xu and Ding are members of the New Citizens' Movement, a loose network of activists founded by Xu in 2012 to promote constitutionalism and government transparency. They both attended a December 2019 gathering of activists and human rights lawyers in the coastal city of Xiamen, Fujian Province, to discuss civil society and current affairs. Ding was detained on December 26. Xu went into hiding but was later detained on February 15, 2020.
Xu and Ding were finally allowed to meet their lawyers roughly a year after first being detained. Both pleaded not guilty to the subversion charges.
"Chinese authorities should immediately quash the lengthy sentences on baseless charges," New York–based Human Rights Watch said today. Xu's and Ding's trials were "riddled with procedural problems and allegations of mistreatment," the international rights group added.
Ding's wife, Luō Shèngchūn 罗胜春, who now lives in self-imposed exile in the United States, has long campaigned for their release and has protested their sentences on social media. Days ahead of the pair's sentencing, she released a court statement dictated by Xu — who was not allowed a pen and paper to write himself — to his lawyers in early 2021 calling for a democratic China.
Luo also published Ding's statement to the court on the eve of yesterday's verdict (translated here in English), in which Ding described that he has "personally been tortured," though did not specify further details.
Meanwhile, both Luo and human rights lawyer and activist Téng Biāo 滕彪, who helped establish the New Citizens Movement and is a friend of Xu and Ding's, cited that authorities were barring their legal representation from sharing information about the case.
"When #XuZhiyong heard the verdict, he said 'it's almost dawn,' but he was not allowed to say anything else. Hours later, when his lawyers went to see him in the detention center, the authorities did not allow them to meet Xu with the excuse 'all the equipment was broken,'" Teng said on Twitter.
Other attendees of the Xiamen event and some supporters of Xu and Ding's were also taken in by authorities, though some have since been released. But Lǐ Qiáochǔ 李翘楚, Xu's partner and a labor rights and feminist activist, was charged with subversion. She had recently taken to Twitter to accuse Chinese authorities of covering up the COVID-19 outbreak, as well as to claim that Xu and Ding had been tortured while in detention. She is awaiting trial.
Activists in and out of prison
The sedition charges mark the most serious indictments for Xu and Ding, both of whom have been in and out of Chinese prison cells for their activism.
Xu, a well-known public intellectual who became an iconic civil rights activist over the past two decades, had been hiding out for nearly two months in the southern city of Guangzhou before being detained by authorities in February 2020.
Earlier that month, Xu had published an essay calling on Chinese leader Xí Jìnpíng 习近平 to resign. He criticized Xi's inability to govern China, citing mishandling of both the COVID pandemic and the Hong Kong pro-democracy protests.
"You didn't authorize the truth to be released, and the outbreak turned into a national disaster," Xu wrote. "Whenever you face [a] looming crisis, you're clueless…Mr. Xi Jinping, please step down."
He had been arrested twice before. As the founder of grassroots civil rights network New Citizens' Movement, he was the first high-profile activist to be prosecuted after Xi came to power, when he was sentenced to four years in prison in 2014 for his role in the movement's protests calling for equal benefits for migrant workers in Beijing.
Ding, a commercial lawyer who joined New Citizens' Movement as a key organizer in 2012, was sentenced shortly afterward on similar charges. He served time between 2013 and 2016.
Xu earlier helped found the public interest group Gongmeng, also known as the Open Constitution Initiative. He was first arrested in his home in July 2009 and detained by Chinese authorities on charges of tax evasion.
Shrinking civil space
The shocking severity of Xu and Ding's sentences underscores how the Chinese government is cracking down on dissidents and those who dare to challenge the ruling Communist Party under Xi.
Their 12- and 14-year sentences are longer than the 11 years handed to the Nobel Prize–winning dissident Liú Xiǎobō 刘晓波 (who died in prison of cancer in 2017), Sinologist Geremie R. Barmé pointed out to The China Project. He added that the harsh punishments send a message to writers and would-be dissidents that "we've crushed people entirely, don't even think about making a peep."
The citizen journalist and lawyer Chén Qiūshí 陈秋实, who himself was disappeared by security agents after reporting on COVID-19 in Wuhan in early 2020, posted a video to YouTube, where he compares the nine-year prison sentence given last week to the husband of the "Xuzhou chained woman" — who paid traffickers for her, and then kept her locked up in a shed, forcing her to have eight children — with the harsher punishments given to Ding and Xu for writing a few essays, posting some tweets and attending meetings.
"Their lengthened prison terms illustrate just how repressive China has become in the span of 10 years under Xi," Maya Wang, acting China director at Human Rights Watch, told The China Project today.
Since coming into his role as China's most powerful leader since Máo Zédōng 毛泽东, Xi has pledged to fight against "social instability" in China and has used that justification as grounds to censor, restrict, or imprison individuals or groups that pose a threat to his political agenda.
In the wake of the Cultural Revolution, the Chinese Communist Party began to make sweeping political and legal reforms in China. But, under Xi's iron hand over the last decade, China's top brass turned against many of those late 20th-century legal reforms that they themselves had pursued.
"Between [the] 1970s and 2000s, the Chinese government reconstructed its legal system partly in accordance with liberal political ideas and undertook legal reforms that improved channels for redress of citizen grievances," Wang told The China Project today. "But since [the] 2000s, Beijing has turned against many of these reforms, as it perceives them as contributing to growing social conflict, and to undermining the Party's grip on power."
"Xu and Ding's long prison sentences are in many ways the final nail in the coffin of that bygone era of legal reform," Wang added.
Some observers never had much hope of legal reform. "The landscape has not changed all that much," Marie Holzman, a Sinologist whose research focuses on dissidents, told The China Project. All you need to remember: Wèi Jīngshēng 魏京生 was tried in 1979 and sentenced to 15 years in jail, just because he dared challenge" then leader Dèng Xiǎopíng 邓小平" in a handwritten poster on Beijing's Democracy Wall.