The KMT's candidate for Taiwan's 2024 presidential election
Politics & Current Affairs
Taiwan's opposition Kuomintang (KMT) party will announce its presidential candidate on May 17. The choice will reveal the party's strategy for its upcoming campaign and set the tone for the entire election.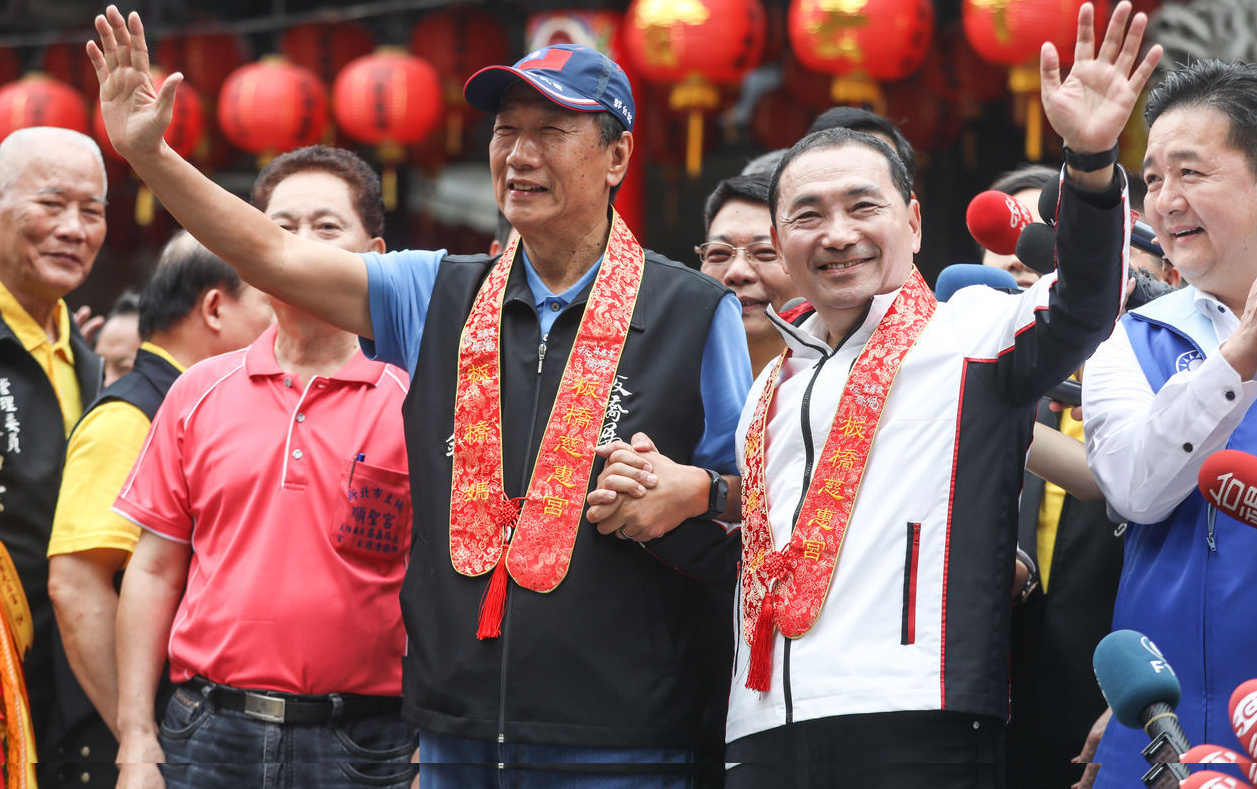 Taiwan's presidential election doesn't take place until January 13, 2024, but voters and pundits are already chatting as the field of candidates becomes clearer.
It goes without saying that Washington and Beijing are also watching closely. The U.S. and China may consider Taiwan a primary security issue — but every four years they are reminded that the island country's 19 million registered voters also get to have their say in how this highly consequential triangular relationship is managed.
The Democratic Progressive Party, or DPP, nominated current vice-president William Lai (賴淸德 Lài Qīngdé) last month, while former Taipei mayor Ko Wen-je (柯文哲 Kē Wénzhé) registered last week as the candidate for his Taiwan People's Party. The last piece of the puzzle is the nominee of the opposition Kuomintang (KMT), or Chinese Nationalist Party.
China news, weekly.
Sign up for The China Project's weekly newsletter, our free roundup of the most important China stories.
In an unorthodox move, KMT party chair Eric Chu (朱立倫 Zhū Lìlún) decided to forgo a party primary, and is expected to announce on Wednesday his decision of who the party will field. The two frontrunners are the former director of the National Police Agency Hou Yu-ih (侯友宜 Hóu Yǒuyí), and the billionaire founder of Apple supplier Foxconn, Terry Gou (郭台銘 Guō Táimíng).
UPDATE: Hou Yu-ih is the choice.
A consequential choice
Who Chu chooses will say a lot about both the tone the next eight months of presidential campaigning will take, as well as the KMT's strategy for the broader election — voters will also choose a new legislature in January.
Chu's decision to skip a party primary is an attempt to select the best candidate for the party while maintaining unity, said Alexander Huang (黃介正 Huáng Jièzhèng), KMT director of international affairs and special advisor to Chu. Prior to the 2020 election, the populist firebrand Han Kuo-yu (韓國瑜 Hán Guóyú) won the party primary with nearly 45% of the vote, easily fending off Gou and Chu, but dividing party elites, some of whom worried about the behavior of both Han and his fervent supporters. One prominent party member even publicly called on Han to stop drinking during his campaign, as rumors swirled that he had an alcohol problem.
The KMT's Huang said that this time around, Chairman Chu, who he advises on international affairs, "will refer to data from scientific polls, and the feedback of opinion leaders in the party," including legislators, county magistrates and city mayors.
"We need a way to select a person who can best unite the opinions of all corners within the party and avoid divisions," Huang said. "This approach has also been unanimously approved by the opinion leaders in the party."
The approach has now put substantial pressure on Chu, however. The party chair would have had an easy time nominating Hou a few weeks ago when he carried a clear lead over Gou in polls. But things have changed.
Foxconn's Gou, the Chinese nationalist
Gou has taken a dual-track approach to make his case for the nomination, fashioning himself as the savior of the Republic of China (ROC) government that seized Taiwan after Japan's surrender in 1945 and rebased itself in Taipei after losing China to Máo Zédōng's 毛泽东 Communist revolution in 1949. This approach has involved public rallies for his candidacy, as well as reaching out to influential members of the party's deep-blue wing, which seeks unification with China — under the ROC framework, or potentially under the People's Republic of China.
Gou's push appears to be paying off, with some recent polls showing him neck and neck with Hou.
In an April press conference, Gou sang the ROC national anthem, then went on to read the will of ROC founder Sun Yat-sen (孫中山 Sūn Zhōngshān). His rallies have stressed his view that Taiwan is Chinese, that it needs to negotiate with China, and that with his massive business presence in China, he is the best person to restart cross-strait dialogue. He has not said what he would offer Beijing in exchange for peace.
Also noteworthy has been Gou's oblique digs at the United States, stating at a recent rally that "we don't need any foreign forces involved" in the cross-strait peace process. Gou's Chinese nationalism and willingness to disparage the U.S. is likely to make him the favorite candidate of Beijing.
"Terry Gou represents the KMT's business interest wing, who places a higher premium on cross-strait economic relations," said Wen-Ti Sung (宋文笛 Sòng Wéndí), a political scientist at the Australian National University's Taiwan Studies Program. "On China policy, Beijing is a lot more familiar and likely more comfortable with Gou, as Gou has long-standing business interests in China."
Gou's company Foxconn was for years the single largest private sector employer in China, employing more than a million workers there at one point. He has met with Xí Jìnpíng 习近平 multiple times, with Xi referring to Gou as "an old friend."
Gou is also prone to making controversial public statements: Despite his ties to Beijing, he recently suggested creating an army of robots to defend Taiwan from Chinese invasion,
A Taiwanese Trojan Horse?
Ex-cop Hou Yu-ih, currently mayor of New Taipei City, Taiwan's most-populous city, is cut from a very different cloth than Gou. Unlike the outspoken billionaire, Hou is careful and deliberate in his speech, appearing to balance the concerns of Taiwanese voters as well as Beijing and Washington when commenting.
During a questioning session with New Taipei City councilors last week, Hou voiced his opposition to both the Hong Kong-style "one country, two systems" administrative model that Xi has pushed for Taiwan to accept, while also rejecting Taiwan independence — which would entail the dismantling of the ROC government and the formal establishment of a Taiwanese state.
"The ROC is our country and Taiwan is our home," Hou told the councilors. "We have to take good care of our home as well as our country."
Hou's image as a popular and competent mayor has boosted his stock with voters beyond New Taipei. His law-and-order background also appeals to many, although for green voters — those who see Taiwan as being its own country and not Chinese in identity — Hou's past as a policeman during and after KMT martial law is problematic. Many remember him as the officer who in 1989 led the charge into the barricaded office of Nylon Cheng (鄭南榕 Zēng Nánróng), a pro-independence publisher who self-immolated in his office rather than allow himself to be arrested.
Within the party itself, Hou also faces skepticism, especially from the deep-blue wàishěngrén 外省人 elites whose families came over with the KMT from China in the 1940s. Hou's status as a běnshěngrén 本省人 — someone whose lineage in Taiwan predates the KMT's arrival — have led some to question his loyalty to the party, and the ROC itself.
Concerns by KMT elders that Hou might be more Taiwanese than he appears to be are understandable, given that former president and benshengren Lee Teng-hui (李登輝 Lǐ Dēnghuī) rose to the top of the KMT and the presidency itself in the 1990s, only revealing his Taiwanese nationalist identity once he had a firm grip on the levers of power. Lee is accused by many in the party of engineering the victory of the first-ever DPP president, Chen Shui-bian (陳水扁 Chén Shuǐbiǎn), in 2000. For party elites, Lee's role as the midwife of Taiwanese democracy and his suggestion that Taiwan and China have "special state-to-state ties" was nothing short of treason.
Decision time
For Chu, both possible candidates carry risks. With the outspoken and volatile Gou, the concern is that he could turn away the 50% of unaffiliated Taiwanese voters who will decide the election by being too close to China. But the careful and reserved Hou may not turn out to be as aligned with their vision for Taiwan as he says he is today.
Regardless, time is running out and Chu will have to choose. Citing "party sources," Tuesday morning's United Daily News, a KMT-leaning newspaper, reported that Hou will be the nominee because he has better polling results — KMT internal polling is not made public — as well as more support from KMT legislators and mayors.
Gou supporters canceled a last-effort rally on Tuesday, at his request, but confidants speaking on-the-record with Taiwanese media maintained that he would get Chu's nomination on Wednesday. It may be possible that Gou has resigned to losing the nomination to Hou, or perhaps he's already done all the work he needs to do behind the scenes.
"The KMT's current nomination process is top-heavy, driven primarily by elite consensus, not open primary," said ANU's Sung. "It's unclear if winning over the party masses can decidedly affect the nomination process."