China joins big jet club as homebuilt C919 put into service
Business & Technology
The C919, China's first domestically made large passenger plane, was celebrated as an object of national pride on Chinese social media after making its maiden commercial flight on Sunday. But critics say the jet still relies heavily on Western components, and faces a lengthy journey to mass production.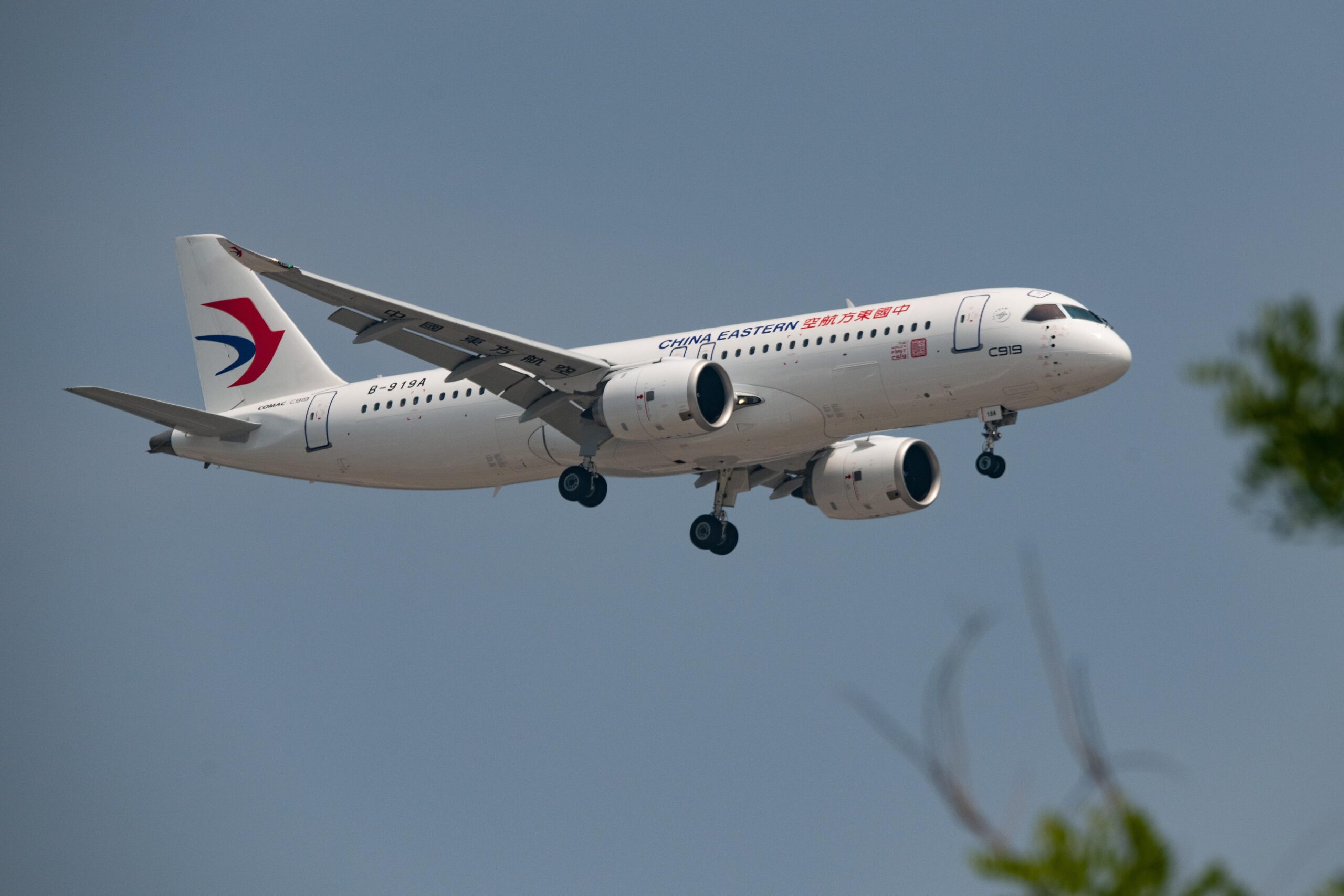 In a major breakthrough highlighting China's decades-long efforts to compete with Western rivals in the air, the C919, the country's first domestically made large passenger jet, made its maiden commercial flight.
The flight, operated by state-owned China Eastern Airlines, took off Sunday morning from Shanghai and landed less than two hours later in Beijing. About 130 passengers were selected via a lottery process due to high demand, and the flight was treated as a national spectacle worthy of being witnessed in real time. Chinese state broadcasters livestreamed the entire event on television, which included two fire engines greeting the arriving jet with a water salute.
China news, weekly.
Sign up for The China Project's weekly newsletter, our free roundup of the most important China stories.
The passengers were shown being treated to a special meal that included a dessert featuring the aircraft's logo, and leaving the flight with a variety of themed souvenirs. While in the air, the passengers waved national flags and sang a patriotic song as a cake was cut to commemorate the flight. On social media, the news inspired a slew of trending hashtags.
The star of the show was unquestionably the plane. Built by the state-owned Commercial Aviation Corp of China (COMAC), the 164-seat C919 jet is the product of a decades-long project fraught with political and technical difficulties. Designed to challenge foreign models like Boeing's 737 Max and Airbus's A320, the single-aisle, narrow-body aircraft is also a key symbol of Beijing's ambitions in the global aviation industry, which is estimated to be worth $2 trillion over the next 20 years.
A game-changing plane 15 years in the making
Building a passenger airliner is no easy task. For China, it took more than 15 years to bring the idea of C919 to fruition, and the process was not immune to technical issues and politically charged supply delays.
The plan to make a passenger jet was first unveiled in May 2008 when China established COMAC, a Shanghai-based aerospace manufacturer launched with a capital of 19 billion yuan ($2.68 billion). Roughly a year later, COMAC said that it had finished the C919's initial design and aimed to send the jet on its maiden flight in 2014. The announcement was followed by a high-profile presentation at the Asian Aerospace Expo in Hong Kong later that year, where the company exhibited a model of the C919 aircraft for the first time.
Although China first gave the world a glimpse of the homegrown plane in a 2015 ceremony attended by thousands of government officials and guests at a hangar near Shanghai's Pudong International Airport, it wasn't until 2017 that the C919 managed to make its first test flight. Before that, there were at least two delays known to the public, one of which prompted Chinese leader Xí Jìnpíng 习近平 to pay a visit to COMAC's offices in 2014, where he called for "relentless" efforts to carry the project through the finish line.
As COMAC geared up to deliver its first C919 jet to China Eastern Airlines, the company was caught in a political crossfire as the U.S. added it to an official list of companies judged to be linked to the Chinese military and thus meriting special scrutiny. Under an executive order signed by then U.S. president Donald Trump, the Chinese plane maker, which is heavily dependent on American suppliers, was subject to harsh restrictions, including curbs on access to American technology and investment.
But things took a positive turn when the Biden administration took power in 2021, adjusting the Trump-era blacklist to remove COMAC. The company then cleared regulatory hurdles the next year after the Civil Aviation Administration of China (CAAC) granted it a type certificate — which certifies the model as airworthy — and allowed the C919 to go into mass production. In December 2022, COMAC delivered the first plane to China Eastern Airlines, which ordered five of the jets in March 2021.
While the C919's first commercial flight on May 28 felt like a long time coming, David Yu, a professor of finance at New York University Shanghai, who specializes in aviation financing, explained that it was "actually pretty fast" for the C919 to enter the market. "It usually takes about 20 years to develop," Yu told The China Project, adding that it's also "natural to have a lot of delays" when a new aircraft is being designed and produced.
Before the C919's long-awaited inaugural flight, several other companies have tried — and failed — to pull off the feat. For instance, earlier this year, Japan's biggest defense company, Mitsubishi Heavy Industries (MHI), had to pull the plug on a passenger jet project that swallowed 15 years and billions of dollars, part of which were subsidies from the Japanese government, after experiencing a host of technical setbacks, soaring costs, and repeated delivery delays.
But a key difference that distinguishes the C919 from those attempts is that "China can create demand by leveraging the large domestic market dominated by state-owned enterprises," said Max Zenglein, the chief economist at Mercator Institute for China Studies (MERICS), a European research and analysis institute with an exclusive focus on China. For the C919, "long-standing financial support is ensured as establishing a domestic passenger is a key industrial policy priority," Zenglein, whose research primarily centers on China's macroeconomic development and international trade, told The China Project.
How "Chinese" exactly is the C919?
Boasting a maximum range of about 3,500 miles (5,630 kilometers), the C919 is capable of carrying up to 192 passengers in a two-class cabin configuration consisting of business and economy seats. According to COMAC, its interior, passenger seats, and in-flight entertainment systems are all custom-designed. The C919 is considerably larger than China's first domestic jet, the ARJ21, which was also developed by COMAC and went into service in 2016. The standard model of the ARJ21 has 95 seats in an all-economy-class cabin, and a range of 2,300 miles (3,700 kilometers).
In Chinese state media, the C919 has long been touted as a symbol of industrial prowess and national pride. In an editorial published last year, the People's Daily, the Communist Party's main mouthpiece, described the plane as a "historic accomplishment in China's pursuit of a large passenger jet dream" and an "important milestone for China's aviation industry."
After the flight on Sunday, local news outlets lavished praise again on the homegrown airliner, celebrating it as a breakthrough in Xi Jinping's ambition to end China's reliance on foreign technology in strategic sectors — not just in aerospace but also in areas like semiconductors, renewable energy, and electric vehicles. "The C919 aircraft, China's first self-developed large jet airliner, is important proof of China's strength in self-innovation in the high-end manufacturing industry," the People's Daily wrote.
But although it's assembled in China, the C919 actually relies heavily on foreign technology when it comes to core components and systems critical to its functioning. Its engine, for example, comes from CFM International, a joint venture between GE Aviation from the U.S. and France's Safran Aircraft Engines. Its tires are from French tire giant Michelin. COMAC also received support from American technology companies Collins Aerospace and Honeywell, which provided various aircraft technologies to the C919, including its communication, navigation, and integrated surveillance systems.
Critics argue that because more than 40% of the lead suppliers for the C919 hail from the U.S. or other countries outside China, it's a deceptive exaggeration to label the plane as homebuilt.
"Building an airframe is relatively easy compared with building an engine," Richard Aboulafia, the managing director at U.S.-based aviation consultancy AeroDynamic Advisory, told The China Project. "It looks a lot like a Potemkin village aircraft, where nobody told senior P.R.C. officials that they simply could not be self-sufficient with air transport for another few decades."
But Yu thinks differently. "COMAC is essentially the system integrator. They had a vision. They had the design. And they found the best components for each of the areas they are looking to fill," he said. "The same as it goes with Boeing's planes, which are not 100% U.S. made. Nor is Airbus. They are all system integrators at the end of the day."
Zenglein called for a fair judgment of the C919's significance, cautioning that "one needs to be careful in not getting tied up in the geopolitics of things."
"Modern passenger jets are part of a highly sophisticated and globally integrated value chain in which producers are system integrators — this is no different in the C919," he added. "The more than 15 years of development underline the complexity that had to be overcome. Regardless of how you look at the C919, it is a remarkable achievement."
Can COMAC produce enough jets to meet demand?
Originality aside, the C919 is set to break into the single-aisle jet market in a direct challenge to the current best-selling models of its size: the Boeing 737 and the Airbus A320. For decades, China has been angling to disrupt the Boeing-Airbus duopoly, and the arrival of the C919 was particularly meaningful given that according to Boeing's forecast, with passenger traffic expected to grow at 4.9% annually in China, it will need 8,485 new passenger and freighter planes valued at $1.5 trillion through 2041.
But for COMAC to capture market share from Boeing and Airbus, it still faces the daunting task of ramping up production. So far, the Chinese manufacturer has received more than 1,200 orders for the C919, and is planning to produce 150 planes annually by 2028, according to local media reports.
"The aircraft will now need to demonstrate its reliability in operation while COMAC will need to scale up production while at the same time broaden its product portfolio to establish itself as a challenger to Boeing and Airbus," said Zenglein.
Because the C919 is not certified by U.S. or European aviation regulators yet, convincing foreign airlines to buy the plane will be another challenge for COMAC, said Yu. "Right now it's certified by CAAC, which means it can only be used in China and other countries that recognize CAAC's approval process. These are what I would call friendly nations to China, such as parts of Africa and parts of Southeast Asia," he said. "Ultimately, if you look at their production schedule, the number of C919 jets that will be produced in the next five years is basically nothing given the size of the China market."
Looking further ahead, if COMAC manages to solve the issues of slow production and uncertainty in certification, there are still two things to address, Aboulafia noted. "One is to establish a huge, world-class product support organization, which will be nearly as hard as creating a jet," he said. "Two, it will need to convince the Western countries behind the onboard systems and technologies, particularly the engines, that it is not competing unfairly in terms of pricing. If it does not, an easy form of retaliation would be for the U.S. or EU to simply stop exporting the necessary products."
For China to push for dominance in the air, "maybe it will happen in 10 years, when the next version of the C919 comes out, which will be better," said Yu. He stressed that the impulse to criticize the jet for not being cutting-edge enough risks missing the point.
"This is just the starting point," he said. "I think it's important to remember that everyone has to start somewhere. Innovation is good."