COMAC is building Chinese jetliners and wants to take on Airbus and Boeing
Business & Technology
China is determined to manufacture large commercial aircraft and to break the duopoly of Airbus and Boeing, a job that has been assigned to Commercial Aircraft Corporation of China (COMAC), whose first large commercial airliner is about to enter service.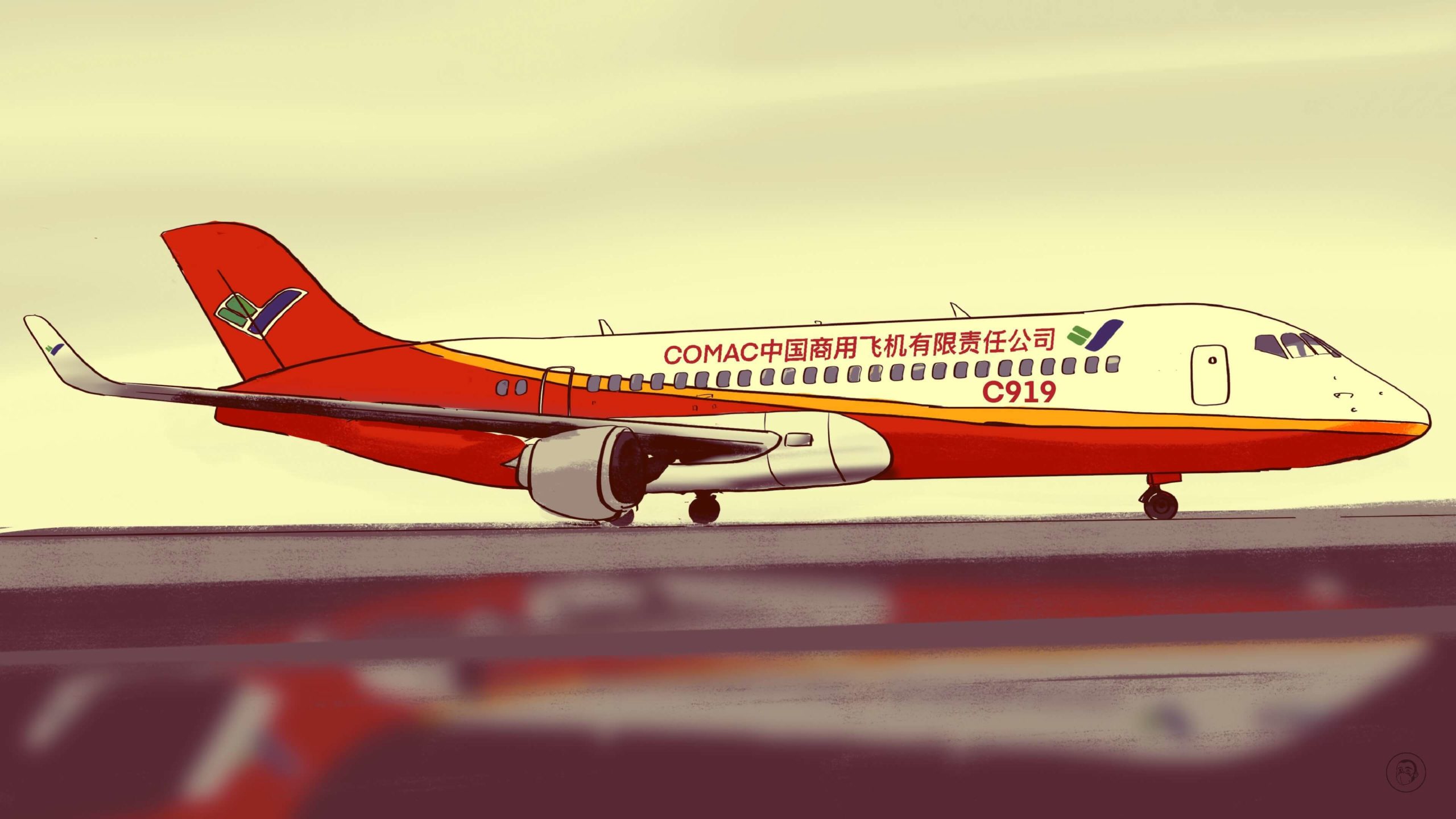 China's three largest domestic airlines have just placed a massive order worth 240 billion yuan ($32.75 billion) with Airbus for 292 narrow-body A320 NEO aircraft. But over the next few decades, China's skies will increasingly feature Chinese-made jetliners.
On Tuesday, flight MU5264 from Shantou in Guangdong Province landed safely at Shanghai's Pudong Airport. The aircraft used was the ARJ21, a regional passenger aircraft with 78–90 seats that was manufactured in China by the Commercial Aircraft Corporation of China (COMAC) 中国商用飞机, the state-owned large passenger aircraft manufacturer founded in 2008, whose investors include the State-Owned Assets Supervision and Administration Commission (SASAC), Aviation Industry Corporation of China (AVIC) 中国航空工业集团, Aluminum Corporation of China (CHALCO) 中国铝业股份, China Baowu Steel Group 中国宝武钢铁集团, and Sinochem 中国中化.
According to Xinhua, Tuesday's successful flight was an important milestone for the ARJ21 and for COMAC:
After the ARJ21's first successful test flight in 2008, it has now safely transported 5 million passengers, a milestone in the civil aviation industry that has confirmed the aircraft's safety and reliability.
So far, COMAC has received orders for 670 ARJ21s from 20 clients.
COMAC, informally known as "the big plane company" in China, is currently testing the first serious Chinese competitor to Airbus and Boeing: The COMAC919, or C919, is the first large passenger aircraft independently developed in China.
The C919 is a large, narrow-body aircraft with a seating capacity of between 168 and 190 people.
With its first successful test flight in 2017, the C919 has been flying around Chinese cities over the last few months, and its full certification is expected any day now.
The first C919 to be delivered to a client, China Eastern Airlines 中国东方航空, is currently conducting test flights over Shanghai and Shandong Province.
COMAC has received 815 orders amounting to $74 billion for the C919 (whose performance COMAC compares with the Airbus A320 and Boeing 737) from 28 clients, and 34 planes have been bought by overseas clients.
With a price tag of $99 million, the C919 will be cheaper than the Airbus A320 NEO ($110 million) and the Boeing B737 MAX 8 ($120 million).
In addition to the ARJ21 and C919, COMAC is also developing an even larger aircraft, the CR929, a long-range wide-body airliner with 250–320 seats, in a joint venture with United Aircraft Corporation of Russia, with the first test flight expected sometime during or after 2025.
The context
The C919's imminent full certification will be a historic moment for China. Following Chairman Máo Zédōng's 毛泽东 instruction in 1970 that China should be able to build large aircraft, the Yun-10, a four-engine, narrow-body airliner with a capacity of 178, first flew in 1980, but the project was shelved five years later. Many of the same engineers, however, then started working on the ARJ21, which was developed in cooperation with McDonnell Douglas, which later merged with Boeing in 1997.
After 8,220 failed test flights, a "bird strike test" that sacrificed more than 1,000 chickens, and various supply problems, the ARJ21 finally entered service in June 2016 with Chengdu Airlines 成都航空. Almost a year later, the C919 made its first test flight, setting COMAC on the path of transforming the Airbus-Boeing duopoly into the "ABC" triopoly: By 2040, COMAC expects to gain a global market share of about 15%.
The Chinese government has attached great importance to the development of independent aviation technology:
In December 2021, the State Council released a plan for transportation that prioritized the development of the C919.
In January 2022, the Civil Aviation Administration of China (CAAC), the National Development and Reform Commission (NDRC), and the Ministry of Transport issued the 14th Five-Year Plan for Civil Aviation Development to further promote the continued development of the C919 and other aircraft.
Yet COMAC's chances of becoming the "C" in "ABC" are dependent on continued high-level openness and international cooperation, especially with Airbus and Boeing, and likewise with the U.S. and Europe. The civil aviation industry is a capital-, technology-, and talent-intensive industry dependent on a large industrial chain; achieving economies of scale requires massive technical expertise for large-scale production, cost controls, and stringent quality and safety standards. No single country can undertake this all on its own, and as long-established manufacturers, Airbus and Boeing, whose industrial chains are mutually dependent, are surrounded by a high-tech wall that poses a formidable barrier for newcomers like COMAC.
According to a report by the Aviation Industry Development Research Center of China, from 2021 to 2040, the Chinese market will need to add 7,646 passenger aircraft, including 1,561 large aircraft like the C919, and 5,276 regional aircraft like the ARJ21. In order to be sustainable, COMAC will need to capture at least a third of the domestic market with the C919.
The takeaway
China's first independently developed large commercial aircraft is about to enter service, and China is determined both to join the highly exclusive club of countries able to produce such aircraft, and for COMAC to break the Airbus-Boeing duopoly. But this will be a daunting challenge, and only (a long) time will tell.