Our weekly explainer series, China Ties, looks at China's relationship with different countries of the world.
---
Last week, Niger witnessed the fifth successful military coup in its 63-year existence, when the commander of the Presidential Guard overthrew the democratically elected President Mohamed Bazoum. Neighboring African states have hit hard with sanctions, with Nigeria shutting off its supply of electricity (70% of Niger's total).
Niger has no shortage of hardships already, consistently sitting at the bottom of the UN Human Development Index from 1990 through to 2018, with the World Bank estimating in 2021 that 40% of its population still lived in extreme poverty.
The P.R.C. says it hopes Niger and regional countries can resolve matters by themselves, and precedents in the Sahel — a region that runs horizontally south of the Sahara, recently plagued by political instability — suggest it won't intervene beyond UN peacekeeping missions. While the EU, U.S., and West African trading bloc ECOWAS imposed sanctions on Nigerien President Mamadou Tandja in 2009 for dissolving parliament and the judiciary in a quest to abolish presidential term limits, China — with its non-interference policy — continued to invest in Niger regardless. One former Nigerien minister claimed it was this Chinese financial support that enabled Tandja to resist Western sanctions. However, the P.R.C.'s Ministry of Foreign Affairs blames EU sanctions for "plunging Niger into a constitutional crisis," when Tandja was deposed in a domestic coup in 2010.
---
Republic of Niger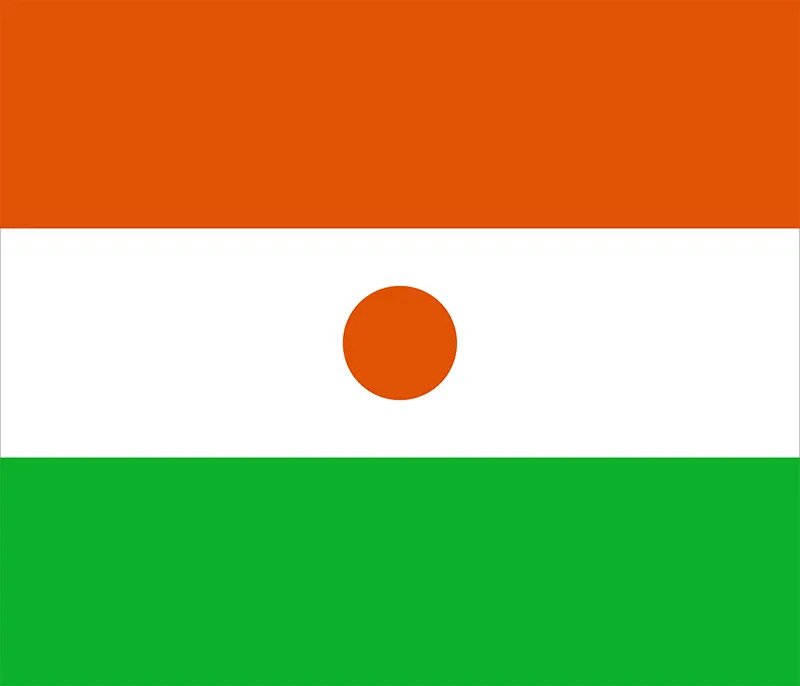 Founded: August 3, 1960
Population: 27 million
Government: ?
Capital: Niamey
Largest City: Niamey
Established relations with the P.R.C.: July 20, 1974
---
A lot of Chinese investment comes from PetroChina — the commercial arm of state-owned oil company CNPC — which has sunk billions into building the country's major oil refineries and exploring its oil fields, with the hope of a share of all revenues. It built Niger's oil industry single-handedly, when it began drilling in the Sahel in 2008 (under risk of terrorist attacks), taking over after Western companies abandoned their own projects as too costly and perilous.
PetroChina now owns two-thirds of the vast Agadem oil field, and started processing it through the SORAZ refinery in 2011 for the domestic market.
Its plans have become bolder. The company is spending $6 billion in expanding Agadem's production for export to the international market, through a vast new pipeline. When complete, it will stretch 1,200 miles from Niger's Agadem oil fields through Benin to the Atlantic, and would increase the country's oil output by over 450%. It was estimated to be more than three-quarters complete in March, but what happens to it now is unclear — Benin insists sanctions have not affected construction, but admitted there will be delays. The excess fuel, and export revenues from it, could be a future lifeline for Niger's military government.
If its own back-patting is to be believed, CNPC has strong ties with Niger's government. In 2018, Fù Jílín 付吉林, CNPC's general manager of the Niger Project, boasted about the company's key relations within the Ministry of Finance, the debates it had organized on "sensitive issues" for national radio, and how Fu had been invited by then president Mahamadou Issoufou to visit neighboring countries with him. The Nigerien government certainly seems to be willing to bend the rules for the company, moving the borders of one of Africa's largest nature reserves in 2019 to accommodate CNPC's Agadem expansion.
China has been a useful political expedient for Niger. Benjamin Augé, a researcher at the Institut français des relations internationales, says Tandja (in power from 1999 to 2010) made multiple infrastructure deals with Chinese companies without approval from any other branch of government, to raise funds and win voters. His son was placed as commercial attaché in Niger's Beijing embassy, showing the importance placed on the Chinese relationship.
Similarly in diplomacy, Niger has always gone with whichever China can best finance it. The country pivoted from Taiwan to the P.R.C. in 1974, and back to Taiwan again from 1992 to 1996, taking out two loans with Taiwan's Exim Bank for $60 million, and repeatedly speaking out for Taiwan's readmittance to the UN, right up to the end of 1995. The nation switched back to the P.R.C. half a year later, with Exim Bank spending the next 20 years suing Niger for dropping all repayments on the loans. Today, Niger backs the P.R.C. on the international stage, including on the Hong Kong National Security Law.
The P.R.C. will likely go with whichever Nigerien government it can do business with. David Shinn, a professor at George Washington University's Elliott School of International Affairs, told the SCMP that Beijing would seek political stability in Niger by supporting whoever happens to be in power, whereas Washington will only work with democratic governments.
Niger's oil fields are too tempting for China — thought to be holding over a billion barrels, with basins to the east still under-explored. In May this year, another major Chinese oil company, SINOPEC, signed an MoU with Niger for oil blocks of its own. No doubt they and CNPC will try to make friends in this new government if it remains in place once the dust settles — they should have the right contacts given that the general now in charge worked in both Issoufou's and Bazoum's regimes. For the junta and for CNPC, that pipeline could be a fine bit of win-win cooperation.