Trade war, day 132: Xi feted in Papua New Guinea, as U.S. panel warns of Chinese tech dominance
Newsletter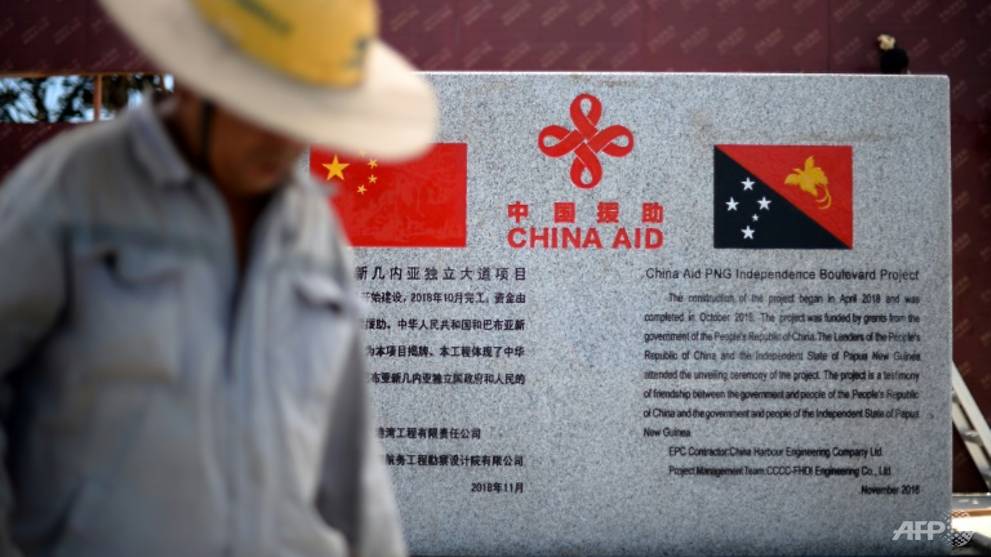 General Secretary and President Xí Jìnpíng 习近平 arrived early in Papua New Guinea (PNG) before Asia-Pacific leaders gather for the APEC summit this week.
"Hundreds of fluttering red flags

, buses emblazoned with 'China Aid' logos and even a purpose-built pagoda: driving around Port Moresby, you could be forgiven for thinking that Xi Jinping is hosting this week's APEC summit of Asia-Pacific leaders,"

reports AFP

.

Xi published

a bylined article in two newspapers in PNG ahead of his visit. You can read the

full text here

if you need a soporific.  

Trump will not attend

the APEC summit, and will send Vice President Mike Pence in his place. This is yet another signal from the president that "has left Washington scrambling to convince allies that it has not conceded the battle for influence in the Pacific."

Meanwhile, in Singapore

, on the sidelines of the ASEAN summit, senior officials from the "

Quad

" — the U.S., Japan, Australia, and India — will meet in what Bloomberg describes as "

potentially the most important meeting in Asia this week

." It is the informal group's third meeting since it was revived last year, with the goal of serving as "a counterweight to China's growing economic and military might."

Also on the sidelines

of the ASEAN summit, the 16 leaders of the nations participating in the Regional Comprehensive Economic Partnership (RCEP) met. RCEP "is often viewed as a China-backed rival to the

TPP

," but progress seems to have stalled. The meeting will conclude with "a joint communique stating that they have made 'significant progress' on the agreement," whereas earlier expectations were that a deal would be signed.
American fears about Chinese technology are not subsiding. The U.S.-China Economic and Security Review Commission has released its annual report, which warns that China's growing technological prowess is a major threat to the U.S. The Wall Street Journal reports:
"Chinese dominance of networking-equipment

manufacturing threatens the security of U.S. fifth-generation, or 5G, wireless infrastructure," according to the report.

Huawei and ZTE

, the Chinese telecom equipment manufacturers that American regulators love to hate, are cited as key examples.

The internet of things

(IoT) is a particular vulnerability, according to the report, because "China's position as the world's largest manufacturer of internet-connected household devices creates 'numerous points of vulnerability for intelligence collection, cyberattacks, industrial control, or censorship.'"

The commission also recommends

that various government bodies:

Ensure that all government agencies "address supply-chain vulnerabilities stemming from China, including potential cyber, operations, physical, information and data-security issues."

"Rapidly and securely" deploy 5G networking technology in the U.S., "with a particular focus on the threat posed by equipment and services designed or manufactured in China."

Reassess "whether U.S. export control policy for dual-use technology should continue to consider Hong Kong — where controls are more relaxed — and mainland China as separate customs areas, given Beijing's continued erosion of Hong Kong's autonomy."

The Justice Department should "look into utilizing the little-known U.S. 'Conspiracy Against Rights' law to prosecute Chinese Communist Party affiliates who 'threaten, coerce, or otherwise intimidate U.S. residents.'"

RELATED NEWS:

Declining consumption in China


Chinese consumers curb spending on trade war uncertainty, but investment and output jump in October

/ SCMP




China's latest financial data paints a bleak economic outlook amid trade war with US

/ SCMP




More signs of trouble in China's auto market

/ WSJ (paywall)

Shipping news


Maersk CEO reveals `ironic' twist in U.S. trade war with China

/ Bloomberg (porous paywall)




Soren Skou noted that "Chinese exports to the U.S. actually grew 5-10 percent last quarter. Meanwhile, U.S. exports to China fell by 25-30 percent. 'It's an ironic development,' Skou told reporters in Copenhagen on Wednesday. 'But after Trump has turned up the volume, the U.S. has only increased their imports from China even more.'"




Maersk warns trade war will hit container shipping

/ Reuters




"The effect of trade tensions could reduce global container trade by between 0.5 and 2 percent in 2019 and 2020, Maersk said as it presented results for the July-September quarter."

Trouble in the Trump administration


How the China trade war could get very bad, very fast

/ Politico




"There's a raging battle inside the White House with hard-line trade advisers including Peter Navarro trying to tamp down hopes for the talks and free-trade voices including National Economic Council Director Larry Kudlow sounding hopeful."

Clean air casualty


Northern China's clean air targets get lost in the smog of the United States trade war

/ SCMP




"Just a two-hour drive southeast of the capital there are signs that there is more than weather at play — that China is lowering its environmental standards as it tries to cope with slowing growth and the fallout from the trade war with the United States."
---
Previously in SupChina's trade war coverage:
Trade war, day 131: China hawk says there may be 'outlines of a deal'