Trade war, day 147: This indecision's bugging me
Foreign Affairs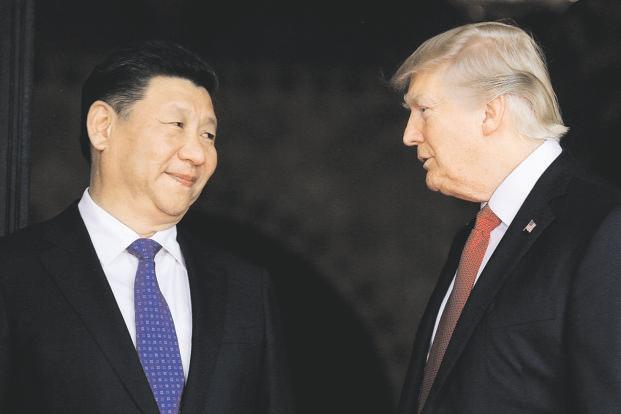 The indecision from the White House continues. Preparing to depart for Argentina, where he will meet with Xí Jìnpíng 习近平 on Saturday, Donald Trump suggested that his trade war is too profitable to give up, although it appears he still does not understand who actually pays tariffs:
I think we're very close to doing something with China but I don't know that I want to do it, because what we have right now is billions and billions of dollars coming into the United States in the form of tariffs or taxes, so I really don't know.
After taking off on Air Force One, Trump took to Twitter to cancel a planned meeting in Buenos Aires with Vladimir Putin, citing recent Russian aggression toward the Ukraine as the reason. "Without Putin on the schedule, the Xi meeting will get the most attention and raise the greatest uncertainty."
Xi, meanwhile, wrapped up his brief trip to Spain with the issuance of a joint statement:
The two sides are willing to enhance cooperation through bilateral dialogue in international organisations including the United Nations, the Group of 20, the Asia-Europe Meeting and the World Trade Organisation, amid efforts to promote multilateralism based on the international law and universally recognised norms governing international relations.
Meanwhile, behind the scenes, the South China Morning Post reports:
About a dozen intellectuals in government-backed think tanks have been calling for key reforms through lobbying Liu [Liú Hè 刘鹤], the country's vice-premier, and other policymakers "in oral or written forms." Many of these correspond to America's demands — such as ending subsidies and preferential treatment, reducing the emphasis on state-owned enterprises, treating companies equally and making China a real market economy, according to sources involved in the endeavours.
Also going on in the background, the Times of India notes that Indian Prime Minister Narendra Modi, Japanese premier Shinzo Abe, and Trump "will hold their first trilateral meeting this week on the sidelines of the G20 in Argentina."
And yet another issue that some hope can be resolved at the G20 meeting: A "top U.S. security official has demanded the release of two young Americans who say they've been prevented from leaving China," reports CNN. The New York Times originally broke the story about Victor and Cynthia Liu and their mother, Sandra Han, who have apparently been refused permission by Beijing authorities to leave China since June: China's tactic to catch a fugitive official: Hold his two American children (porous paywall).
As all this maneuvering ahead of the G20 ramps up, the Wall Street Journal (paywall) offers a deep and worthy dive into both sides of the trade fight, based on hundreds of interviews with officials and business executives on both sides. A key takeaway:
China's leaders misread Mr. Trump as a businessman first, rather than the politician whose fixation on trade had helped carry him into office. They mistook his Treasury secretary as the key interlocutor, not the White House hard-liners who truly had his ear. And they failed to recognize the growing resentments in the U.S., and the world, about their own winner-take-all approach to trade and economics.
More trade-war-related news:
Auto industry at the crossroads


Trump administration to study tools to raise U.S. tariffs on Chinese autos

/ Reuters




"U.S. Trade Representative Robert Lighthizer said on Wednesday that he was examining all available tools to raise U.S. tariffs on Chinese vehicles to the 40 percent duties that China is now charging on U.S.-produced vehicles."




Volvo's $30 billion IPO is officially off, and Trump's trade war may be to blame

/ Business Insider




"In September, Geely said it had secured the backing of investors, but it was said to be worried that Volvo's stock could slip in the immediate aftermath of the flotation, angering Swedish pension funds…. Trump's trade war, however, appears to have derailed the listing, with the threat of auto tariffs looming large over the car manufacturing sector."




Look for auto prices to go higher as US-China trade friction drags on, says Morgan Stanley

/ CNBC

Tech tensions


Intellectual property to take center stage as Trump and Xi meet

/ NYT (porous paywall)




"One of the biggest complaints from the Trump administration is that China forces American companies to enter into joint ventures with Chinese companies if they want to do business in China… The United States has also complained about a compulsory certification program that requires foreign products to undergo rigorous testing… Then there is actual espionage."




After a hiatus, China accelerates cyberspying efforts to obtain U.S. technology

/ NYT (porous paywall)




"The new operatives have intensified their focus on America's commercial and industrial prowess, and on technologies that the Chinese believe can give them a military advantage."




The U.S. has a secret weapon in the trade war

/ Yahoo Finance




"We believe that as China-U.S. tensions escalate, U.S. semiconductors give Washington a strong hand because the core components of Made in China 2025 (AI, smart factories, 5G, bigdata and full self-driving electric vehicles) can't happen without advanced microchips from the U.S.," Nomura analyst Romit Shah said in a note to clients.

Manufacturing


Supply chain reaction: trade war refugees race to relocate to Vietnam, Thailand

/  Reuters




"Perrotta's company, Tortuga, is joining what industry experts say is the biggest shift in cross-border supply chains since China joined the World Trade Organisation in 2001."




Twist in Trump's trade war: Manufacturers are fleeing China, but just not for US shores

/ SCMP




"Even as Trump and Chinese President Xi Jinping meet this week to discuss trade tensions, companies in the US and China aren't waiting to see if they call a detente. Companies with thousands of factories in China are now racing to relocate out of the mainland, which seemed the only practical solution to avoid losses from higher tariffs that could be in effect in a little more than a month."




Whiff of trade war won't sway Shenzhen's foreign entrepreneurs

/ TechNode




"Amid rising trade tensions between the world's two largest economies, the electronics hub of Shenzhen in southern China still serves as a beacon for international hardware startups as one of the easiest places to do business."

Chinese commodity imports


Return of China trade figures reveals strong metal imports: Andy Home

/ Reuters




"China's imports of refined base metals have been running at a robust pace this year, with flows of copper, zinc and nickel up on a year ago and the country on track to be a net importer of lead for a second year running."

Down on the farm


A farmer's tough year on a trade war's Kansas front

/ NYT (porous paywall)




A fifth-generation farmer tries to weather the trade storms: "There is more uncertainty now with trade than since I've been farming, 18 years ago…. For my generation, this is the first and most extreme trade thing we've been through."




As U.S.-China trade war rages, some Australian farmers see an opportunity

/ NYT (porous paywall)




"There is one big caveat. Should the trade war hurt growth in China, its purchases of Australian iron ore, natural gas and other major imports could slow. That could damage an Australian economy that depends in large part on natural resources for growth."
---
Previously in SupChina's trade war coverage: