Will Chinese education company GSX Techedu survive allegations of fraud?
Business & Technology
GSX Techedu is a $24 billion company that is facing serious accusations of fraud by short sellers, and could become the highest-profile case of Chinese fraud to date, bigger than Luckin. So why don't company execs — or investors, for that matter — seem worried?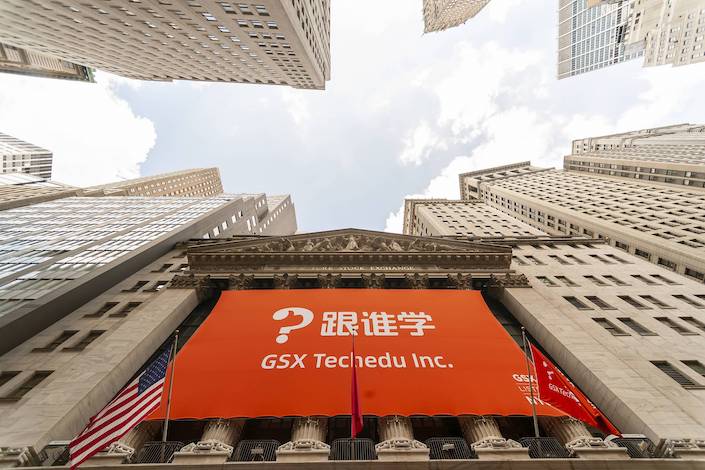 Last year, as a spate of Chinese companies listing on U.S. markets faced accusations of fraud and fell by the wayside, one company defied the odds.
GSX Techedu, a Beijing-based education company, claims to be the "leading" provider of online classes for kindergarten to 12th grade students. In the summer of 2019, the five-year-old company held its initial public offering on the New York Stock Exchange at a near $3 billion valuation. Their shares have since grown tenfold, a pace comparable only to the most successful U.S. tech giants. They are now a $24 billion company, with the CEO Larry Chen among the top 200 richest people in the world.
But beneath the veneer of this success story is a company shrouded in mystery and controversy. From February to May of last year, a legion of investment firms — known for betting against companies in a practice called "short selling" — released reports decrying GSX Techedu as near total fraud. Conducted independently of each other, with different methodologies, the short sellers reached broadly the same conclusion: GSX was inflating student enrollment numbers with bots, conjuring made-up teachers, and off-loading costs to unknown subsidiaries. The company, in their view, had fabricated up to 90% of its revenues. "The numbers are just too good to be true," Sigmund Eggert of Grizzly Research told the Wall Street Journal in October.
"This is the first time in my life I've encountered such absurdities and lies," Techedu's Larry Chen replied on his Weibo account, the Chinese equivalent of Twitter, following a report's release. His company has since released multiple statements refuting the allegations. "The Company endeavors to provide full and accurate disclosure to investors and to rebut any false claims that attempt to impair market confidence in GSX's business," reads one recent statement.
But unflattering details continue to surface. SupChina reviewed interviews with current GSX employees conducted by StrandPoint, a private investment firm. There was one consistent theme: the company was inflating its metrics across a variety of different business operations. One employee outlined a process by which tutors were made to concoct fake parents to present a livelier discussion on WeChat groups. Another employee admitted that online sales sagged last year relative to their competitors, despite the record-breaking top-line numbers presented in their financial reports. One top tutor was especially curt: "99% of tutor resumes are fake," he said.
GSX's website doesn't help matters for the company. In past iterations, teacher profiles had the same picture and some were even taken directly from stock photos. Student reviews seemed to be generated by bots and many were duplicated. On GSX's live streaming platform Gaotu, a cursory review found that at least 20 of the teachers listed in the directory had fraudulent certification numbers. The company did not immediately respond to a request for comment. But they have been reactively taking down such content as soon as they are brought to light by activist investors on social media.
The wallflower fraud
Carson Block of Muddy Waters Capital, a maverick investor and veteran short seller, was among those who joined the chorus of opprobrium against GSX last year. His talent for spotting fraudulent Chinese companies was certified when, last March, he prophesied the downfall of Luckin Coffee, a retail coffee chain once billed as the "Starbucks of China." Luckin was trading on the NYSE at a $12 billion dollar valuation when Block released an anonymous 89-page report on social media accusing the company of grossly inflating its sales. At first, the company denied the charges, but an internal investigation later confirmed the substance of the report: Luckin had fabricated $310 million in sales over the last three quarters of 2019, equivalent to 40% of its total revenue that year. Its stock plummeted. In June, the company was set to be delisted from the stock market; it filed for bankruptcy in February, and analysts claim that the stock will go to zero.
But Block has found a much bigger and more recalcitrant adversary in GSX. Muddy Waters's report in May accused the tech-education company of boosting student enrollments with fake accounts. It even released an interview with a former GSX manager who corroborated the bot operation. Bot usage has a significant legacy in digital China. Sellers on ecommerce platforms have long been accused of boosting their ratings using fake orders created in-house or through third parties. But GSX was something of a wallflower even among the frauds.
First, the usual backlash that accompanies one of Block's reports never came. "Our thesis was so uncontroversial…there wasn't that yelling and screaming back at us that we expect pretty much every time," Block said. "I don't think I've ever been in that situation." Though short sellers often differ in their diagnosis, when it came to GSX, they were in total harmony. "It's quite unusual," Nigel Stevenson, an analyst at GMT research who has written on the Luckin scandal, told me. "Our past research has shown that a company that receives multiple short seller reports tends to ultimately be found out as a fraud." Andrew Left of Citron Research, for example, had backed Luckin until its downfall. He is now among the short-sellers betting against GSX.
Second, shares of GSX remained almost comically unfazed by the short-sellers' warnings. Despite the onslaught by credible investors, the company's shares increased threefold after the release of Block's report, a development that left many in the market confused. "Nobody's making a fundamental argument for this company," Block said. "So when the thing tripled on us, we're like, Why the fuck?"
Most attribute the bizarre turnaround to a "short squeeze," where one group of investors drive the price of a stock up by buying up shares, forcing short sellers to cover their losses by buying more. The recent spike in GameStop shares had a similar provenance: a group of retail investors bought up shares in the struggling video game rental to squeeze out larger institutions holding short positions.
The problem with such behaviors is that they may be an indication of stock manipulation. On June 8, Yongqiang Chan, the CEO of New Oriental Education and a close personal friend of Larry Chen, taunted short sellers on Twitter. "Please remember it is me [sic] short squeeze you," he said. "I personally guarantee GSX [sic] $100 by end of this year." (He was only off by a few weeks.) Chan had used an anonymous account, but was eventually exposed by online users (in Chinese). In September, GSX revealed that the SEC had asked for its financial records dating back to 2017.
On Monday, the company issued an update on an internal review conducted by an undisclosed third party following the accusations of fraud. The review "did not uncover evidence that would have a material impact" on GSX's previous financial statements, according to the update. The SEC investigation is still ongoing.
Bad incentives
Recently, GSX's auditing firm, Deloitte, came under intense scrutiny after a former employee from the Beijing branch released a report documenting "serious problems" in auditing quality. The document, which went viral on Chinese social media, accused one Deloitte partner of turning a blind eye to mismanaged funds on behalf of RYB, another education company. The partner, Lili Shan, is also the head auditor for GSX.
The fall of Luckin and the uncertain future of GSX should not shock investors. The companies are products of poor incentive structures, including auditing quality, which has long saddled Chinese companies. The Chinese Communist Party classifies financial papers from its supposedly private companies as "state secrets," which blocks U.S. regulators such as the U.S. Public Company Accounting Oversight Body (PCAOB) from access. According to the SEC, there are 224 U.S.-listed companies located in countries that prevent full PCAOB inspections, totaling $1.8 trillion in market value. The country with the largest share is China.
"The PCAOB/SEC have enough teeth [in the U.S.] that auditors do legitimately worry about running afoul of rules," a former Deloitte employee in the U.S. told me. Meanwhile, in China, where the level of enforcement is weaker, audit quality sinks, and more fraudulent companies slip through the cracks.
In December, the U.S. government passed a law that empowered the SEC to delist Chinese companies from U.S. stock markets for refusing to heed oversight requests. "Had this legislation already been signed into law, U.S. investors in Luckin Coffee likely would have avoided billions of dollars in losses," Rep. Brad Sherman, a California Democrat and an architect of the law, said in a release. The law is also too late for investors of GSX because enforcement won't go into effect for a few years.
Justified skepticism of Chinese companies such as GSX epitomizes the coming challenges for global markets. Sovereign regions can produce disparate rules that inevitably distort the economy, leading to unfair competition. Despite unprecedented levels of animosity between the U.S. and China, the number of Chinese firms listing in the U.S. has only increased over time. That GSX continues to soar despite the controversy surrounding it bodes poorly for the future stability of markets.