Attention-loving Chinese coconut milk brand faces investigation over job ad featuring outlandish promises
Society & Culture
Coconut Palm, one of China's oldest consumer brands, has a history of attention-seeking advertising, often involving sexually suggestive images and slogans. Now it's in trouble again for a recruitment notice.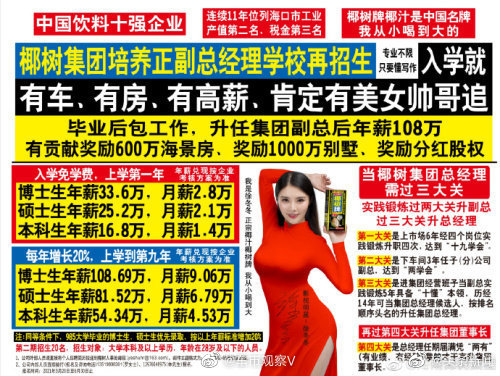 Once again, Coconut Palm, China's leading brand of coconut milk, which was established in 1956 on Hainan Island, is catching flak for an outlandish promotional stunt.
This is not the first time that Coconut Palm has been criticized for low-brow promotional tactics. In 2017, authorities in Hainan probed the company for "vulgar content and false advertising" for claims that women could enlarge their breasts by drinking its coconut milk. In 2019, it was again slammed for a packaging redesign featuring images of large-breasted models in tight clothes and sexually suggestive taglines. Last year, the beverage maker was pressured to apologize for a recruitment ad that asked job applicants to turn over deeds to their properties as proof of their lifelong dedication to the company. 
This time, the popular beverage maker is under fire once again over a job ad. The recruitment notice (in Chinese) in question, published by the company on Weibo on March 25, calls for young applicants for its management training program, where students learn skills required for senior-level positions in the company and are guaranteed to get an employment offer upon graduation.
The company noted that applicants must be under 28 years old and hold at least a bachelor's degree. Those who climb up the corporate ladder and finally assume roles as deputy managers — a process that usually takes 14 years, according to the post — would be entitled to an annual salary of around 1.8 million yuan ($270,000), an ocean-facing property worth around 6 million yuan ($913,589), and equity in Coconut Palm. 
"Once you are enrolled, you will have a house, a car, and a fat salary," the company wrote. "There's no doubt that pretty women and good-looking men will compete for your affection."
The backlash was swift and strong. Critics accused Coconut Palm of making exaggerated claims and exploiting images of attractive women to draw attention to its recruitment efforts and publicize its brand. 
"Everyone loves its coconut milk and it really doesn't need these tasteless advertising tactics to boost sales. But I guess it's effective for the brand. Look how trending this topic is on Weibo. No job posting has more views than this one," a Weibo user wrote (in Chinese). Another said (in Chinese), "This job ad makes it sound amazing, but I doubt it will actually deliver on those promises."
Yet the criticism was dismissed by a spokesperson from Coconut Palm, who told Red Star News (in Chinese) on March 27 that the company stood behind all the statements made in the job post. The spokesperson denied that the recruitment notice was a publicity stunt. "There is no need for us to attract people's attention. This is what Coconut Palm has been all about since its founding," he said.
However, authorities were not convinced. Per Hainan Daily (in Chinese), the local market supervision bureau has launched an investigation into Coconut Palm for alleged illegal advertising. In a conversation with the management team of the company, the regulators reportedly said that the content in the recruitment post had violated China's advertising laws and "created a negative impact on society."