The extraordinary rise of China's pet industry
Business & Technology
Young Chinese love pets, and serving their cats, dogs, and alpacas is on track to become an $80 billion market.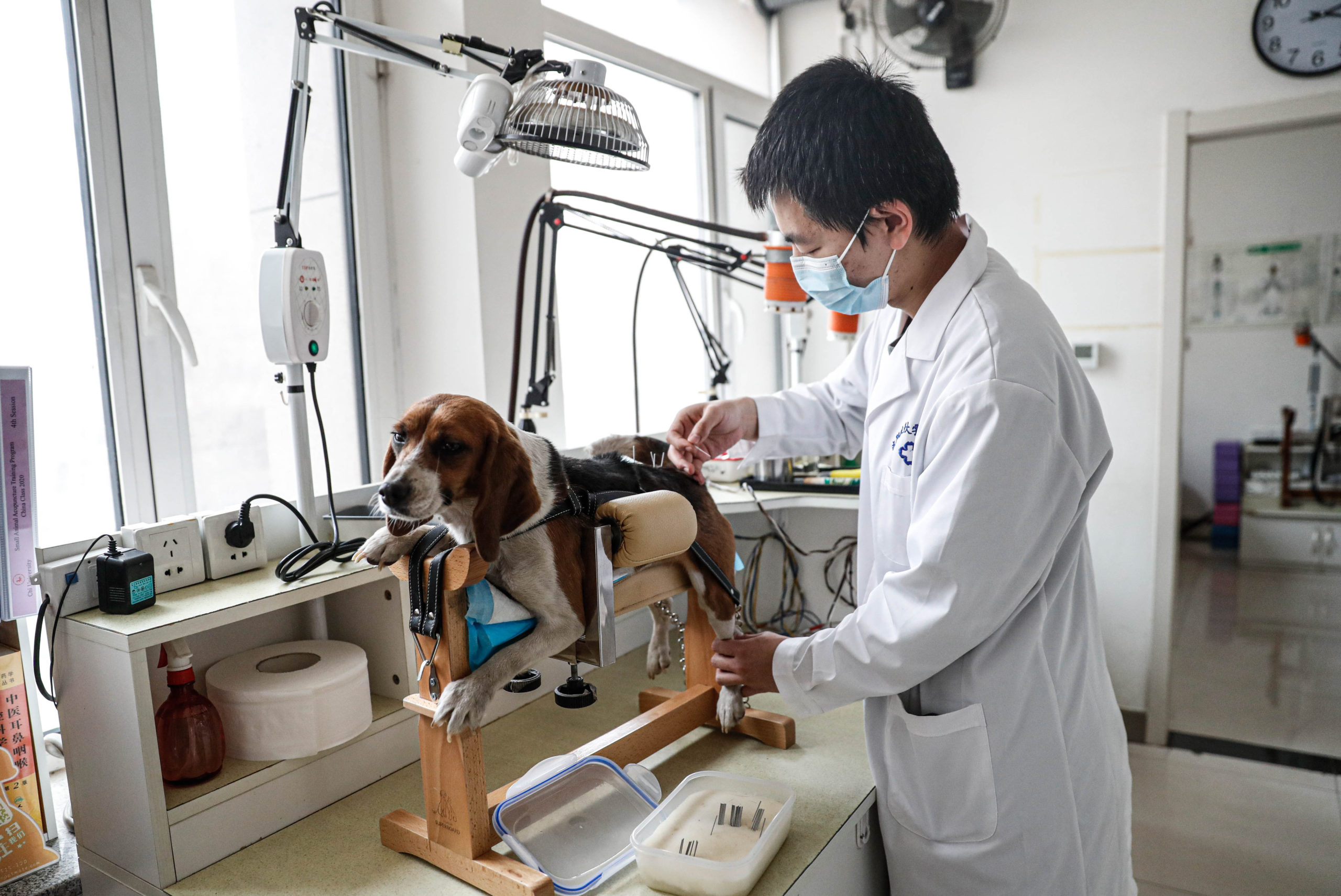 In early May, China's social media landscape buzzed with disturbing details of an emerging mail-order pet craze. Local animal rights activists published videos online revealing dozens of small crates containing puppies and kittens, thirsty and starving, neatly arranged outside of a dingy Chengdu depot. City authorities addressed the illegal activity by, astonishingly, returning to sender.
The animals, it turned out, were unwitting participants in a nascent ecommerce practice of sending and receiving surprise unknown goods, dubbed "blind boxes" (盲盒 mánghé). Although China has moved away from viewing certain animals as food in the past several decades, the blind box controversy was a stark reminder of how far China still has to go in order to protect animal welfare. Current Chinese law regulates the treatment of animals with an eye toward food safety — ensuring sanitation and disease prevention of the animals as food — not animal safety. Despite repeated calls from civil society, there are no animal cruelty laws. 
Nonetheless, the fact that the videos generated widespread controversy also highlights a progress of sorts. Pet ownership, once rare in China, is dramatically increasing as the relationships of people with animals continue to evolve alongside the country's rapid social and economic development. The very existence of blind-boxed mail orders of pets, troubling as it may be, sends another signal: China's pet industry is booming.
China's fastest-growing consumer product? 
During last year's 11/11 or "Singles' Day," China's — and the world's —largest ecommerce event, cat food, of all things that can be purchased online, was the top-selling category on Tmall Global, Alibaba's cross-border ecommerce marketplace. 
Cat food was yet again the top-selling category on Tmall during the 618 (June 18) online shopping event, second in scale only to 11/11. Other pet-related goods and services are also performing well. According to figures from China's National Bureau of Statistics (NBS), the compound growth rate of China's pet industry was 49.1% from 2010 to 2016. That's the fastest growth among all consumer goods categories during that period. Recently released data suggests compound growth has since slowed, but has still managed an impressive 32.8% from 2015 to 2020. In the past 10 years, China's pet economy, including food, toys, and supplies, in addition to the pets themselves, has grown by an astounding 1,500%. 
This trend shows no signs of abating as huge portions of the market remain relatively untapped. According to Euromonitor International, the total number of China's pet dogs and cats only surpassed that of the U.S. in 2019, despite China's human population exceeding that of the United States by nearly fivefold. While differences in culture, infrastructure, and lifestyle suggest it is unlikely China's pet ownership rate will catch up to that of the United States anytime soon, it is clear there is room for growth, especially among certain consumer groups: Roughly half of Chinese pet owners are under 30 years old, and 65% hold a bachelor's degree in a country where, according to official census data, only 15.5% of the country has received tertiary education. 
Market offerings are expanding: Slightly more exotic pets such as geckos, hedgehogs, groundhogs, and chinchillas have entered the public consciousness. More unconventional than exotic, city residents are literally walking (leashed) alpacas on the streets of Beijing.
High-end cat houses for the new bourgeoisie
This is all very new. Between 1983 and 1993, dogs were banned in most Chinese cities due to a serious rabies pandemic. Language offers another window into this new aspect of middle-class Chinese society. Boasting over 375,000 entries, the hànyǔ dà cídiǎn (汉语大词典) is widely considered to be the most inclusive historical Chinese-language dictionary, yet its 1.5 million or so citations do not contain a single mention of the word for pet, chǒngwù (宠物). 
But these days, freshly groomed poodles donning wool sweaters and colorful booties stroll down Shanghai's promenades. Ragdoll cats sit lazily in high-end coffee shops and board game cafes, eating canned fish products technically fit for human consumption. Chinese dogs eat even better. In 2018, the average amount spent annually on food was slightly north of 2,000 yuan ($310) per dog, which is not much less than the $440 that American dog owners spend annually on each pet's food. (For perspective, consider that approximately 40% of China's population earned below 12,000 yuan [$185] per year in 2020, according to national government statistics.)
Not only is pet ownership sharply rising, but Chinese pet owners are spending more on their animal companions' food and welfare. While pet ownership has increased by 300% since 2013, the pet economy as a whole has grown by a dizzying 600%. This industry includes many of the same subcategories found in human consumption: food, medical services, medical products, grooming and beauty, toys, general supplies, training and education, and daycare, among others. In early July, Pidan (彼诞 bǐdàn), a newly emerging "pet lifestyle brand," completed (in Chinese) an $8 million funding round to expand its product selection. The company's current range includes high-end cat houses, designer pet bowls, cat ticklers, and electric cat combs. 
Eclectic products and services continue to enter the market. Some of the more decadent choices include a few that have only just recently emerged in the West, such as doggie dating apps and massage treatments. By 2023, China's pet industry is estimated to reach 472.3 billion yuan ($83 billion) in combined annual revenue. This would represent an 800% increase compared with 2013.
The internet pet shop
About 90% of pet consumables sold in China are purchased online. Pet food, being an absolute necessity, boasts the most impressive sales figures. According to Daxue Consulting, three foreign companies dominate 70% of the pet food market share in China. Anecdotally, this is partly due to consumer trust in foreign food brands. The same thinking was infamously applied to infant formula and cosmetics following a series of product safety scandals in 2008, and lingers to this day. Domestic players are several decades late to the party, but, if other consumer goods trends apply, will slowly but surely catch up as the market continues to mature. The literal million-dollar question is how fast.
Meanwhile, we can expect the regulatory environment to mature, too. Activists and concerned citizens will drive some of the changes to come, as will corporate social responsibility initiatives, and government campaigns. For example, on May 1, China's central government put dog owners on notice with a directive forbidding unleashed dog-walking.
The culture and market around pet ownership in China is changing, mostly for the better. Instances of animal cruelty do occur, just as they do everywhere, but the fact that these happenings, like sending potential pets via "blind boxes," are now worthy of major headlines and public outrage points to a more humane outlook toward animals in China relative to the past. Businesses should take note; some, such as Mars and Nestlé, which have pledged investments of $150 million and $100 million in China pet food production for 2021, certainly have. As attitudes continue to shift, even more products and services built around caring for and spoiling our animal companions will not be far behind.
This article was first published in the China Business Review.