Pacific islands decline to join China's security pact
Foreign Affairs
China's foreign minister has had a warm welcome on his eight-nation tour of the South Pacific, but he did not get everything Beijing wanted.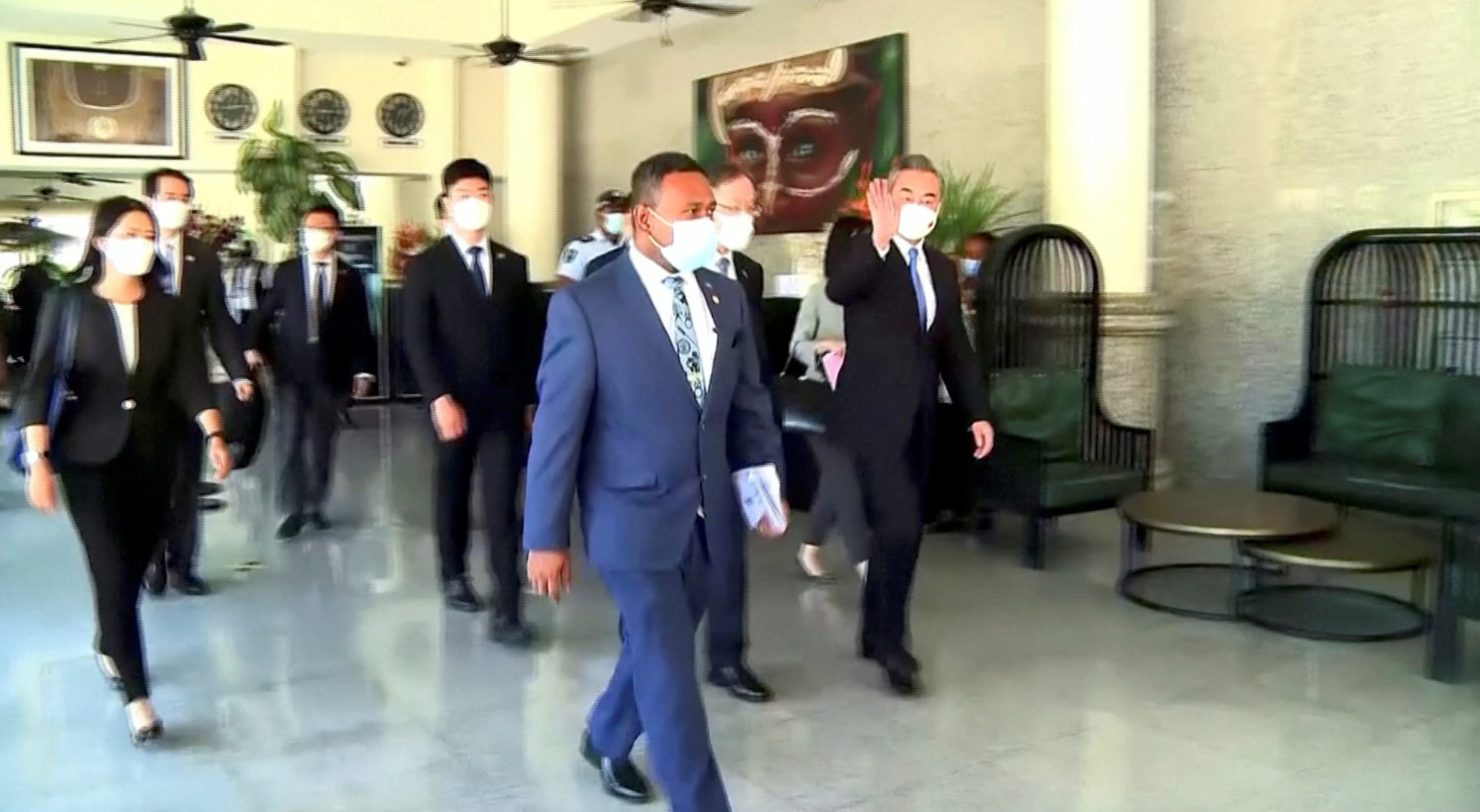 Chinese Foreign Minister Wáng Yì 王毅 and his counterparts in 10 Pacific Island nations — Fiji, Samoa, Tonga, Kiribati, Papua New Guinea, Vanuatu, Solomon Islands, East Timor, Niue, and Vanuatu — were unable to reach consensus in a crucial meeting in Fiji over Beijing's unprecedented sweeping security and trade deal.
Several of the nations wanted to delay action on the draft communique or have it amended, Reuters reports, but the deferral seems to have only steeled Beijing's resolve to strengthen ties in the region.
China plans to release an updated position paper later this week and will carry out further discussions in order to "shape more consensus on cooperation," Wang said.
Samoa signed a separate bilateral agreement with China for "greater collaboration," citing China as a "key development partner" in infrastructure.
​​Kiribati, an island country about 1,800 miles southwest of Hawaii and home to critical fishing grounds, reportedly signed 10 deals with China, with official details to follow, after making a rare exemption to allow Wang and his 20-strong delegation to bypass its COVID-closed borders and enter into the country for face-to-face discussions.
Tonga, whose biggest donors are Australia and New Zealand but which also owes China $195 million, has signed on to cooperate with Beijing on fisheries and for police equipment.
Some journalists covering the tour have said they have been blocked from filming or accessing events, and that Wang Yi has not taken a single question from a Pacific journalist, raising alarm over press freedom in the region.
Wang and Fijian Prime Minister Frank Bainimarama spoke for about 30 minutes and then abruptly left the stage as reporters tried to shout out questions, leaving many questions unanswered over the details of what transpired at the meeting.
Meanwhile, Fiji has signed on to the Indo-Pacific Economic Framework (IPEF), a U.S.-led alternative pact in the region that Biden released in Tokyo right before Wang's deal.
Fiji, a lush archipelago of more than 300 islands, is a key nation in China's bid for influence in the Pacific: After current prime minister Frank Bainimarama became president through a military coup in 2006, Western governments suspended contacts with the country while China offered to back Bainimarama's government and boost aid from $1 million to $161 million within two years, per the Financial Times.
Fiji has since helped China promote partnerships with neighboring countries outside the Pacific Island Forum (PIF), a group that includes Australia and New Zealand.
China news, weekly.
Sign up for The China Project's weekly newsletter, our free roundup of the most important China stories.
Wang is nearing the halfway point of his eight-nation tour of the South Pacific region, in a diplomatic push that has stoked Western anxieties over China's growing influence in the South Pacific. Some fear that the agreement is a broader version of a similar deal with the Solomon Islands that would bolster China's security interests in the region.
"Don't be too anxious and don't be too nervous," Wang urged his Pacific Island counterparts after the meeting.
David Panuelo, the president of the Federated States of Micronesia (FSM), said earlier in a letter to 21 Pacific leaders that his country would argue to reject the deal because he feared it might spark a new cold war between China and the West.
But the agency remains with the Pacific nations, not with "Australian arm-twisting," Stephen Dziedzic, an ABC News Foreign Affairs reporter for the Asia Pacific, notes in a Twitter thread. Any decision to amend, delay, or reject Beijing's deal will be because of "internal disagreements over whether the pact was a good idea. No consensus, no deal."
Discussing the pact at PIF will be "challenging," since four of its members, Tuvalu, Nauru, Palau, and RMI, recognize Taiwan and not China. So taking the deal to the PIF may be "an attempt to derail it completely," Dziedzic notes.
"The Pacific needs genuine partners, not superpowers that are super-focused on power," Bainimarama wrote on Twitter, in two separate posts praising the "excellent" and "wonderful" meetings with both the Australian and Chinese officials. "Fiji is not anyone's backyard — we are a part of a Pacific family."