Offline electronic appliances retailer Gome can't compete with the ecommerce companies and is facing ruin
Business & Technology
Gome and its charismatic founder, Huang Guangyu — who started out as a trash collector — made a fortune by selling discounted electrical appliances at big-box stores. Huang later spent a decade in jail for insider trading, but after he was released in 2020, he promised a return to the glory days.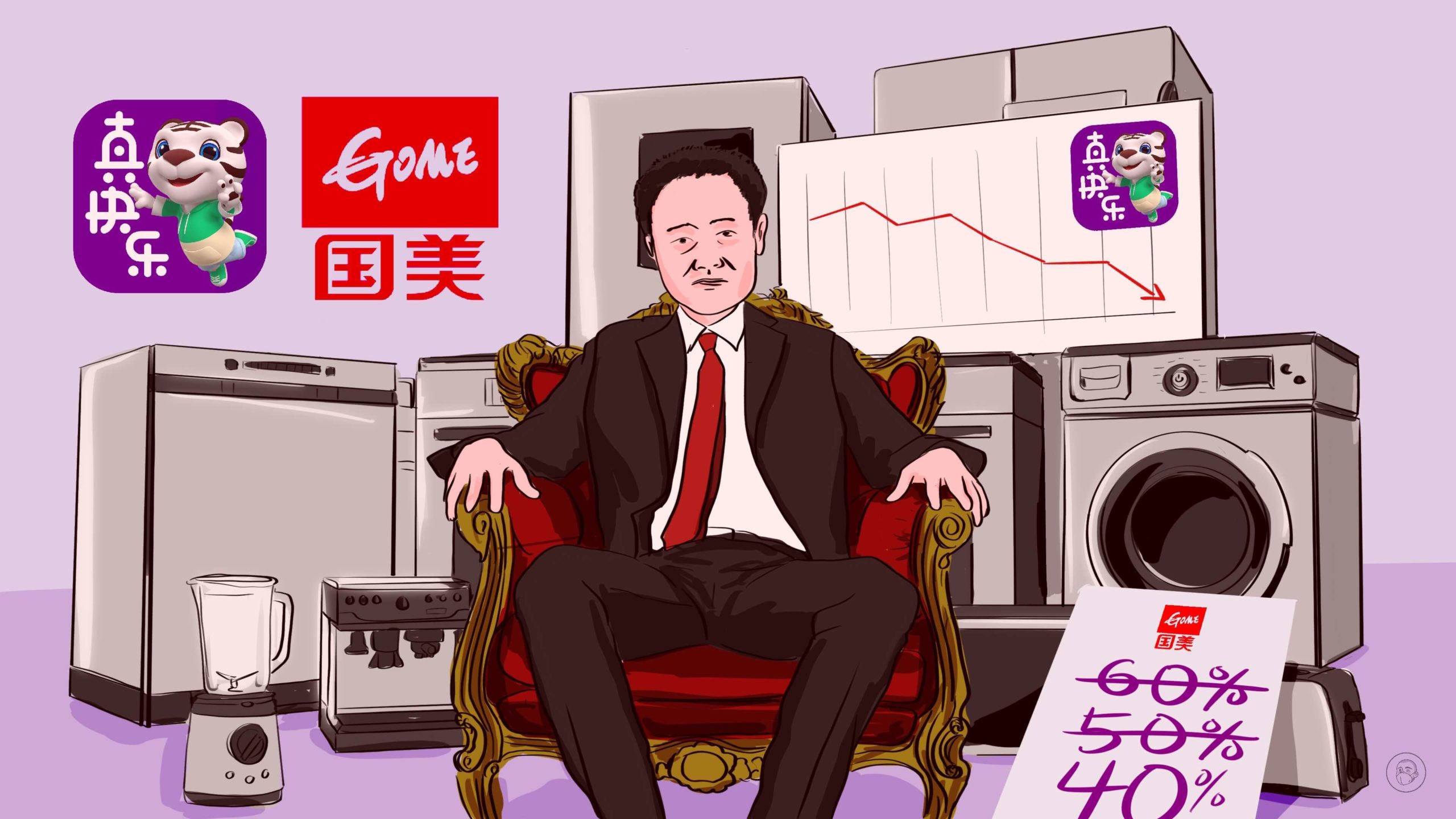 Yesterday, Chinese media reported that Gome 国美零售, one of China's largest electrical appliance retailers, has laid off most of the staff of its online ecommerce platform and app, Zhēn Kuàilè 真快乐 ("really happy"). Employees have reportedly not been paid for two months, and a vice president of the company has also been dismissed, joining a revolving door of executives who have been hired and fired in short order. This follows a long series of bad news this year for Gome that has included not only layoffs but also arrears in paying suppliers and staff, salary cuts, and huge financial losses.
Only two months ago, during the 618 ecommerce festival, Gome had high hopes for Zhen Kuaile, which would "transform retail." Launched in 2021, Zhen Kuaile was supposed to integrate Gome's vast network of physical stores, logistics and supply chains, and distributors into a smooth and convenient shopping experience, with the promise of delivery of large household appliances within 24 hours. In May, company chairperson Huáng Guāngyù 黄光裕 issued a personal letter to staff to exhort them to excel during this year's 618 with a familiar rallying cry: Gome will "win with really low prices."
Huang Guangyu makes a dramatic promise
Huang Guangyu started his career as a trash collector and then went on to sell refurbished appliances. He parlayed that business into Gome, which he founded in 1987. By 2007, he was named China's richest man. But he was arrested in 2009, and convicted in 2010 of insider trading and bribery. He spent a decade in prison, and was released on probation in June 2020. Huang then emerged from jail with a net worth of $2.6 billion, ownership (or control through family members) of about 30% of Gome, and a secret-passage-filled Manhattan mansion purchased by his wife, Dù Juān 杜鹃, who had kept control of the company while he was behind bars (see A Chinese billionaire behind bars. And his wife, who kept the empire together).
On his release, Huang immediately threw himself back into the day-to-day management of Gome, announcing a restructuring and eight new senior appointments. In February 2021, when his probationary period ended, Huang made a dramatic announcement: In 18 months, he would restore Gome to its former glory. Presumably, he would have been thinking of 2010, when Gome's total revenue reached 50.91 billion yuan ($7.53 billion), which at the time was 10 times larger than the revenue of Alibaba 阿里巴巴集团 and dozens of times larger than that of JD.com 京东集团.
But since then, Gome has been on a steady downward trajectory: From 2017 to 2020, total revenue decreased sharply year after year, from 71.57 billion yuan ($10.59 billion) to 44.11 billion yuan ($6.53 billion). Its 2020 revenues were 25.83% lower than the previous year. In 2021, Huang's first full year back in the job, Gome reported a miniscule increase in revenue of 5.36% up to 46.484 billion yuan ($6.88 billion), but also a net loss of 4.4 billion yuan ($651.27 million). The company now has total debts of around 63.3 billion yuan ($9.36 billion).
When Huang made his ambitious announcement in February 2021, Gome's share price reached a peak of HK$2.55 ($0.32) per share. In less than a year, the share price has plummeted by 89%, and Gome is, in fact, in utter turmoil:
In April, the company announced layoffs of 40% of staff at its headquarters, and a series of further layoffs followed at the company's seven subsidiaries, with stiff salary cuts for remaining staff.
In April, the employees of a Gome outlet in Shandong Province were accused of beating staff of electrical appliance manufacturer Midea 美的集团, and a week later, U.S. home appliance manufacturer Whirlpool announced that it had terminated cooperation with Gome due to arrears of 80 million yuan ($11.84 million) in payment for goods.
At a senior management meeting in 2021, Huang reportedly spent nearly two hours criticizing senior staff. In July of that year, a former Baidu 百度集团 executive whom Huang had hired to run Gome's online sales strategy suddenly resigned. This kicked off a recurring pattern of hirings and firings at Gome, with new executives departing after only a few months in the job. In October, a former Alibaba executive resigned from Gome before he had even made a public appearance.
To cap it off, Huang's tentative online ventures have barely made an impression:
In 2021, Gome had 16.84 million active online buyers, compared with 580 million on JD.com, 869 million on agricultural ecommerce app Pinduoduo 拼多多, and somewhere north of a billion on Alibaba's various platforms.
According to a home appliance industry report released in March this year, in terms of home appliance sales channels, in 2021, JD.com ranked first with a market share of 32.5%, Suning 苏宁易购 had 16.3%, Alibaba's Tmall had 14.8%, and Gome had a mere 5.12%.
The context — Huang returned to a different world
The end of Huang's 18-month period in which he promised to restore Gome's fortunes is this month — August 2022. It's obvious that he has failed. Why?
Gome's history provides some of the answer.
In the 1980s, most homes in China still did not have television sets. In the 1990s, as Chinese people's incomes rose, demand continued to outstrip supply, and Gome vastly increased the number of its brick-and-mortar stores. Huang also expanded Gome's business scope to cooperate directly with manufacturers for distribution, offering very low prices to consumers eager to buy the latest appliances and electronic goods.
When Huang stepped out of prison in 2020, he found a very different world from the one he had left in 2009. He did appreciate the need to develop Gome's ecommerce layout with the launch of the Zhen Kuaile app, on which the company spent 962 million yuan ($142.39 million) for promotion and marketing in 2021. But by the end of that year, the company was still operating 4,195 offline stores, an increase from 3,421 in the previous year. In July this year, Gome announced that it would open a further 160 new stores. Gome never really got the internet.
With high rent and labor costs, offline stores were devastated by COVID, while specialized ecommerce companies developed far superior capabilities by integrating sales, marketing, and logistics, and algorithm-driven personalized service. Moreover, while Gome's stores in years past were crowded with shoppers, currently, especially given the ongoing pandemic, many of those customers prefer to stay at home and click on their phones.
Gome's total revenue reached a peak of 60.36 billion yuan ($8.93 billion) in 2006. In 2021, JD.com's total revenue was 951.6 billion yuan ($142.33 million), more than 20 times larger than that of Gome, at 46.484 billion yuan ($6.88 billion).
The lesson: China's electrical appliances retail market moved on, but Gome stood still while others were racing ahead.