Big-box appliance retailers Gome and Suning are suffering, but Suning has a plan
Business & Technology
Gome has focused on scale and low cost, but its revenue halved in the first half of the year. Suning did slightly better with a focus on upgrading its trendy stores and increased online integration.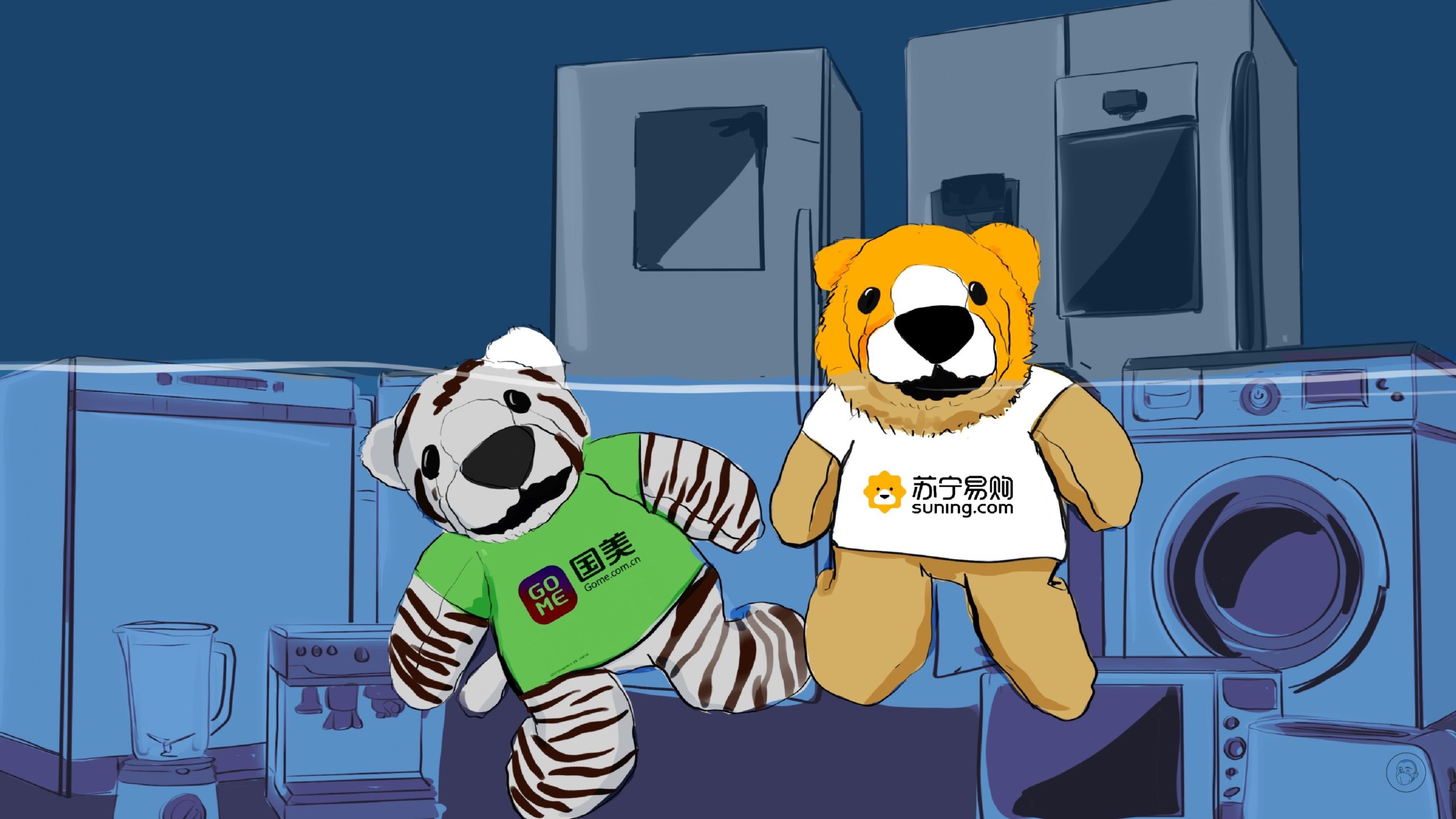 It's very tough these days running a chain of offline stores selling household electronics in China. The country's leading retailers, Gome 国美零售 and Suning 苏宁易购, both reported big net losses this week.
It seems like a long time ago in 2011 when Suning reported an annual profit of 4.88 billion yuan ($706.86 million), before ecommerce destroyed the offline business model of Gome and Suning. But now, in their desperate struggle to keep their stores open despite ongoing and widespread COVID lockdowns, Suning seems better prepared for the struggle to survive than Gome.
This week, Gome hit a new low. Yesterday, almost exactly 18 months after charismatic founder Huáng Guāngyù 黄光裕 said in February 2021 that he would restore Gome to its former glory "in 18 months" (as we reported in early August), the company released its financial report for the first half of the year, and it makes for grim reading:
Revenue of 12.10 billion yuan ($1.74 billion), a decrease of 53.50% year-on-year.
A net loss of 2.96 billion yuan ($429.09 million), an increase of 50.25% year-on-year, compared with a net loss of 1.97 billion yuan ($286.16 million) a year ago.
Gome blamed COVID lockdowns, which the company said severely affected its layout of thousands of offline stores as well as its logistics network, for its poor performance.
Suning, Gome's main competitor, on the other hand, did slightly better, though it's also still far from turning a profit:
On Tuesday, Suning reported revenue for the first half of the year of 37.20 billion yuan ($5.38 billion), a year-on-year decrease of 60.25%.
The company suffered a net loss of 2.74 billion yuan ($396.54 million), which was 20.6% less than the net loss of 3.45 billion yuan ($499.40 million) in the same period last year.
On the positive side for Suning: The company's gross profit margin increased by 9% year-on-year, while operating expenses decreased by 47.82%.
Suning is looking up at IKEA and Apple, not down at Gome
Suning has identified what the company believes is the key to its survival: closing loss-making stores and opening trendy and profitable new stores. In the first half of the year, Suning's 1,589 specialty home appliance stores (part of the company's grand total of 9,749 stores) actually increased both their revenue and profit by small margins. Suning's strategy is now based on expanding these profitable stores. And for this, Suning has big plans.
In August, Suning launched a new business unit, Suning Yijia 苏宁易家, which aims to adapt to new developments in the home consumption market. According to Suning, its new Yijia stores will provide intelligent, scenario-based, one-stop home purchases, and will integrate products and services with home appliances, home furnishings, and home decoration to enable users to engage in "whole house customization." There will be three types of Yijia outlets: public square stores, flagship stores, and community stores. In addition, Suning plans to open 30 public square and flagship stores in 2023, and 10,000 community stores over the next three years.
In other words, instead of merely selling microwaves and dishwashers, Suning is attempting to upgrade household electronics into the broader experience of home decoration, renovation, and renewal. Suning's new stores will contain not merely home appliances, but also "model rooms and various living spaces" to provide shoppers with inspiration, and with personalized customization capabilities. This strategy is in stark contrast to the persistent low-cost expansionist strategy pursued by Gome.
Gome blamed COVID for its dismal financial results, but Suning went through the same challenge, and claimed that it was able to adapt by taking advantage of government consumption incentives and energy-saving subsidies, and by 618 shopping festival promotions for peak season sales of air conditioners. This paid off for Suning in June, when it achieved a 49.07% increase in sales compared with May's.
For its chain of Carrefour stores (Suning acquired the French big-box supermarket chain's China operations in 2019 as part of Suning's "smart retail plan" to integrate online and offline retail), in the first half of the year, Suning implemented half-day and one-hour delivery, and launched a new ecommerce website in May. In the first half of the year, however, Carrefour China still made a net loss of 471 million yuan ($68.14 million).
Can offline stores survive?
While Gome has doubled down and downward on low prices, but failed to make much of an impact online, Suning is trying to leap upward and expand its product range and positioning to integrate not only home appliances but also home decoration and improvement. At this stage, Suning seems to be winning, although by the numbers, winning currently means just staying alive.