Metaverse hype is dying down, but Nreal's new headset may be the first real gateway to a long-promised virtual world
Business & Technology
Has a Chinese headset maker created affordable hardware that will bring the metaverse to the masses?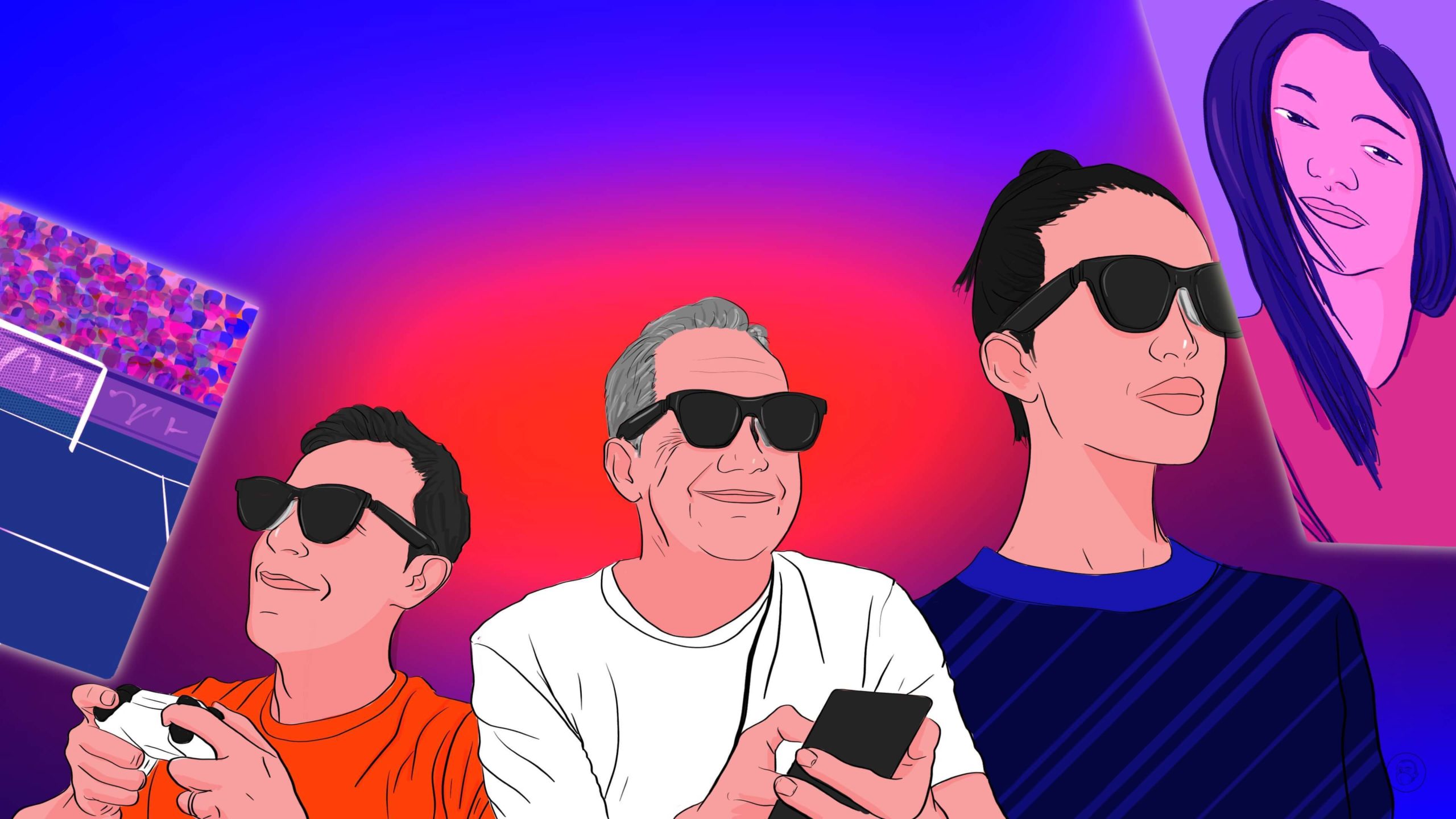 Hype about the metaverse reached a peak in 2021: Gaming company Roblox went public in March with a prospectus promising a bright future of games in the metaverse, and then in October, Facebook changed its name to Meta and its CEO, Mark Zuckerberg, laid out a whole new direction for his social media company.
But in 2022, the hype died down as the promise of the metaverse has failed to materialize: Roblox's stock price fell by 47% from its peak, and Meta has burned through $10 billion on the metaverse, while its market capitalization has been cut in half. A few weeks ago, Fast Company said, "The metaverse is as dead as Zuckerberg's cartoon eyes."
Part of the problem is that it's still unclear what exactly the metaverse is: It's rather underwhelming if it's merely about giving people virtual avatars and letting them socialize in a virtual environment. And so far, there is not much there. In China, where metaverse chatter last year was as irrationally exuberant as in the U.S., 2022 has proved to be disappointing for metaverse boosters:
In late August, Shadow Creator 影创科技, a domestic manufacturer of virtual reality (VR) equipment, and which claimed to be the "Microsoft of the metaverse," was reported to be owing hundreds of its employees six months in back pay, even though the company had received investment of 600 million yuan ($86.55 million).
Some of China's tech giants have decreased their metaverse layouts. NetEase 网易, for example, closed down a unit making multiplayer metaverse games, and ByteDance 字节跳动 discontinued its metaverse social app Party Island 派对岛.
After a much-hyped launch one year ago, Baidu's 百度集团 Xirang 希壤 metaverse platform, which can host 100,000 users at a time, does not even have that many users and appears in the process of being phased out.
But the headsets are selling
Media enthusiasm may have died down and Meta's major business is still actually Facebook and Instagram, but the metaverse is not dead yet: In fact, sales of VR and extended reality (XR) headsets — which provide the gateways to the metaverse — are growing. According to China Securities Journal, global headset shipments in the second quarter of this year were 2.33 million units, a year-on-year increase of 31%, with Oculus (owned by Meta) shipping 1.82 million units, and Pico 北京小鸟看看科技 (owned by ByteDance) shipping more than 500,000 units. In October last year, Alibaba 阿里巴巴集团 announced the establishment of an XR laboratory, and in June this year, Tencent 腾讯 announced the launch of an XR department.
XR comprises hardware and software that support both virtual reality (VR, an immersive and interactive first-person simulated environment) and augmented reality (AR, immersive and interactive virtual content that is spatially tied to the real world, such as pointing a phone at a building that software then identifies or uses as part of a game or a navigation app, or other digital "enhancement").
XR technology holds the promise of facilitating the metaverse, namely, allowing people to live both in the real world and in the virtual world, with the ability to experience almost anything from the real world in the virtual world. Thus, XR headsets are equipped with sensors to reconstruct the real world in real time, while modifying and enhancing it, and allowing a shared experience.
The first XR craze occurred after 2014 when Facebook acquired VR headset maker Oculus for $3 billion. Tech giants like Google, Samsung, and Sony all got into the XR business, and in 2015, there were 152 financing events around the world in the XR field, and 64 XR financing events in China. But ultimately, this first craze faded as the hardware and software were not able to fulfill user expectations for full immersion. In 2019, a new XR craze began after the popularization of 5G, the development of more advanced microchips, and the metaverse investor pile-on in 2021.
But now, the real battle for XR is not just to make the hardware, but also to construct a full XR ecosystem, including software, content, and applications. And China's tech giants are all entering the fray:
In November 2021, Tencent invested in U.K. ultrasound XR technology company Ultraleap.
In August this year, ByteDance acquired the VR headset maker Pico for 5 billion yuan ($721.31 million).
In addition, China Mobile 中国移动, China Unicom 中国联通, Huawei 华为, Alibaba, Baidu, and Xiaomi 小米 have all made investments in XR.
Business in the morning.
It only takes two minutes each day to stay tapped in to the world's second largest economy. Sign up for Tipsheet, delivered to your inbox for free at 9am ET daily.
Finally: Comfortable and affordable headsets?
Despite all the investment, the average person has not had much reason to buy an XR headset: They are too expensive, too bulky and heavy, and uncomfortable to wear. But Chinese XR headset manufacturer Nreal may have made a breakthrough. In August, the company launched two XR headsets in China, Nreal Air and Nreal X, with starting prices of just 2,299 yuan ($331) and 4,299 yuan ($620), respectively.
Nreal CEO Xú Chí 徐驰 stated that his company's XR headsets have the three necessary technologies of 3D display, 3D spatial perception, and 3D interaction, yet are still lightweight and comfortable.
One reviewer of the Nreal Air headset wrote at the end of August that the headset looks just like a pair of normal glasses, and is very comfortable to wear. The headset is lightweight because it derives all the computing power from the user's own devices, such as mobile phones and tablets. The value of the headset is its display properties, with the ability to project to a 130-inch screen for the iPad Pro, and 201 inches for an Android phone rather than display images inside a closed headset like the more famous Oculus.
So far, Nreal headsets' main applications are still limited to streaming videos and movies, and web browsing. In order to expand the ecosystem in China, Nreal is now working with online entertainment platform iQiyi 爱奇艺, China Mobile, electric car maker NIO 蔚来汽车, and short-video app Kuaishou 北京快手科技 to develop and customize multiple content platforms and usage scenarios, including mobile movie customization, viewing sports in 3D, and in-vehicle interaction.
The iPhone 1 moment?
The Nreal CEO believes that the XR "iPhone 1 moment" — when the entire ecosystem will take off — is just around the corner. And he believes that China has the ability to lead the global XR industry, for four basic reasons: China has the hardware supply chains, the human resources for IT, a huge market, and domestic policy support. Indeed, VR was listed as a key development area for the digital economy in China's 14th Five-Year Plan, and Beijing, Shanghai, Hangzhou, Shenzhen, Hainan, and other places in China have introduced policies to support the development of the VR industry, such as metaverse industrial parks and incubator funds.
Nreal is not the only Chinese company releasing new VR and XR products. In July, Skyworth 创维集团 released its Pancake VR system, and in August, Lenovo 联想 released its VR700 headset. Pico is planning to release a new XR headset in September. According to a domestic consulting firm, in the first half of 2022, retail sales in China's VR market exceeded 800 million yuan ($115.41 million), an increase of 81% year-on-year.