Loopholes in the algorithm: The race for autonomous driving in China
Business & Technology
Many problems still impede the commercialization of autonomous driving in China, noted by government officials at a conference this week. For all the major cities and companies in the rat race, it's an expensive marathon, not a sprint.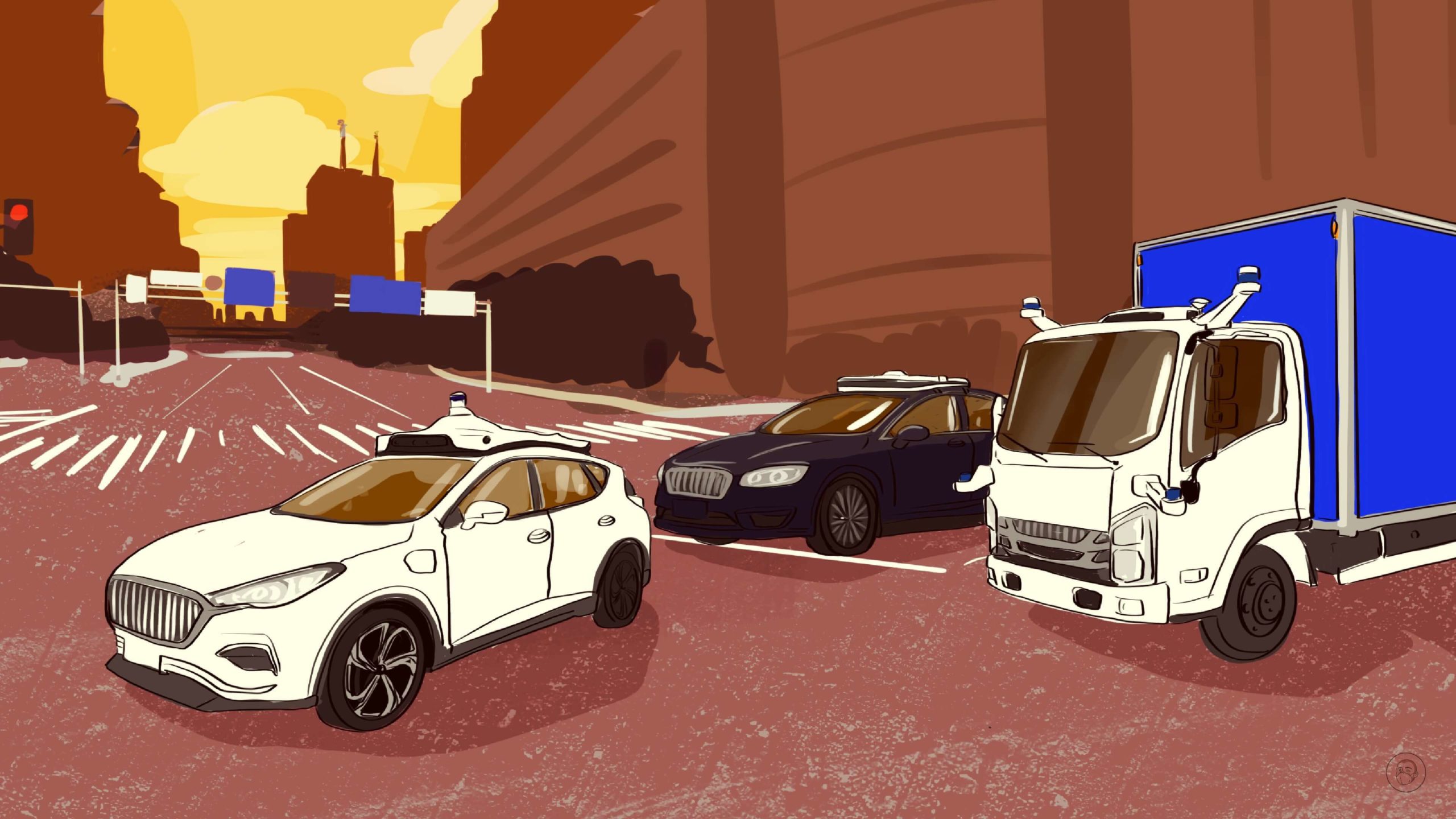 At the World Intelligent Connected Vehicles Conference that took place in Beijing on September 16–19, officials from the ministries of Public Security and Transport discussed the state of autonomous driving in China, including the application of new technology such as artificial intelligence (AI), 5G, big data, and the Internet of Vehicles (referring to a network of vehicles equipped with sensors, software, and technologies that can communicate with each other and exchange data). The officials also talked about lingering problems related to testing, accident liability, traffic safety, and legislation.
Although new technologies for autonomous driving are being tested across China, they are not yet open fully to the general public with large-scale commercialization. The takeaway from government officials was that (as the deputy director of the Traffic Management Research Institute of the Ministry of Public Security put it) the "comfort, stability, efficiency, and safety evaluation system" of autonomous driving have not yet been fully established.
In fact, the Internet of Vehicles technology, as another official from the Ministry of Public Security stated, is still in its infancy, and there are still various "loopholes in the vehicle perception and decision-making algorithm." According to an official from the Ministry of Transport, during the testing of autonomous smart vehicles, 99.9% of the problems can be identified within 50 days of testing, but the remaining 0.1% may never be found, and can lead to accidents at any point in the future.
Nevertheless, the officials noted the considerable progress with the industry in China:
According to Xīn Guóbīn 辛国斌, the deputy minister of the Ministry of Industry and Information Technology (MIIT), in the first half of this year, domestic sales of passenger cars with assisted driving functionality exceeded 2.88 million units, and the penetration rate in China has increased to 32.4%, a year-on-year increase of 46.2%.
Liú Zhāo 刘钊, the deputy minister of the Ministry of Public Security, stated at the conference that more than 8,200 license plates have been issued in 28 cities for autonomous testing vehicles, more than 6,900 kilometers (4,287 miles) of test roads have been opened, and the total road test mileage has exceeded 15 million kilometers (9.32 million miles).
Demonstration and testing applications now include autonomous taxis and buses, autonomous parking, and autonomous logistics and distribution vehicles. Autonomous driving technology above L3 vehicles (L1 to L3 are assisted "hands-free" driving, while L4 and L5 are completely autonomous vehicles) are now being applied in specific urban scenarios, including taxis, logistics, and distribution.
Developing the algorithm
The era of autonomous driving in China officially commenced on August 1 when the first autonomous driving legislation came into force in Shenzhen. This was followed on August 8 by the release of draft guidelines for autonomous vehicles by the Ministry of Transport.
A range of Chinese companies is racing to develop the first fully operational autonomous commercial vehicles:
The leading companies developing autonomous passenger vehicles include Baidu's 百度集团 Apollo project and DeepRoute.ai 元戎启行. On August 8, Baidu CEO Robin Li (李彦宏 Lǐ Yànhóng) confidently declared that Apollo's autonomous driving technology is currently positioned at the L4 level, and is superior to that of Tesla's.
DeepBlue Technology 深兰科技 is leading the charge for autonomous buses, and has undertaken testing in Shanghai, Shenzhen, Guangzhou, Changsha, and Wuhan.
Various urban areas in China have jumped on the bandwagon, and are now progressively testing out autonomous services:
Beijing established an autonomous driving demonstration zone back in September 2020, and autonomous driving companies Pony.ai 小马智行 and Apollo were the first to be licensed to operate in the zone. So far, there have been 18 traffic accidents in the Beijing demonstration zone.
On July 20, Beijing officially opened China's first pilot testing zone for commercial autonomous travel services. A few weeks later, Pony.ai launched an autonomous taxi (or robotaxi) service in Beijing in partnership with the travel agency Cao Cao 曹操出行.
In early August, Apollo was also issued licenses to operate autonomous taxis in Wuhan and Chongqing. The two cities issued policies later that month for autonomous commercial vehicles, following similar developments in various other cities, including Shenzhen, Xiamen, Changzhou, and Zhengzhou.
At a demonstration zone of around 10 square kilometers (3.86 square miles) at the Suzhou North high-speed railway station, customers can now order an autonomous taxi on their mobile phones. Residents can also ride autonomous buses to seven stations, after Suzhou became one of the first cities in China to roll them out in 2020 with the company QCraft 轻舟智航.
Suzhou is currently in the process of testing fully autonomous driving (with no safety officer on board) for low-speed sanitation and logistics vehicles.
Large-scale commercialization just around the corner?
In addition to Beijing, Shanghai, Guangzhou, and Shenzhen, more than 40 cities have issued policies and measures for autonomous driving testing and demonstration zones. Beijing has become the first Chinese city to authorize testing for fully unmanned autonomous vehicles on public roads.
The race for the full commercialization of autonomous driving goes on, however, and China's leading companies are burning through funds at an astonishing rate. None of the companies in China are profitable, and are relying on corporate and government subsidies. In 2020, for example, Baidu spent 20 billion yuan ($2.85 billion) on its Apollo project. The race for full commercialization is a marathon, not a sprint, and the likes of Apollo and Pony.ai are determined to reach the bonanza at the end of the rainbow of full commercialization of autonomous driving — whatever it takes.