'Lipstick King' Li Jiaqi returns to ecommerce livestreaming after 'tank dessert' incident
Society & Culture
After a three-month hiatus caused by politically insensitive imagery, Li Jiaqi made a low-key comeback earlier this week. Analysts see his return as proof that it's still possible to convince Chinese consumers to spend.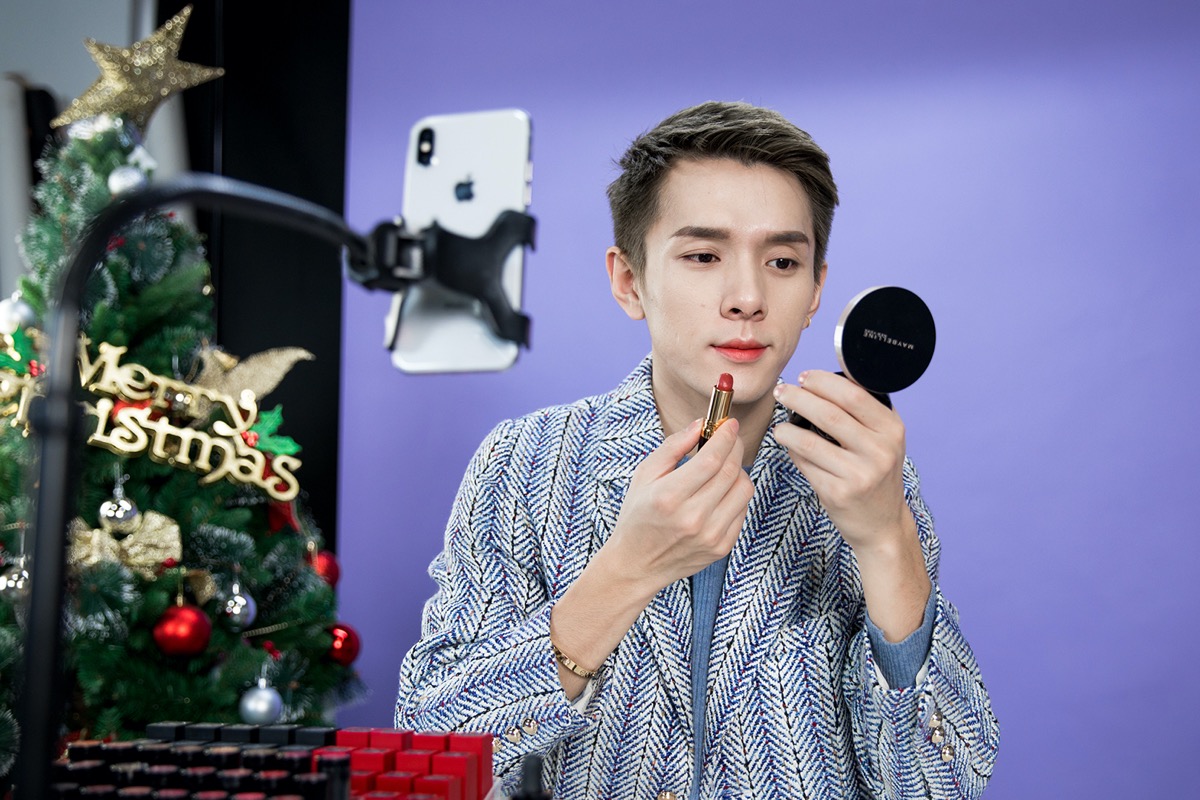 After months of speculation regarding his sudden absence, Lǐ Jiāqí 李佳琦, China's top sales influencer — known as the "Lipstick King" for his ability to hawk cosmetic products via video livestreams — made an unannounced return to online ecommerce platforms this week. With no prior hints or promotion, Li still managed to pull huge numbers of views and sales, which analysts say is proof that despite a rise in people's inclination to save, Chinese shoppers are willing to open their wallets for the right products sold the right way.
On Tuesday evening, Li quietly reemerged on Taobao Live, a livestream platform for Chinese ecommerce giant Alibaba, with which Li has an exclusive broadcast contract. The two-hour show wasn't advertised anywhere, but as soon as Li appeared on the stream, word quickly traveled around social media, and thousands of viewers tuned in within the first few minutes.
The China Vibe.
Subscribe to The China Vibe, our society and culture newsletter, to get a free weekly roundup of the most interesting stories from China.
Throughout the night, Li peddled 26 products, most of which were daily necessities like cleaning supplies and smartphone desktop holders — and most of which were sold out by the end of the show. Sitting alongside a co-anchor, Li repeatedly told viewers to "shop rationally," a slogan that's written in the background.
At no point during his comeback session did Li address his abrupt disappearance, but ardent fans and shopping-starved consumers didn't seem to care. "I miss you so much," said one comment. "This is sudden but I'm glad you are back," read another. The stream clocked more than 60 million views, higher than Li's previous average daily, and he sold an estimated $18 million worth of products.
The enthusiastic reception of Li's return was hardly surprising, according to Yuwan Hu, associate director at the Shanghai-based Daxue Consulting. "The period of time when he was away from the public eye was relatively short. The active users are still there and it's still a very fresh memory," she told The China Project. "It's like if a beloved shop suddenly disappeared, the reopening of it would become like an attraction. It would make many discussions and noise. Some people would just go and watch, whereas others would purchase even just to show their support."
Why did he disappear?
Before his mysterious three-month disappearance, Li was one of China's most prominent and profitable internet salesmen, who had the ability to move mountains of products by anchoring broadcasts in a style reminiscent of an infomercial pitchman on late-night television. Coming from a humble beginning as a beauty consultant at a L'Oreal shop in Nanchang, a small city in southern China, Li soared to fame in 2017 when he began hosting marathon livestream sales sessions on ecommerce platforms.
Compared with other livestreamers in the same field, Li's greatest strength lies in his ability to "share well-selected products at the lowest price online with great ingenuity," Bao Arakov, an analyst at Coresight Research, an advisory and research firm specializing in retail and technology, told The China Project.
With 64 million followers on Taobao, the top-notch hawker once sold 15,000 lipsticks within five minutes, earning himself the nickname "China's Lipstick King." Among the general public, his mastery of peddling made him nearly as recognizable onscreen as any TV or movie star in China, with several of his catchphrases — especially "Oh my God, buy it!" — having become household lines.
Despite a few gaffes in the past, such as one that saw Li struggling to prove that a non-stick cooking pan he was trying to promote on camera actually lived up to its promises, Li generally "comes across as authentic and honest," Mark Tanner, managing director of Shanghai-based marketing research firm China Skinny, told The China Project.
"He is one of the original livestreamers, unlike the countless hopefuls who have jumped on the bandwagon since livestreaming took off," he added. "He's also highly entertaining, many Chinese like his background, coming from a L'Oreal seller to a mega-livestreaming star, and they like his hardworking ethic."
But everything crumbled for Li on June 3 when his regular broadcast was abruptly cut off following the appearance of a multi-layered ice cream on camera. Li's team blamed the premature ending on "technical difficulties," but there was rampant speculation that Li was actually censored for displaying the iceman in the shape of a tank, with Oreos as wheels and a wafer pipe resembling a cannon, which was perhaps seen by officials as a reference to the 1989 Tiananmen Square crackdown on the eve of its anniversary.
While many people didn't think that Li alluded to the event on purpose, the livestreamer went radio silent and completely vanished from the public eye in the weeks that ensued. On the Chinese internet, where discussion about the crackdown is strictly banned, people in the know had to resort to coded language to explain the incident to the uninitiated.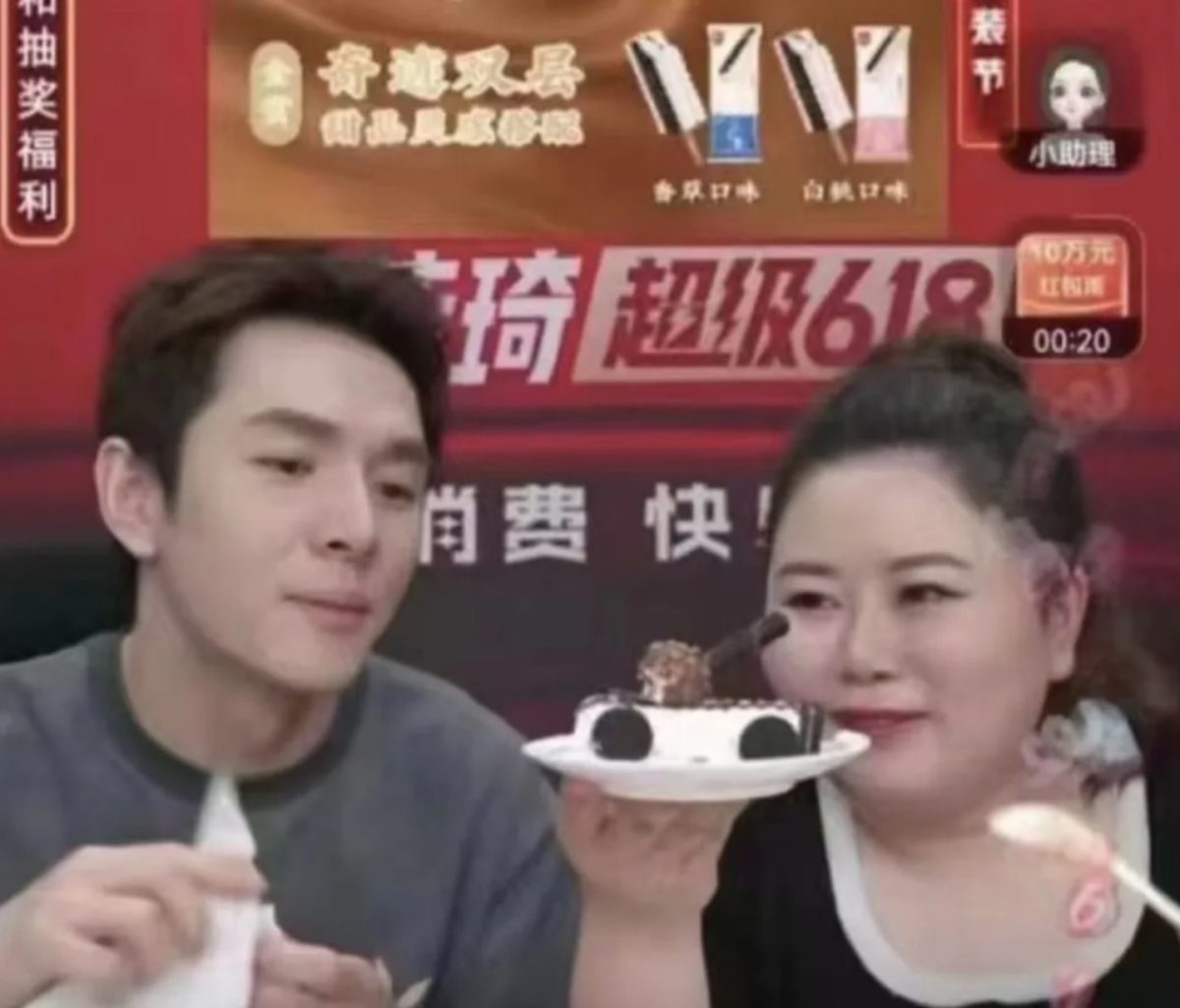 Li's temporary absence occurred at a time when China's "common prosperity" campaign placed greater scrutiny on the country's massive livestream ecommerce business, which reached around $171 billion in value in 2020, according to McKinsey, underscoring the vulnerability of those who relied on the internet for their livelihood in the world's second-largest economy.
Last December, Huáng Wēi 黄薇, China's "Queen of Livestreaming," who is professionally known as Viya and also worked with Alibaba exclusively, was handed a whopping $1.34 billion yuan ($210 million) fine for tax evasion. Upon the announcement of the penalty, all of her social media accounts and online stores became inaccessible. She has not resurfaced online since then. Another top influencer, Zhū Chénhuì 朱宸慧, known online as Xueli Cherie, has disappeared from public view after being slapped with a similar fine in November.
Just two weeks after the "tank dessert" incident, Beijing released new rules banning 31 "misbehaviors" by livestreaming hosts, prohibiting them from using deepfake technologies or tampering with images of party leaders, while requiring them to "uphold correct political values and social values."
"Unlike Viya and Xueli who have been accused of tax fraud, Li's offense is unlikely to be considered as severe with consumers and Beijing. Whether it was an innocent mistake or not, Li has generally been very aligned with Beijing's messaging," said Tanner.
A new playing field
While Li still seems to be at the top of his game, three months was long enough for China's livestreaming world to be shaken up by some newcomers vying to take over his throne. While Li was missing, Dǒng Yǔhuī 董宇辉, a former English tutor at New Oriental, one of China's largest private-education providers, joined Li's line of work and quickly became a breakout star after clips of him teaching English while hawking fresh produce went viral on Chinese social media.
As a central figure in the rebranding effort by New Oriental, which was forced to lay off thousands of employees, close hundreds of locations, and launch a live ecommerce initiative after regulators killed the for-profit after-school tutoring industry, Dong helped his company pivot in a new direction and hit 2 billion in sales in the past three months.
His success is also a boon for short-video app Douyin, TikTok's twin service in China, where New Oriental's social commerce channel now boasts nearly 26 million followers. Like Kuaishou, its main competitor in China, Douyin has been pulling out all the stops to cultivate its own sales influencers and establish its footing in the market.
But Alibaba remains unchallenged — for now, said Hu at Daxue Consulting. And with its Double 11 shopping festival being only two months away, Arakov noted that Li's comeback will "certainly enhance sales on Alibaba," which, he said, has also set the goal to grow influencer diversity for risk management, a lesson that it has learned from the turmoil in the summer.
"He can shift the dial on the event, and as Beijing will want to portray positive retail spending trends, for which Singles' Day is a strong barometer, it is in their interests to support the event," said Tanner. "Douyin and Kuaishou have been cannibalising Alibaba's revenue largely through livestreaming, and brands having been taking note, with many moving their share of focus to the platforms. Li will not completely shift this trend, but he add some fuel to the Alibaba machine to bring more focus back its platforms."
But in addition to competition from his peers, Li Jiaqi might have a bigger challenge to tackle, and that is a shift in people's spending habits. Worried about China's economic downturn, high unemployment rates, and a weakening property market, almost 60 percent of people in the country are inclined to save more, rather than spend or invest more, according to the most recent quarterly survey by the People's Bank of China (PBOC). On lifestyle apps and video-sharing sites, influencers who show off wealth are rapidly losing audiences for seeming out of touch with reality. Instead, those who share money-saving tips and tricks are gaining followers.
Although it might get harder for Li to convince people to spend, landing the best deals for his viewers with honest communication — which Li has been good at — means he will likely survive in this challenging environment. "Whilst categories as varied as premium ice cream and fragrances continue to grow strongly, we've seen an overall trend amongst younger consumers to be more discerning in making purchases," said Tanner. "Because livestreaming is such an impulsive method of buying something, there will be impacts from this, although working in its favor are the promises of discounted goods, which has even more pulling power now than in the past."