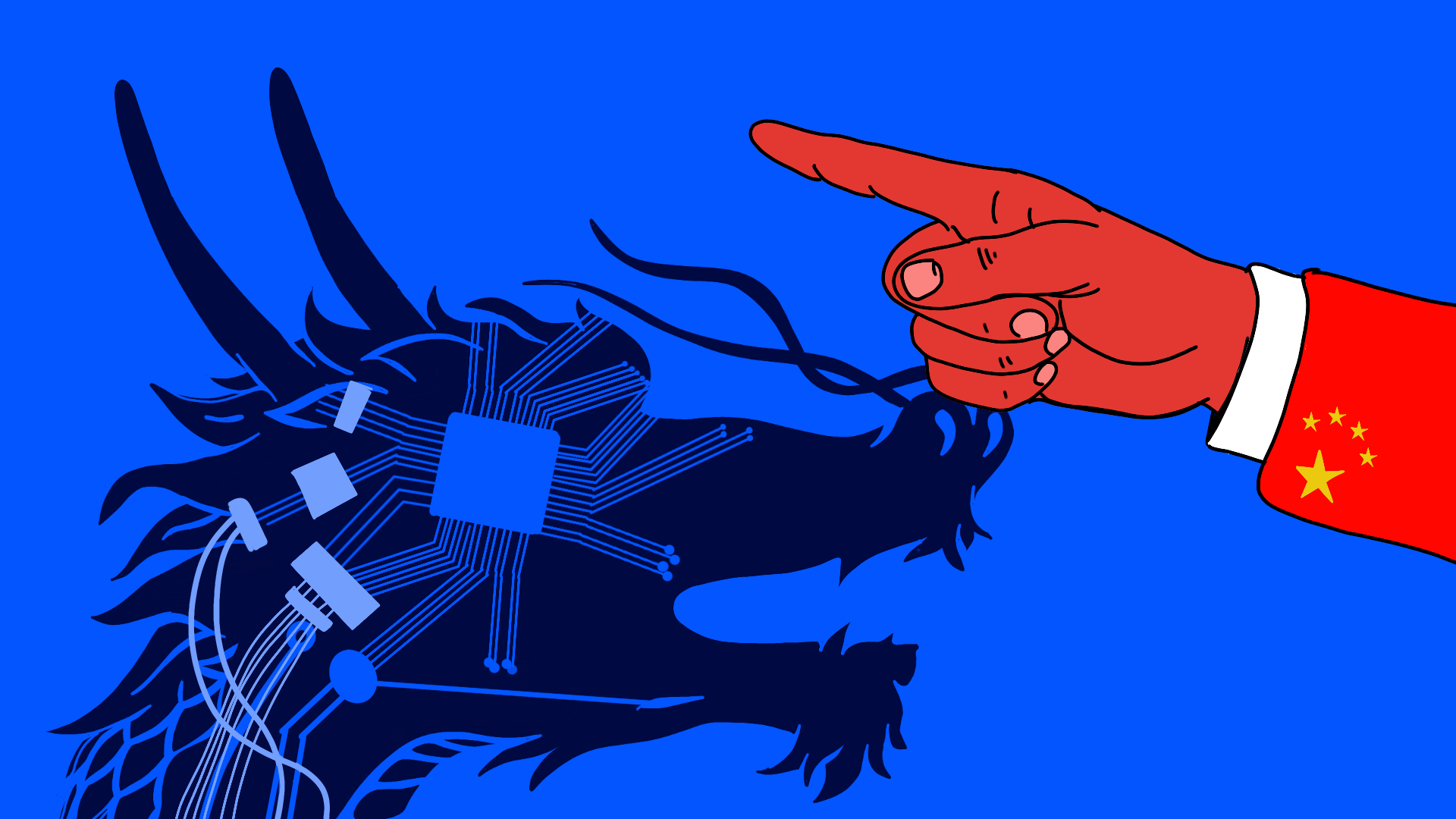 China's 'Big Tech crackdown': A guide
Business & Technology
The Chinese government is tightening its control over Chinese technology companies in dramatic ways: There will be a sea change in 2021: Capital flows between the U.S. and China will in some cases reverse, and the incentives that have driven the Chinese economy for the last two decades have changed.
---
Since the suspension of Ant Group's IPO in November, Beijing has embarked on an unprecedented clampdown of its technology sector. The casualties include some of China's leading tech companies, such as Tencent (internet conglomerate), Meituan (food delivery), Pinduoduo (ecommerce), Didi (ride-hailing app), Full Truck Alliance (freight logistics app), Kanzhun (recruitment), online private tutoring companies like New Oriental Education and TAL Education, and a crackdown on cryptocurrencies.
On the surface, China's "tech crackdown" is exactly that: a clash between government power — wielded by the Chinese Communist Party (CCP) — and what many call the "tech sector." The reality is more complicated. Though there may be some method to the madness, the agencies involved are diverse, the sectors targeted are wide-ranging, and so, too, are the justifications. Based on conversations with investors, entrepreneurs, and political analysts, SupChina has compiled a primer to get you caught up on everything you need to know.
What's happening?
Why is this happening?
What's next?
Should I tweak my investment portfolio?
So what's happening?
China is in the midst of what some call the "Big Tech crackdown," but it's really many different things bundled together. One popular commentator has separated what's going on into seven categories (in Chinese). We think three suffice: 1) an antitrust crackdown, 2) a data security overhaul, and 3) a check on capitalist "excess."
1) Antitrust probes
Conducted mostly by the State Administration of Market Regulation (SAMR), China's market watchdog formed in 2018, antitrust scrutiny has come down on at least 35 internet companies, across a wide range of sectors, some of whom have already been fined.
Who's been hit? Alibaba became the first and largest victim of China's antitrust probe when it was fined a record $2.8 billion on April 10. Three days later, 34 tech firms were called in by regulators to rectify antitrust practices. Almost every big platform company was called to this meeting, including Tencent (music and gaming), Meituan (retail), Didi (ride hailing), Baidu (search), ByteDance (social media), JD (ecommerce), and New Oriental Education (education). In the following months, SAMR has fined almost all of these companies for failing to disclose mergers, signing exclusive contracts, misleading marketing tactics, and other "merger irregularities." Many of these deals occurred prior to 2018, before the watchdog even existed.
When did this start? An antitrust law had been in the books in 2008, but enforcement did not pick up until November 10, 2020, when SAMR introduced new draft rules to regulate internet platforms (a week after Ant Group's IPO was suspended). In December, the Politburo announced its support for the antitrust initiative. Since then, the market watchdog has come out swinging.
See also our interactive timeline of regulatory actions and related developments:
What's really going on? Many analysts reminded SupChina that the crackdown on Big Tech, at least from an antitrust perspective, is something the U.S. wants to do, but hasn't. "What really surprises me is that this hasn't happened in America yet," a Chinese CEO of an investment company told SupChina. As Will Oremus of the Washington Post writes, "China is doing what the U.S. can't seem to: regulate its tech giants."
2) Data security
Data security is overseen by the Cyberspace Administration of China (CAC), formed in 2014 under the auspices of Xí Jìnpíng 习近平 himself. The agency is in charge of China's enormous censorship apparatus, and with ensuring that the data of Chinese citizens collected by private companies does not make it out of the country.
Who's been hit? The ride-hailing app Didi has been the biggest victim of the data security enforcement thus far. The CAC suspended Didi's app on July 2, two days after Didi's IPO in the U.S., for violating data security protocols. It then widened the probe and app freeze to include two other U.S.-listed Chinese companies: freight-logistics app Full Truck Alliance and recruiting platform Kanzhun. Before that, however, Tesla had been an early guinea pig of China's views on data security. Tesla cars were banned from China's military in March and the company announced it would store data domestically after meeting with cyberspace regulators. Since then, the government has been trying to rethink how it approaches overseas IPOs. It is considering revising the VIE structure — the way in which most Chinese companies IPO in the U.S. — and in July, its legislative branch passed a long-awaited Data Security Law (DSL) that could terminate businesses for mishandling "core state data." Now analysts expect regulators to specify what that means as part of the implementation of the DSL. "Chinese companies will wait for the dust to settle," Tom Nunlist of Trivium told SupChina.
When did this start? Revelations of widespread NSA surveillance, in 2013, accelerated China's push to secure its data. After the CAC was formed in 2014, a sweeping cybersecurity law was passed two years later, banning most data from being stored outside the country. Since then, the laws have been applied to foreign giants such as Apple and Tesla, along with domestic players such as ByteDance, Tencent, and Didi.
What's really going on? China's regulators are worried about personal data being leaked to foreign adversaries. Besides the general fear that the U.S. might gain some leverage on U.S.-listed Chinese companies, it's difficult to tell what in the IPO process irks them. But as Tom Nunlist of Trivium told SupChina, "it is possible that regulators are not themselves sure what is risky, which is a concern in itself." The message to companies seems to be "you can go overseas, but you need to get your house in order first," as CSRC Chairman Yi Huiman implied in June. Investors are still waiting to see what that entails.
3) Growing pains from "disorderly capital expansion"
During a meeting on December 11, 2020, China's top leaders vowed to prevent the "disorderly expansion of capital" 资本无序扩张 (see analysis). The catch-all phrase, when interpreted as "growth at the expense of the public interest," may help explain the suspension of the IPO of Ant Group (fintech), the crackdowns on ByteDance and Tencent (media and gaming), and, most recently, the ban on for-profit tutoring (education).
Who's been hit? The most high-profile case of this perceived affront to the public good was the IPO suspension of Ant Group. But the casualties go further back. In 2018, for example, China took aggressive aim at its gaming giants Tencent and NetEase, halting approval for new companies and issuing draconian gaming curfews for minors. This was done purportedly in response to public outcry about gaming addiction. Most recently, the for-profit tutoring ban that began on July 24 decimated the share price of China's largest education companies, including New Oriental Education, TAL Education Group, and Gaotu Techedu.
When did this start? The term "disorderly expansion of capital" seems to have been popularized at the Politburo meeting in December, but the idea that private incentives can impinge on the public interest has a long history among China's ruling class. The Marxist undertones are obvious, but in the context of China today, the term should be seen not as a departure from capitalism, but capitalism with some really strict — and often inconsistent — guardrails.
What's really going on? Almost everyone SupChina talked to, including Chinese people, had some criticisms of these regulations. A Chinese CEO said that the failure to define the scope of these crackdowns was proof that regulators were too "naive," failing to grasp the "unintended consequences" of their actions on financial markets. A professor at a Chinese university told SupChina that the education orders "make no sense." Tutors will always find ways to make money as long as there is demand. "How could they effectively enforce those orders? It's impossible," the professor said. Kara Swisher of the New York Times sees the "hot mess" in regulation as evidence of power politics masked by post hoc rationalizations. Stephen Roach of Yale worries that the moves will dissolve trust in China's nascent consumer-led economy.
Business in the morning.
It only takes two minutes each day to stay tapped in to the world's second largest economy. Sign up for Tipsheet, delivered to your inbox for free at 9am ET daily.
Yet more sympathetic observers see an imperfect government trying to meet public demands without the ankle weights of Western neoliberal politics. Li Nan, a finance professor at Jiaotong University in Shanghai, argued that fears over predatory lending in Ant Group's business model motivated regulatory action — the same kind that had triggered the 2008 Financial Crisis. Just as genuine public frustration over child addiction may have triggered the gaming crackdown in 2018, public backlash over a lackluster compulsory education system, exorbitant education costs, and deteriorating children's health may be factors in the private tutoring crackdown.
Why is this happening?
While these "crackdowns" have their own logic and histories, that doesn't explain why they are all happening at once. Here are three explanations analysts are talking about:
1) China wants to "redirect" its economy toward strategic industries
In a comment (in Chinese) that went viral last week, Li Chen, the chief economist at Soochow Securities, said China's national policy has "abandoned the American road" in favor of the "German road." As tech analyst Dan Wang wrote recently in Foreign Affairs, China may be trying to "redirect the country's efforts toward other strategic technologies" for geopolitical reasons. In this top-down view, the government has decided that it wants its economy to be heavy on manufacturing and hard tech — semiconductors, batteries, "industrial internet," and biotechnologies — and light on the consumer internet. The move is a tacit indictment of the U.S. economy, which has been running largely on the digital fumes of Silicon Valley. "Big Tech continues to find new and profitable ways to sell ads and cloud space," wrote Derek Thompson in The Atlantic last year, "but it has failed, often spectacularly, to remake the world of flesh and steel." China is making sure its economy doesn't make the same mistake.
2) Chinese agency "turf wars"
Why are all these different regulations happening simultaneously? Besides strategic competition with the U.S., agencies may in fact be competing with one another. "Chinese regulators engage in turf wars, too, as they jostle to expand their influence," writes David Wertime of Protocol.
Since Xi's tenure in office, agencies have come and gone depending on their strategic value. The Cyberspace Administration was given new life and power in 2014 amid anxieties over data security, and the top media regulator was absorbed by the State Council in 2018 on the heels of Xi's abolition of presidential term limits. SAMR, the market watchdog, was made to end rivalries among three antitrust agencies, and a similar negotiation birthed a new agency in finance regulation. The suspension of Ant's IPO may have triggered another inter-agency contest over who could score the highest points for state priorities as agencies try to survive the next round of reforms.
3) Public disenchantment has reached a boiling point
The moves against delivery giants like Meituan began with public outrage related to workers' rights and translated into regulation. In these cases, it's clear the Chinese government is responsive to broader social disenchantment. Recently, dissatisfaction with the status quo has again reached a fever pitch, ranging from frustration over the unrelenting slog of education to the cost of housing. Public discontent is reflected in popular terms such as "involution" 内卷, referring to life's meaningless rat race, and its reactionary counterpart, "lying flat" 躺平, to give up on the rat race. These neologisms are in fact indictments of how Chinese society is structured (by the designer) — and it may be the closest one can get to outright political criticism. That could have forced Beijing's hand. The "tough-on-business regulations," in other words, may be a kind of authoritarian accountability in action. On the day of the ed-tech crackdown, a popular Chinese commentator argued that the government is choosing the well-being of parents and children over investors. "The direction is right," he said. Such moves are more popular in China than many in the West believe.
So who's next?
The crackdown is still ongoing. And while regulators have tried to calm the markets after their latest tutoring bans, SupChina asked various experts what may be coming down the pipeline. In short: Look out for sectors that are highly concentrated, have little relation to state priorities, and have previously become targets of public scrutiny.
Gaming
"I wouldn't touch gaming right now," one investor told SupChina. The industry is an oligopoly — dominated by Tencent and NetEase — with little perceived benefits to state objectives. China has already regulated the sector in 2018 and 2019, but more regulations may be coming.
Advertising
On Wednesday, the Ministry of Industry and Information Technology ordered Tencent and 13 other developers to rectify "harassing" pop-up windows and advertisements. Regulators, including the Cyberspace Administration of China, have already pledged to tighten restrictions on misleading and explicit content used for marketing purposes. That has already hit the app platforms where advertisements are featured, but regulations may also be coming on marketing agencies.
Healthcare
Following China's education crackdown, China's healthcare stocks fell, suggesting that the industry may be the next focus of the regulator's attention. Specifically, health and tech companies like JD Health and Alibaba Health Information Technology could be vulnerable as regulators see tech as more prone to abusing monopoly power due to the promise of network effects. Companies that contribute to high medical expenses along with cosmetic medicine — which creates little social value — could be vulnerable. Less risky are innovative drug makers and biotechnologies, which have more strategic value.
Real estate
Recently, China has increased scrutiny on the real estate industry, long marked as an industry needing reform as Chinese families identify the cost of housing, along with education, as a major pain point. Property prices have been shown to exacerbate social inequality. "After a years-long campaign to tame property prices, China is upping the ante to break a stubborn cycle of gains that's made homes increasingly unaffordable," writes Bloomberg.
What does this mean for my investment portfolio?
"A portfolio in 2021 isn't global without China," Jeff Somers of the New York Times wrote recently. Despite what's happening with the crackdown, it's true that a diversified portfolio should hold Chinese tech stocks even if they go through some pain in the short term. But Ray Dalio, the chairman of Bridgewater Associates, has argued that "American and Chinese systems and markets both have opportunities and risks" and urges "not to misinterpret these sorts of moves as reversals" of China's market liberalization trend.
But there is a meaningful difference between Chinese and American markets. What the tech crackdown tells us is that China is much more willing to sacrifice investor interests to achieve public and state priorities — whether optically or substantively. The latest regulatory crackdowns have wiped some $400 billion off the value of U.S.-listed Chinese companies. When Western markets demonstrate that level of risk — like in 2008 — they are usually considered setbacks not policy triumphs. More than any other place, investors will do well to buy stocks that align with China's strategic goals such as AI, semiconductors, 5G, advanced manufacturing, and green energy.
Business in the morning.
It only takes two minutes each day to stay tapped in to the world's second largest economy. Sign up for Tipsheet, delivered to your inbox for free at 9am ET daily.